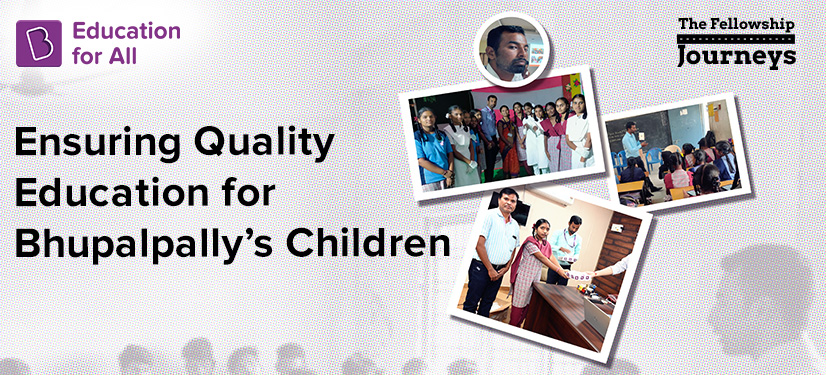 Through the BYJU'S Fellowship Programme, a part of BYJU'S Social Initiatives, Nitesh Kumar, a Fellow posted in Bhupalpally, Telangana, has been impacting underserved children with education in the aspirational district.
---
The 'Jayashankar Bhupalpally' district, Telangana, was named after the Indian academic and social activist, Kothapalli Jayashankar (aka Professor Jayashankar). Spread across an expanse of 2293 kilometres, Bhupalpally is home to numerous prehistoric habitation sites, including the Paleolithic cave paintings at Pandavula Gutta in Regonda Mandal, among other places. In the district's rural sections, agriculture is the predominant occupation.
According to Census 2011, the literacy rate of Jayashankar Bhupalpally is 66.7%, and it is identified as one of the aspirational districts by the NITI Aayog. To bring up this literacy rate and encourage the current generation of learners to pursue their education, our BYJU'S Fellow Nitesh Kumar has been motivating the children to pursue their JEE and NEET dreams.
Explaining his objectives for joining the programme, Nitesh said, 'Education is something that many people know is important for their child's future. But there seems to be an absence in rural areas when it comes to quality education. The BYJU'S Fellowship Program, a part of the BYJU'S Social Initiatives gave me a platform to work in a space to interact with students, teachers and government officials to ensure that quality education is accessible.'
Ensuring Equitable Education through BYJU'S Social Initiatives
Throughout the day, Nitesh is occupied in some way to shape these children's dreams.
'My day normally starts by meeting several stakeholders across the pyramid. The day moves on to interacting with students, parents, teachers and government officials, including the district collector, district education officer, nodal officer, among others.'
The journey with each of these stakeholders is different for Nitesh. He becomes a friend and mentor to the children, a problem solver to the teachers and parents and a professional pushing quality education to government officials. He adds that each interaction plays a crucial part in his learning adventure.
'Every day, the learning keeps progressing for the children. On the first day, I encouraged them to pursue admission to the best colleges and told them never to undersell themselves. I started showing aspirational movies and motivational videos to the students and the parents. I hope these interactions eventually spark something within them to never give up on their dreams.'
In addition to this, Nitesh also encourages the students to speak on more prominent platforms and build their confidence. He also prepares a plausible schedule for their studies and forms learning groups to enable them to learn together. While English is a weak point for these children, he encourages them to speak in English, from the bigger public platforms to the smaller interpersonal conversations.
A Bumpy Ride
While Nitesh's journey has been incredible so far, it certainly hasn't been short of its own challenges. He shares that picking up the NCERT course after completing Class 10 through the state board is challenging. 'Cracking the JEE and NEET exams requires much more effort and a stronger academic foundation. Moreover, having learned their earlier lessons in their vernacular languages, the upcoming topics will be difficult to crack.'
'Another challenge is that parents demotivate their children, saying they will not crack the exam, whereas the children are highly motivated to continue the course. Thus, convincing parents that their child is equally talented is difficult,' he says.
Despite the hardships, Nitesh strives to ensure that the students benefit from BYJU'S courses and go far in their learning adventures.
'Life is just like a game where you fall, but you must get back up with the same enthusiasm to achieve your dream. Moreover, with the action we take in this life, we must make a difference,' Nitesh signs off.
Through the BYJU'S Fellowship Program, we hope to support the dreams of underserved children and help them stand on par with their privileged counterparts. With our fellows making this dream possible every day, BYJU'S Social Initiatives is impacting these children's lives and paving the way for their brighter future.
---
BYJU'S Education for All is on a mission to empower 10 million children by 2025 with education. Through the BYJU'S Give programme, you can contribute to this movement and help children with quality digital learning. You can donate an old device, which we will refurbish, and then use the money raised to buy a new device. In case you do not have a device, you can also donate to an NGO partner, who will use the funds to buy devices for children.
In both cases, we will load our BYJU'S Think & Learn premium content onto these devices and distribute them to children in need.