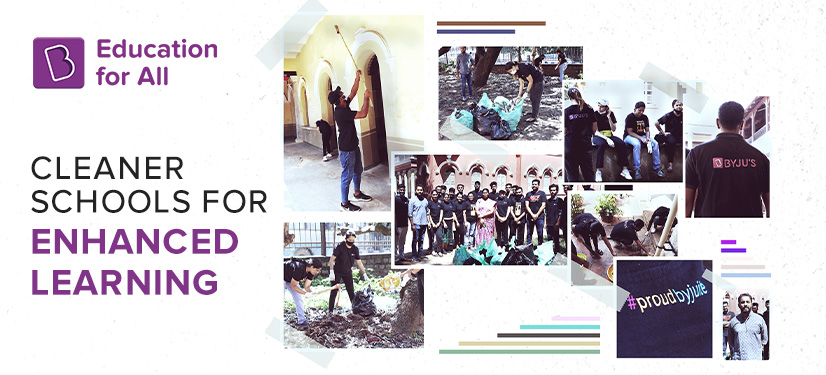 A school is almost like a second home for any child. In their growing years, they spend most of their time in schools, making friends & memories, and getting an education that can shape their lives.
115-year-old Fort High School, situated in Chamrajpet, Bengaluru, is one such institution that has been fulfilling the dreams of children since 1907. In fact, the renowned school was the first school in the then state of Mysuru.
However, the years of memories had degraded the government high school, which was recently restored by Indian National Trust for Art and Cultural Heritage (INTACH) in 2021.
On World Students' Day, celebrated on October 15, marking the birth anniversary of Dr A. P. J Abdul Kalam, BYJUites, in association with Hands On CSR, a non-profit in Bengaluru, further worked to restore this historic school. Together, they cleared the school premises of its overgrown greens and accumulated plastic debris.
"In the school, there was a lot of plastic and waste, and some areas were covered with many bushes. We removed all of them and also tidied the garden area. This cleaning drive taught us that it is our responsibility to keep the surroundings clean," shares Safuwan M, Content Development.
The objective was to ensure that the school's cleanliness would be a treat for the eyes of students returning from their midterm break, which would, in turn, help their learning journey.
"It was disappointing to see the school grounds littered with plastic and beer bottles. We all worked so efficiently, and happily, just thinking about how excited the students would feel once they came back after their festival holidays," shares Anushree G, ORM.
Each volunteer helped make the school a better environment for students by thoroughly cleaning the surroundings and collecting plastics, glass bottles, and a great deal of dry debris. They also weeded the grass.
"We started by cleaning the outer premises of the school, clearing the garden by plucking out the weeds, picking up plastics and cleaning up dirt from the surroundings. We then moved inside, sweeping the floor, dusting the spider webs, and washing the entire area. The most exciting part was engaging with our colleagues and getting this done together," Viswathi K. V., Marketing Communications, says.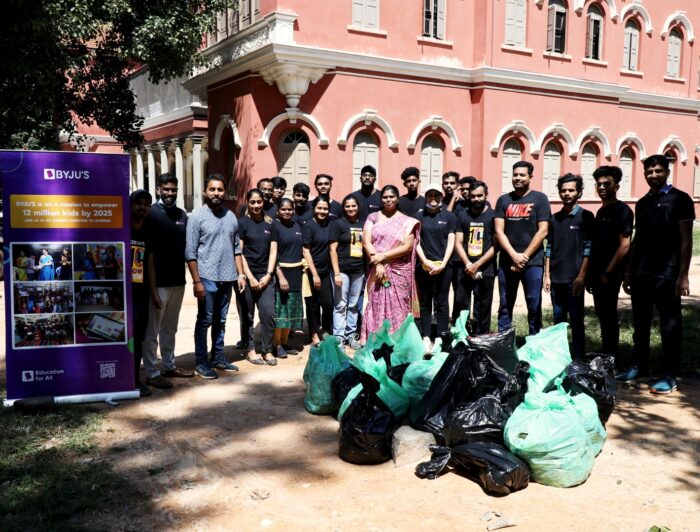 "We learned that the school was closed for a long period. So, we took full ownership of the tasks assigned. In fact, we felt different happiness once the task was done," says Vijay Singh, Art.
"Volunteering allows you to practice and develop your social skills since you meet regularly with a group of people with common interests. While we were fully exhausted, we were proud that we did something wonderful and meaningful," Safuwan shares.
At the end of the event, student beneficiaries were given the licences for classes 9 and 10.
While this is just one of our volunteering events, we hope to restore many more schools in India and help children learn better. Meanwhile, BYJU'S Education for All, too, continues to strive and make a difference for children with accessible education.
We hope that with many such initiatives, we can make a difference in the lives of children.
---
BYJU'S Education for All is reaching out to underprivileged children across India. Through the BYJU'S Give programme, you can contribute to this mission and help children with quality digital learning. You can donate an old device, which we will refurbish, and then use the money raised to buy a new device. In case you do not have a device, you can also donate to an NGO partner, who will use the money to buy devices for children.
In both cases, we will load our BYJU'S Think & Learn Premium content onto these devices and distribute them to children in need.
Also Read: BYJUites got together to clear the beach of Neelangkarai