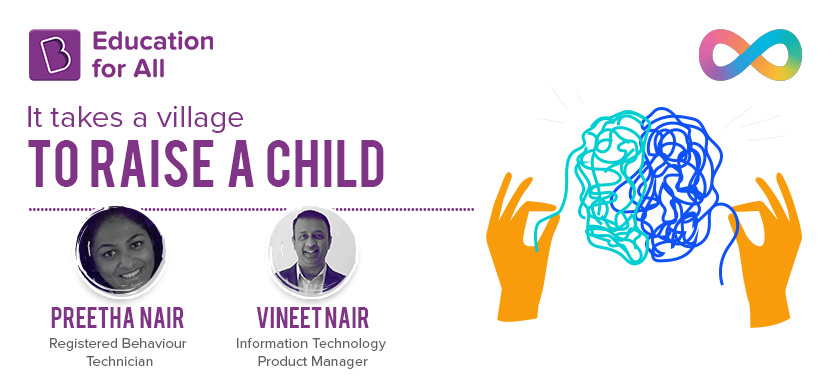 Every child is different and has a unique way of learning. While some children (neurotypical) may be able to pick up concepts fast, others (neurodiverse) may pick them up better if taught in a more supportive manner.
Earlier this month, we had a session of "Common Ground: Understanding Diverse Perspectives" with Shreya Jain, Head, BYJU'S UNO, a series where we discuss Neurodiversity in detail. This month, we spoke to parents of a child diagnosed with autism, who shared anecdotes of their journey with neurodiversity.
Preetha Nair works part-time as a Registered Behaviour Therapist committed to helping children with learning difficulties with a mission to assist each child in reaching their greatest potential.
Vineet Nair is a seasoned Transformation Program Manager and a digital products enthusiast. He holds a masters degree from Carnegie Mellon university with a product management and enterprise innovation major. In the neurodiversity space, he engages extensively with special kids and aspires use technology to build and integrated and inclusive society for the neurodiverse community.
Preetha and Vineet are proud parents of Chinmay, who is 14 and was diagnosed with Autism when he was three years old. Being part of the community for ten years now, they are dedicated to sharing and building a community around Autism and Parenting by talking about their own experiences.
"We returned from US to India in 2012, and one of the biggest challenges was scattered resources and low awareness about autism. Over the years, I have seen an increased awareness around neurodiversity. More parents are willing to talk about their kids openly and see support from others. This is an encouraging sign and we will go long way towards building an inclusive society," said Vineet.
Changing Careers for Family
While every mother doesn't always change her career path for their children, Preetha left an IT job to care for Chinmay and children like him as an RBT.
"Chinmay was born in the US and was diagnosed with autism when he was 3. We first noticed the differences in his communication. When he was diagnosed, we were told that, as parents, we had a huge role to play in his life. So both of us knew the first thing we had to do was educate ourselves. We enrolled ourselves in training sessions, workshops and seminars," shared Preetha.
Since then, Preetha has been helping her son and getting familiar with autism. Eventually, she also began volunteering at different places to strengthen her knowledge and help more children. It also struck her that this knowledge must be imparted to more families. So, she completed her certification to become an RBT.
"While we can delegate the work to therapists and other professionals, it's essential to be educated as a family, which is also one of the best decisions we took to help our child," said Vineet.
Warming Up to Neurodiversity
"When Chinmay was diagnosed, we were naturally very emotional. While we got him started with speech therapy even before the official diagnosis, we did not expect him to be diagnosed with severe Autism," Preetha recalled.
"We were completely lost and heart broken at the time. Luckily we had a neighbour with a special child and he took us to a community event where over 500 special parents attended. It was an eye opener for us and gave us courage and reassurance that there is help and support available, we are not alone. That experience taught us how important being connected to community is," added Preetha.
"When we spoke to 10 other families, we got to learn about their experiences, which is something that we would never get from books. That is the power of the community that truly helped us feel more positive, rather than staying in denial," shared Vineet.
Preetha and Vineet started Chinmay's diagnosis at an early age. This way, they felt it was easier to help him learn things at a better pace.
"2 to 7 years is precious time in a child's development. Parents should not lose this time in delaying the diagnosis, or not accepting it. If children are given intense early intervention therapies at this age, there will be a lot of improvement in the child. Acceptance is very important," said Preetha.
Neurodiversity & Parenting
Often, it's single-handed or more effort from one of the two parents. In such cases, it can be exhausting for the primary caregiver. Preetha and Vineet try to ensure they both play an active role in Chinmay's life.
"In the initial years, when we moved to Bangalore briefly, times were challenging, going from one therapy session to another, and I didn't have a good support system. Eventually, I started building my network and mostly met other mothers who have children with autism," Preetha shared.
"The initial fear and worry were channelled into this motivation, with which I could help other parents," she added.
Community Roles in Neurodiversity
When they moved to Dubai, they found a safe space in a community of parents and volunteers. They could talk, discuss neurodiversity, and learn new things daily.
"The one thing we often worry about is if Chinmay would do something 'odd' or 'funny' in a public space. We would often keep a special eye on him everywhere we went. But once we had our special needs community, we found a safe space. Here, everyone is in the same boat – nobody is going to mind anything our child does because they all understand," Vineet said.
Vineet then talked about how one of the members, a sports enthusiast, started a sports programme within the community in which children with neurodivergent conditions could participate. Here the kids could play football and basketball under the training of professional coaches.
A word about this initiative spread like wildfire. In fact, some cities in Kerala have similar groups where parents can freely play with their children without fear or inhibitions.
Role of Technology & an Inclusive Future
"While so much technology has developed in the last ten years, do we have a good app for children with neurodiversity? If we can simplify this technology and mindfully design it for neurodiverse learners, it can go a long way in their learning and development," said Vineet.
He added, "When we look at the advancements that support physical disabilities, there are plenty around us, from ramps to assistive technologies. The same should be applied to children with neurodiversity, as well. We need to be able to ensure that everybody, despite their challenges, should be able to access all facilities. That is the meaning of inclusion."
Further adding onto Vineet's point, Preetha shared, "With the number of neurodiverse children increasing exponentially, the only way forward is inclusive. Every child has a different way of learning – visual, auditory, and tactile. Ideally, the system should support all of them, but what we could do is at least widen the reach of the current systems. For that, we need more people involved in the community and more awareness around the cause."
Watch the video to dive deep into the conversation and learn more about how these parents and their community have supported their neurodiverse children, helping them grow daily.
---
BYJU'S Education for All is on a mission to empower 10 million children by 2025 with education. Through the BYJU'S Give programme, you can contribute to this movement and help children with quality digital learning. You can donate an old device, which we will refurbish, and then use the money raised to buy a new device. In case you do not have a device, you can also donate to an NGO partner, who will use the funds to buy devices for children.
In both cases, we will load our BYJU'S Think & Learn premium content onto these devices and distribute them to children in need.
Also read: Understanding Neurodiversity Through the Family Perspective