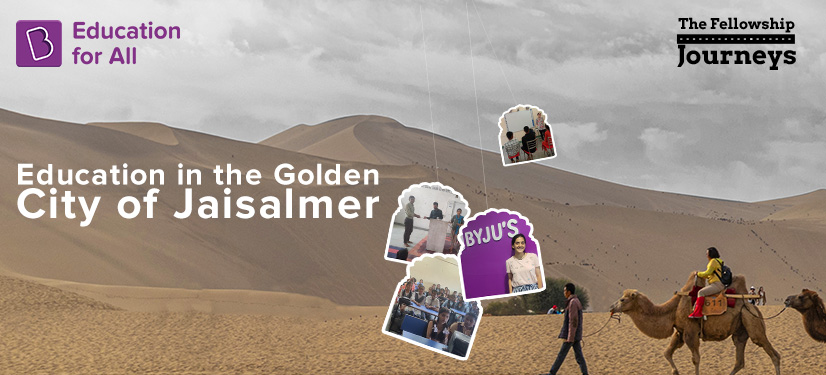 Jaisalmer is a former medieval trading centre in Rajasthan, located in the heart of the Thar Desert. Renowned as the "Golden City", it is distinguished by its yellow sandstone architecture. Dominating the city's skyline is the Jaisalmer Fort, a sprawling hilltop citadel bolstered by its 99 bastions.
According to Census 2011, the overall literacy rate in Jaisalmer is 53.80%. The city has been identified as an 'Aspirational District' by the NITI Aayog to transform it under five broad themes – Health & Nutrition, Education, Agriculture & Water Resources, Financial Inclusion & Skill Development and Infrastructure.
BYJU'S Social Initiatives joined with the NITI Aayog to launch the Career Plus programme for JEE & NEET aspirants in these districts. Through the BYJU'S Fellowship Program, selected fellows have been going to each district to help these aspirants reach their dreams.
One of the Fellows, Vishakha Sharma, too, has been traversing the length and breadth of Jaisalmer to ensure education for underprivileged students.
"I chose to join the BYJU'S Fellowship Program as it helps me work at the grassroots, and I have always wanted to work in the Aspirational districts. The programme gives such a good opportunity for youth to work with the district administration. One of my major focus areas is education with the underprivileged section of society, and I am glad to be associated with this field," shares Vishakha.
A Day in the Life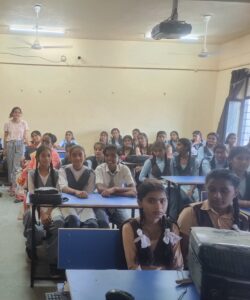 Every fellow has a different experience in each of these aspirational districts. Vishakha, too, shares her journey with us.
"I typically spend my day as a fellow around different learning experiences. It usually revolves around meetings with stakeholders such as Nodal officers, CDEO, DEO and various others and student engagement," she says.
"I usually visit Learning centres established specifically for the Career Plus programme to interact and engage the students in various activities. As a part of the BYJU'S Education for All programme, I also interact with various school principals and senior officials. I also go on field visits to see how things are going on and how I can help them," she adds.
Motivating Children for a Better Way Ahead
Vishakha hopes to contribute in a big way to the learning journey of a child. Through this programme, she constantly engages with the students daily and tries to create a change in their life.
"It's a two-way street. Not only do I motivate these students, but they, in turn, are also impacting my life in some way. I try to encourage them as much as possible to study and work hard so they can clear the exams and get into the college of their dreams. I believe they will surely do something good in their life and make everyone proud," Vishakha says.
Coming from low-economic backgrounds, the children are often unable to pursue high-quality education. So as a part of the collateral damage, their communication, especially in the universal English language, has taken a hit.
In addition to all the NEET and JEE support, Vishakha also takes English classes for some of these students to help them improve their fluency in the language.
"Another thing I have noticed is that some of these girls are most impacted since they are also engaged in household activities. In such cases, rigorous counselling is much needed," she shares.
A Challenging Ride
While the Fellowship Program is something that Vishakha enjoys, it comes with challenges.
Highlighting some of them, she says, "Traveling because every place is quite a task because most of these places are quite far off. But what's even more challenging is making the students and parents understand the concept of live classes. Helping them sustain in the programme is one of the hardest things."
Despite these hurdles, Vishakha hopes to inspire and motivate these children to work harder for a brighter future.
"The key is to take small steps and set higher goals. It is important to learn from our failures because that's the only way to grow. Only then can we become the building blocks of society and create a change for the world we wish to see," she signs off.
Through the BYJU'S Fellowship Program, we hope many children can reach their goals and aspirations. We also hope they can further inspire the children around them to seek and shape a better future for themselves.
---
BYJU'S Education for All is on a mission to empower 10 million children by 2025 with education. Through the BYJU'S Give programme, you can contribute to this movement and help children with quality digital learning. You can donate an old device, which we will refurbish, and then use the money raised to buy a new device. In case you do not have a device, you can also donate to an NGO partner, who will use the funds to buy devices for children.
In both cases, we will load our BYJU'S Think & Learn premium content onto these devices and distribute them to children in need.
Also read: Journey To Spread Learning Through the Plains of Katihar