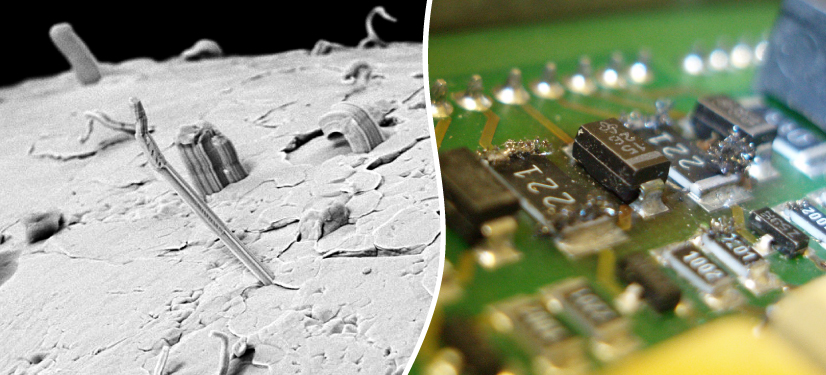 Have you ever heard of the phrase – powerful things come in small packages? Well, in the world of electronics that is certainly the case! With every passing year, as we see advancements in technology, our devices keep getting smarter and more powerful but more importantly, smaller. 
However, within these tiny powerful devices also lie minuscule disruptors, which, while being only a few millimetres wide, can destroy powerful circuits. What are these disruptors? And what do they have to do with whiskers? Let's find out!
Metal whiskers are tiny hair-like structures on metal surfaces
These structures are often only a few millimetres thick. An interesting point to be noted here is that metal whiskers grow only after the metallic object has been in use for a while. They are also made of the metal from which they grow. For example, a zinc coating develops zinc whiskers and a tin coating develops tin whiskers. 
Nobody knows exactly why a metal starts growing whiskers
Scientists have proposed many different theories about their formation, but none of them has been conclusively proven. These theories usually blame contamination in the metal or damage by electricity as the reason behind metal whisker formation. While metal whiskers can grow on many metal surfaces, since tin is the most commonly used metal in electric coating, tin whiskers are more common.
Metal whiskers were first found in the 1950s
However, they have become more prominent now for two reasons. The first being that our electrical circuits are much more compact than they used to be, given the smaller size of our electronics. This means that a small growth like a metal whisker is enough to connect two parts of the circuit that are away from each other and generate a short-circuit in the entire device! 
Another reason that metal whiskers are receiving more attention now is that earlier, mixing lead with metals like tin stopped them from growing whiskers. However, lead is an environmentally polluting substance and governments across the world are now banning the use of lead. This means that electronic industries need to figure out a way to stop the growth of metal whiskers without using lead – a tough challenge at hand.
Metal whiskers can take down a satellite!
Since they can grow on a wide range of surfaces, metal whiskers become more problematic when they grow inside devices orbiting outer space. The simple reason being that if these devices start facing problems in space, fixing them becomes very difficult. So far there have been at least three reports of metal whiskers causing satellite failures. 
Which fact about metal whiskers did you enjoy reading the most? Let us know in the comments below!
Liked this? Read more stories like this here
Why is the Titanic still at the bottom of the ocean?
Masters of stealth: Animals Who Are Nailing April Fools' Day
Weird Weather and Sparkly Skies: Rare Atmospheric Phenomena Explained