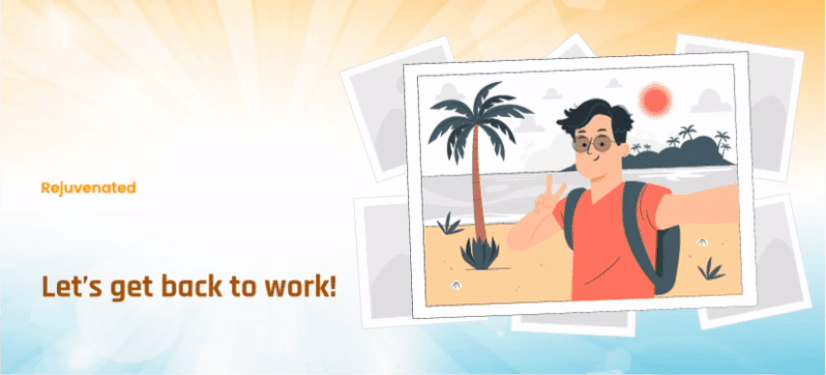 Boosting productivity, whether at work or while doing chores at home, is extremely important. We're in an age where we have all learnt how to work smart, not hard. This simple mantra helps in increasing productivity at work.
How do we ensure that our work efficiency doesn't take a hit after we're back from a vacation? Whatever your style, staycation or extreme sports, and whatever the purpose of your holiday, me-time or exploration, we all hope to come back to work with fresh ideas and renewed enthusiasm, ready to take on any challenge.     
But sometimes it's not easy to hit the ground running. No, you don't need to plan another trip to get over this one. We've got simple hacks to ensure you have a productive day and are back to being your original awesome self in no time. All you have to invest, is your dedication and attention. 
Also Read: The road to improvement: 10 steps to receiving constructive feedback like a pro

Here are five ways to
improve productivity
after you're back from a break:
1. Plan absolutely everything
While one should do this at the start of every single day, it is imperative that you make to-do lists once you're back, prioritise your tasks, and stick to the plan, no matter what. Conquer day one and the rest will follow.
2. Productivity methods to the rescue
If you're not sure of how to plan your day, a tried-and-tested productivity technique can help. Experiment with traditional ones like Warren Buffet's 2-list rule and time-blocking method or get innovative with the Eat the Frog method.
3. Regain control
Combing through all your emails and messages will give you a sense of what you missed while you were gone. Meetings are not all bad; a one-on-one with your teammates or even a team discussion could be helpful.
4. Stay away from multitasking
If you indulge in too many things simultaneously, instead of saving time, you might be opening yourself up to errors and chaos. Give your 100% to the task at hand, complete it, and move on to the next. 
5. Breathe
It's your first day back. Nobody expects you to do anything path-breaking. Cut yourself some slack, catch up on what you missed, have a croissant with your colleagues, and end the work day on a high note.
Also Read: Therapy at work | Exclusive interview with workplace therapist on mental health
Remember to put that phone away. Looking through your vacation pictures or scrolling through Insta is just an endless slide down procrastination. Focus on the fact that you love your job, and your hard work will pave the way for another scintillating holiday.
These productivity hacks can help you get back on track seamlessly, and if you falter a little bit, there's nothing an iced latte and chocolate chip cookies can't solve.
Pro tip: For complete peace of mind during your break, make sure to have everything in place before you leave. This out-of-office checklist will not only help you plan your vacation better, but also aid you in settling into your daily routine once you're back.
What are YOUR top productivity tips? Please share with us in the comments section below.
Like what you read? Head to Life at BYJU'S to learn more about our work, people, and the stories that make us unique. To explore job opportunities, check out Careers at BYJU'S.
(This story has been put together by Storyweaver, Neha Dua)