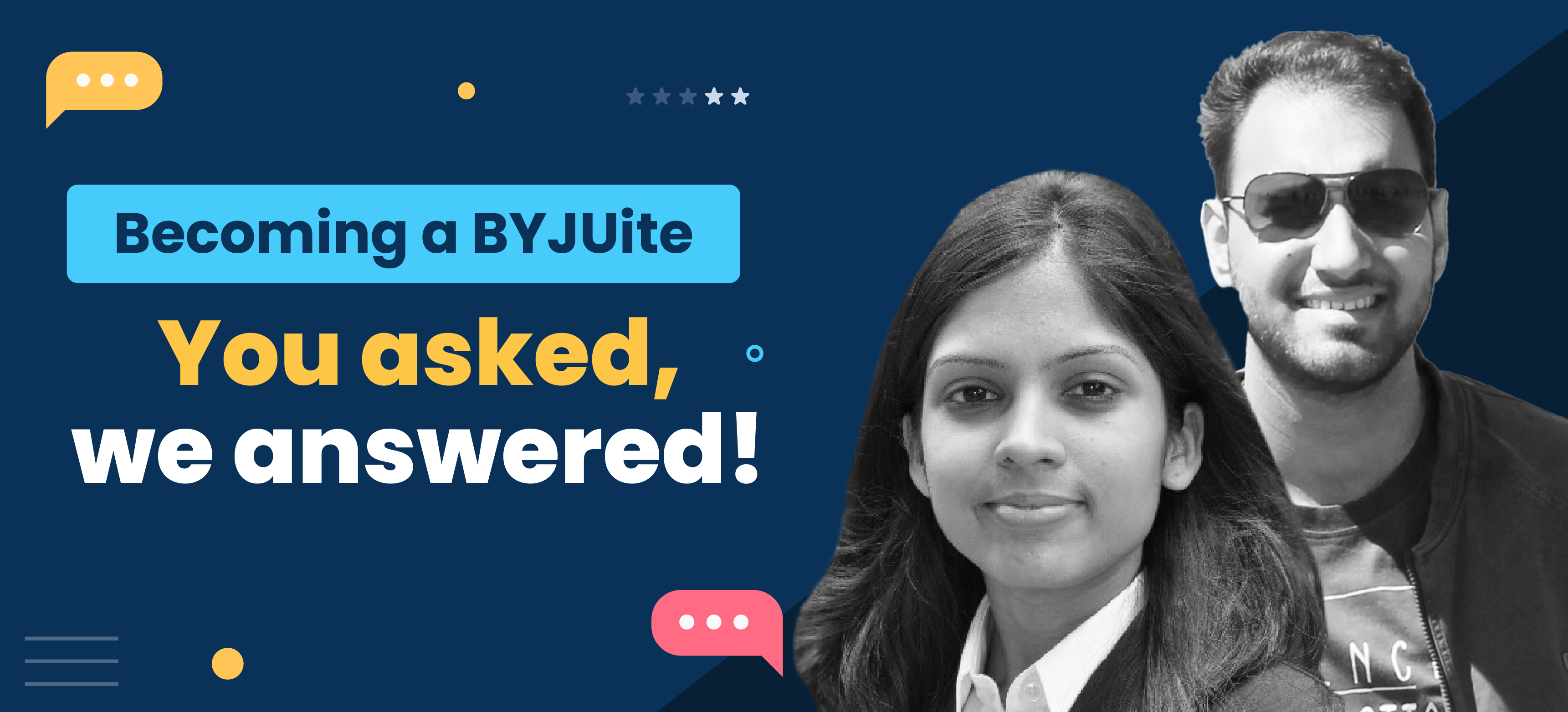 At BYJU'S, who we are shapes the work we do. Being at the forefront of technology, we are constantly looking for ways to help build diverse and inclusive teams where everyone feels like they belong. From the very beginning, we have strived to do just that: create a conducive working environment where BYJUites can learn, explore, dare to fail, and continue growing with us.  
If you aspire to be a part of our team, then we suggest you keep scrolling! Here's your opportunity to know all about becoming a BYJUite, company culture, the application and hiring process, employee benefits, and more, from our People Team. Get all the answers, as our Senior HR Managers Radhika Saraf and Nirmit Arora, address your FAQs.
Edited Excerpts:
Can I apply for more than one role at the same time?
Radhika Saraf: Yes. A candidate usually has various skills and capabilities, and may fit in multiple roles. As a company, we believe in making these opportunities available to applicants, so that they get the best experience in their professional journey while also being the best match for the role. 
Nirmit Arora: Yes, you can apply for more than one role at the same time. Although, we suggest candidates narrow down their choices to roles that truly match their skills, experience, and interests. This way, you will have a better sense of which part of the company and role seem like the best match for you. 
I interviewed/applied last year and wasn't selected. May I reapply?
Radhika: Yes! Everyone is constantly learning and non-selection a year back doesn't indicate an individual's capabilities at present. Hence, candidates are welcome to re-apply to the open positions, get selected, and be a part of the BYJU'S family.
Nirmit: Yes! We welcome you to reapply. We understand that one year is enough time for candidates to upskill and mitigate any gaps that were identified during the previous hiring process. However, candidates must reflect on their previous applications and the feedback they received to ensure they give their best shot.
Also read: Meet BYJU'S People Team And Learn How They Are Maximising Employee Value
I am a veteran. Can I still apply at BYJU'S?
Radhika: There are no policies that favour a certain set of candidates over others. Everyone has the opportunity to apply for vacant positions and have a fair run in the selection process, as long as they meet all requirements necessary for the role.
Nirmit: We encourage veterans to apply for open positions at BYJU'S. Our goal is to hire people based on their skills, enduring passions, and distinct experiences and perspectives.  
Can you tell me about the interview process and timeline?
Radhika: The interview process is largely determined by the requirements of each team and the role in question. There are creative roles which, for example, necessitate an interview process that assesses skill via hands-on assignments. However, other roles may only require one-on-one interaction with the candidate to identify their fitment to the profile. 
Interview processes can typically take a couple of weeks depending on the type of requirements. For instance, if assignments or business case studies have been given, the candidates may require some time to complete them, which impacts the overall duration of the process.
What is BYJU'S work culture and environment like?
Nirmit: At BYJU'S, we strive to create an environment where employees are free to express their ideas, regardless of their level in the organisation. Keeping in mind the different needs of every individual, our top priority is building a people-first environment with a special focus on maintaining a work-life balance. Our work environment is structured in a way that makes it suitable for everyone to explore their full potential, go after their creative leanings, and bring their whole and best selves to work.  
What are some of the benefits you get after joining BYJU'S?
Radhika: BYJUites get a multitude of benefits, ranging from health insurance for them and their families, to an OPD insurance plan. The latter allows employees to choose from additional free medical benefits and free medical consultations with general physicians, based on their needs. Our Let's Talk initiative provides 24×7 counselling and guidance from mental health practitioners, enabling BYJUites to take care of their well-being 
Further, there are various types of leaves for employees, which include (but are not limited to) Child Care Leaves, Period Leaves, and Bereavement Leaves to take care of oneself and one's loved ones in challenging times.  
Nirmit: We have employee-first policies and initiatives in place that focus on supporting physical, financial, and emotional wellness of BYJUites. In addition to insurance and leave benefits, we also offer opportunities through which BYJUites can learn and grow – personally and professionally. We also have daycare facilities pan-India to create a supportive environment for working parents at BYJU'S.   
Like what you read? Head to Life at BYJU'S to learn more about our work, people, and the stories that make us unique. To explore job opportunities, check out Careers at BYJU'S.