Cooking is an art. It may look all easy on those well put-together YouTube recipe videos but we all know that it isn't everyone's cup of tea. One needs to have a certain set of skills, some basic knowledge and most importantly, patience to master the craft of culinary science. Whether you choose cooking to unwind at the end of a long day or just sit through all MasterChef episodes, here's something for you. This International Chef's Day, take this fun quiz to test your basic cooking knowledge and see for yourself if you have it in you to be a culinary wizard.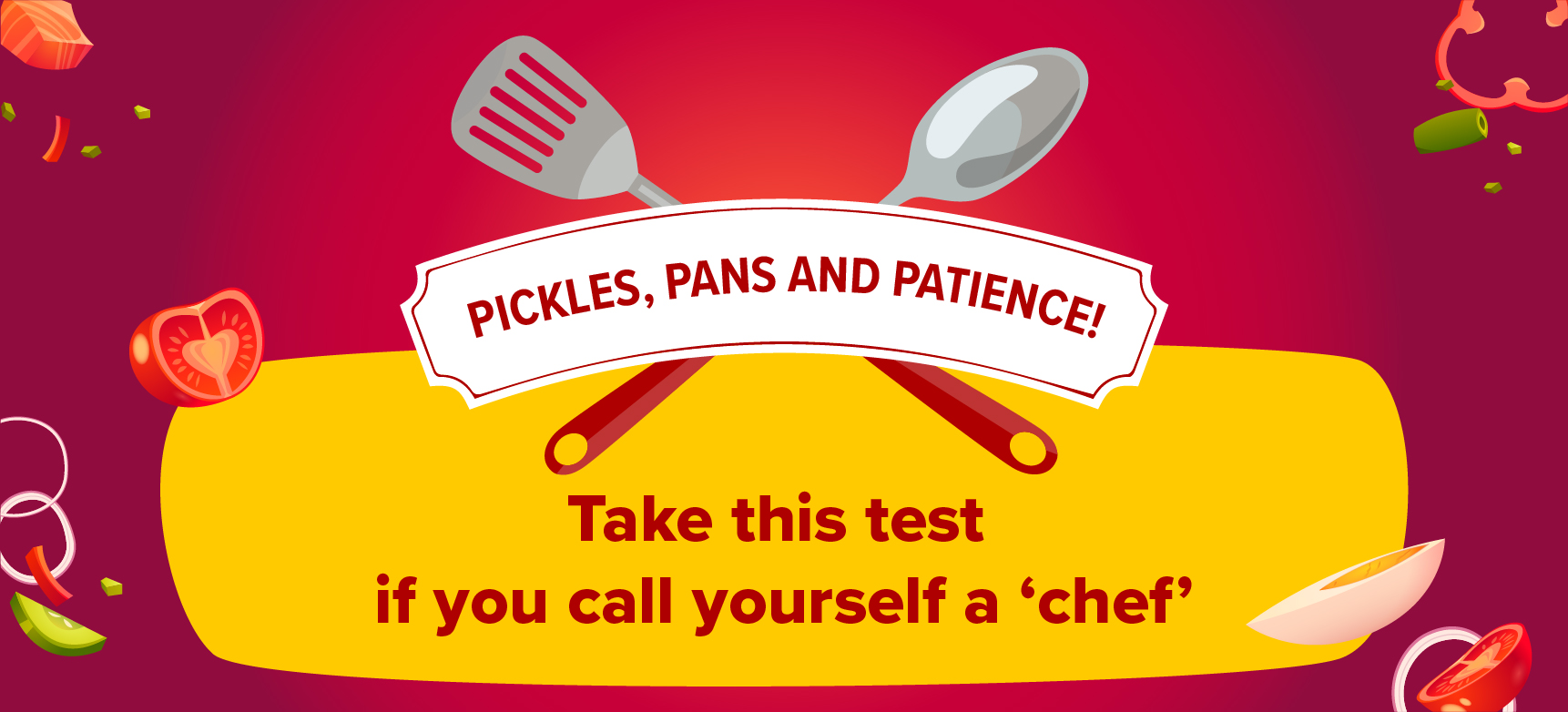 Here's what you need to do. Read through the questions carefully and choose your answer from the options given below:
     1. How long should soft boiled eggs be cooked for?
2-3 minutes

4-5 minutes

6-7 minutes

10-11 minutes
     2. What are the two main ingredients in a custard?
Egg whites and cream

Egg yolks and cream

Cream and eggs

Mayonnaise and eggs
     3. What does it mean to blanch?
Boil and then put in ice water

Freeze

Soak it in water overnight

Grill
    4. Which of the following is not a binding agent?
Vinegar

Egg

Mayonnaise

Flour
    5. What is in a brining solution?
Water + Sugar

Milk + Sugar

Water + Salt

Cream+ Salt
    6. White, Brown, Red, Sticky are all types of what?
Rice

Curry

Oil

Sugar
     7. Storing tomatoes upside down will make them last longer.
True

False
     8. Adding ——- to water will make it boil faster.
Sugar

Salt

Vinegar

Flour
    9. How many teaspoons are in a tablespoon?
Two

Three

Four

Five
     10. What do julienne cuts look like?
Coins

Matchsticks

Shreds

Petals
Do you think you got them all? Give your answers below in the comments box and wait till our next quiz where we publish our answer key!
Answer Key for last month's quiz:
1. Superman
2. Gotham city
3. AC/DC
4. His shield
5. Black Widow
6. Daredevil
7. Daily Bugle
8. Storm
9. Red
10. Inside the Eye of Agamotto
11. Themyscira
12. Six
13. Wonder Woman
14. The Blackbird
15. Joaquin Phoenix