From the pages of our favourite comic books to the big screens of Hollywood, superheroes (and villains) are widely popular. In addition to being the pop-culture icons that we all grew up with, these superheroes are also regarded among the most admired literary characters. That said, how much do you really know about them?
If you think you know your superheroes well enough, here's a quiz to test your knowledge. Whether you are a Marvel or DC fan, this one is sure to stretch your brain a little.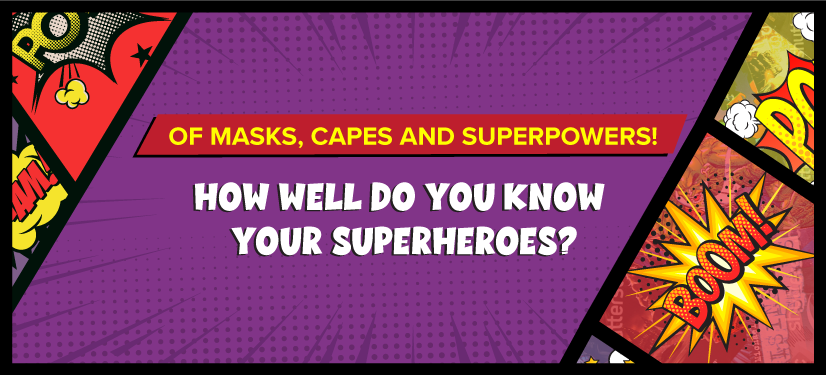 Here you go!
1. Which superhero has the name 'The Man of Steel'?
2. Which city does Batman protect?
3. Who is Tony Stark's favourite band?
4. What is Captain America's weapon?
5. Who can calm down The Hulk?
6. Which superhero is the 'Man Without Fear'?
7. Which newspaper does Peter Parker work for?
8. Who is the superhero that can manipulate the weather?
9. What colour kryptonite cannot harm Superman?
10. Where can you find the Time Stone in Doctor Strange (2016)?
11. Which island does Wonder Woman come from?
12. How many infinity stones are there?
13. Which superhero has the magic lasso?
14. What is the name of the X-men's plane?
15. Which actor played the title role in Joker (2019)?
You think you got them all? Give us your answers in the comment section below. The correct answer key will be published along with our next month's quiz. 
Like this quiz? Head to Life at BYJU'S to learn more about our work, people, and the stories that make us unique. To explore job opportunities, check out Careers at BYJU'S.