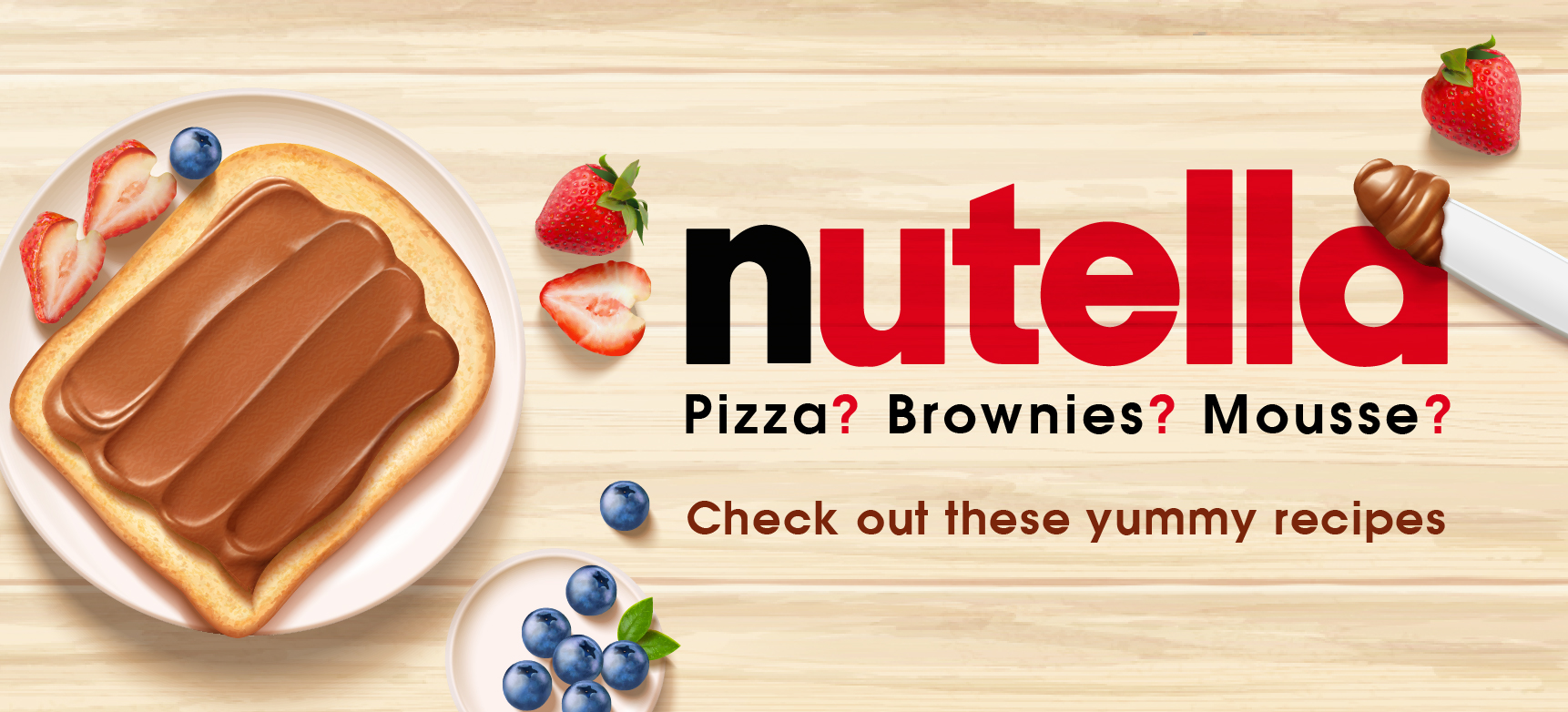 There's something about Nutella that brings back some of our fondest childhood memories. Whether it was sneaking into the kitchen for a spoonful or the rare breakfasts when we had it with bread. Nutella chocolate spread is arguably the favourite of every chocolate lover out there. So, on World Nutella Day, we decided to bring you some quick and easy recipes that'll let you indulge in the decadence just a bit more. 
Check out these 4 mouthwatering and oh, so sweet recipes made with Nutella: 
Nutella Brownies
What you need
How it's made
In a large mixing bowl, add about 370 grams or 1¼ cup of Nutella, 2 eggs at room temperature and ½ cup of maida. Mix the batter until it's smooth. 

At the same time, preheat your oven to 180℃ or 350℉. 

After greasing a baking dish with some butter, pour the batter into it. 

Bake it in the preheated oven for up to 20 minutes or till a knife comes out clean when inserted. 

Remove the baked brownie and cool it for at least 30 minutes before serving. 
Also Read: 5 Hacks to Boost Those Happy Hormones When Working from Home
Nutella Mousse
What you need
How it's made
Place a mixing bowl in the refrigerator for a few minutes and let it chill. 

To this mixing bowl add one cup of whipping cream and beat it till soft peaks are formed. You can use a hand mixer or a whisk. Be careful not to overwhip the cream. 

In another bowl, add ½ a cup of Nutella and microwave it for 45 seconds to soften it. 

Add a little bit of the whipped cream to the softened Nutella and gently fold it in. Then add the rest of the whipped cream. 

After the Nutella is incorporated with the whipped cream properly, transfer the mix into glass cups and cover it with plastic wrap. 

Chill the cups for at least 2 hours before serving with some strawberries and chocolate shavings on top. 
Also Read: Here's How You Can Manage Good Nutrition While Working From Home
Nutella Cupcakes
What you need
Nutella

Baking powder

White flour

Egg 
How it's made
Line a muffin tin with cupcake liners. 

Sieve the flour and baking powder together and set it aside. You can do this twice. 

Preheat your oven to 175℃ or 350℉

In a mixing bowl, add ½ a cup of Nutella and 1egg at room temperature. Mix it well. 

Add the flour and baking powder mix to the nutella and egg mix and whisk until well combined. You can use a hand mixer or a spatula for this purpose. 

Once mixed properly, fill the mix into the muffin tin so that only ¾ of each of the liners is filled. 

Now, bake this for 11 to 13 minutes till a prick inserted into the middle of the cupcake comes out clean. Be careful not to overbake. 

Take it out of the oven and let it cool before serving. 
Also Read: Stay Fit While WFH With These Simple Exercises
Nutella Pizza
What you need 
Taco tortillas 

Blueberry 

Pineapple 

Nutella
How it's made 
Spread 1 tablespoon Nutella on a tortilla and place another tortilla on top.

Spread 1 tablespoon Nutella on the second tortilla as well. Ensure that ½ inch space is left from the border. 

Repeat the process thrice so that you have 4 bases.  

Dice the pineapple and measure out ¼ cup

Measure out ¼ cup blueberries 

Place the blueberries and pineapple evenly on the tortillas and serve. 
We hope these easy-to-make recipes inspire you to put your chef's cap on and get experimenting in the kitchen!
Do you have a favourite from these recipes or your own take on a Nutella dish? Share it with us in the comments below!