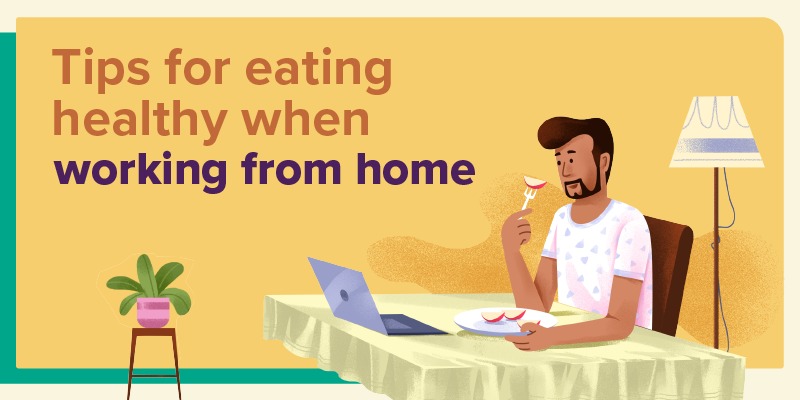 Working from home can seem like a dream — flexible schedule, no commute hours, staying in with the family and virtual coffee meet-ups. But working from home comes with a unique set of challenges. With more people now working remotely, it can be easy to skip meals or eat unhealthily especially during a busy day at work. This can cause nutritional imbalance and can halt your productivity. 
But with a few simple changes to your daily routine, working from home and staying healthy can seem like an easy task. Here are some simple hacks to help you eat healthy and stay fit while working from home:
Also Read: Know All About BYJU'S Holistic Health Insurance Programme
Start your day right
Starting your day with a nutritious breakfast will help combat mid-morning urges to raid the fridge. Opt for healthy breakfast dishes like baked eggs, smoothies, yoghurt bowls loaded with seeds and fruit. 
Plan your meals ahead
A way to practice eating healthy when working from home is planning and preparing your meals in advance. This should include your main meals as well as your mid-snacks. Make sure that your meals include fibre, protein, fruit, vegetables and healthy fats to keep you satiated.
Stay hydrated
Avoid soda and other sugary beverages that are easy to over consume during the day. Keep a water bottle at your workstation as it will remind you to drink water regularly. If you have trouble remembering to drink water use your devices to track hydration. 
Also Read: Well-being Comes First: How BYJU'S is Supporting New and Expectant Mothers
Portion out your meals
Always portion out your meals and avoid eating straight from bags or containers. Whether it's your main meal or mid-day snack, pull out a portion size and store it in a box, so that you avoid overeating. 
Take scheduled breaks
Make the most of your scheduled breaks especially lunch breaks. Try to eat away from your workspace, you'll feel more satisfied and recharged when you finish and return to work. 
Track your caffeine intake
If you're a coffee lover and prone to endless cups, try to be aware of recommended caffeine intakes. Too much caffeine can disrupt your sleep and have an adverse impact on your health.
Plan healthy snacks
Avoid eating unhealthy snacks, instead opt for healthier options like roasted nuts, vegetable sticks with hummus. Also, keep them accessible around your workstation, so that you don't have to waste time getting them from the kitchen.
Keeping your nutrition in check can be tough especially when your home is your office. However, focusing on a balanced diet can make you more productive, keep you full and keep your hunger pangs at bay. Don't forget to make the most of your lunch breaks and remember that the most important tip for staying healthy is eating mindfully. 
Like what you read? Head to Life at BYJU'S to learn more about our work, people, and the stories that make us unique. To explore job opportunities, check out Careers at BYJU'S.