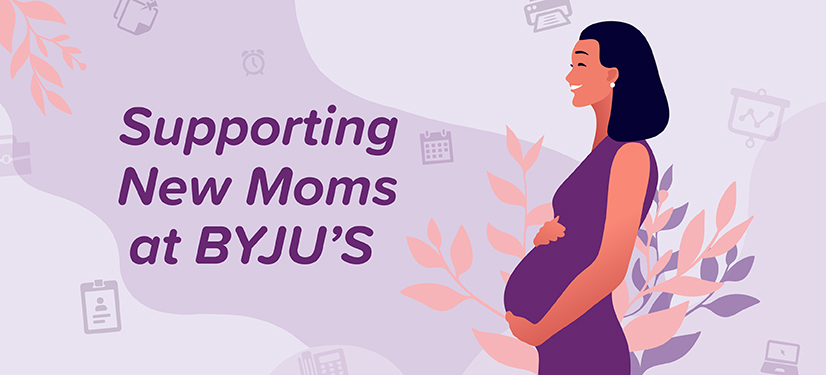 A new mother's well-being is integral to safe motherhood. And maternity leave, a fundamental part of the maternity policy in India, is key to ensuring the overall well-being of new and expectant mothers in the workplace. At BYJU'S, we have a comprehensive policy offering maternity benefits to create a more comfortable and happy environment for our women employees.
We believe that a maternity leave policy should offer strong benefits to help mothers take the time they need, so that they can make a seamless transition back to the workplace. Going in that direction, we have taken conscious steps to nurture an evolved workplace for our women employees and we will continue to implement such initiatives to support our new moms. 
Read on to learn more about BYJU'S maternity leave policy, and its benefits for new and expectant mothers.
Also Read: Kavya Reddy Shares Why Consistency is Key for Success
How we ensure work-life balance for our new moms
It's no surprise that offering strong parental support to new and expectant moms can positively impact their family life and ensure a good work-life balance. Our carefully planned policy offers 26-weeks of paid leave as per the terms of the Maternity Benefit Act, 1961 and provisions of the Maternity Benefit Amendment Act, 2017.
In addition, we also offer enhanced maternity coverage up to Rs 60,000 in non-metro cities and Rs 70,000 in metro cities as a part of our Health Insurance Policy.  
Prioritising the needs of new and expectant mothers is on the top of our list. Our maternity policy is aimed at providing psychological and economic benefits to mothers and their families. We have truly mommy-proofed our workplace to create a conducive environment for our new moms returning to work. Now, we are working upwards from there. 
Also Read: CreateMax | Listen to BYJUites Share Stories of Bringing Our Learning Content to Life
Some of the benefits of our maternity policy are listed below:
Rejoining the workplace after a maternity break is not easy. We are committed to offering the support our new moms need as we believe that such initiatives are essential for enabling a smooth transition. In the long run, we also foresee these efforts and initiatives playing a big part in fostering the overall well-being of BYJUites and helping, especially new moms, in striking a good work-life balance.  
Head to Life at BYJU'S to learn more about our work, people, and the stories that make us unique. To explore job opportunities, check out Careers at BYJU'S.