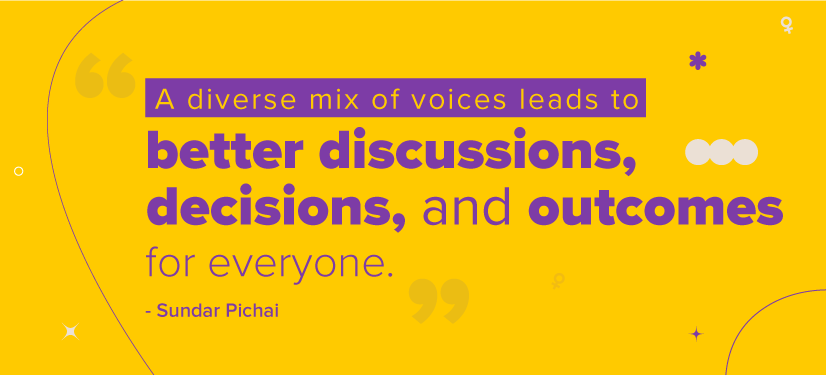 Women's Day at BYJU'S this year was definitely more than just celebrating women for a day.  It was also about indulging in some serious conversations around thought-provoking topics, raising awareness against bias, standing together in a show of solidarity, celebrating fun moments together and so much more!
We commenced the month on a powerful note, as BYJUites joined the #breakthebias movement, the IWD theme for 2022, where they crossed their arms and smashed all stereotypes. 
Ahead of Women's Day, we celebrated a Week of Inclusion with four incredible workshops. These sessions helped BYJUites de-stress and educated them about new areas of topics. 
Inhale! Exhale! 
The Body Scan Meditation was a perfect way to help BYJUites escape mid-week blues and unwind a little. It helped develop a better awareness of our body's physical sensations and how they change with our emotions and vice versa.
A massage for self-reflection 
BYJUites learned guided mindfulness-based stress reduction meditation along with intuitive therapeutic massage techniques creating deep relaxation and some perspective. 
Read More: Become a healthier, happier YOU in 2022 with these small actions!
Learning to protect ourselves
Ajit Negi, a 3-times MMA National Champion, taught BYJUites basic self-defense and wrestling stances along with a few drills for real-life situations.
Living life, minus the bias
Bhoomika Halemane guided us through an impactful session on identifying the common, harmful unconscious biases and how we can lessen the influence of those preconceptions on our interactions.
A communication series on Unconscious Biases was shared with BYJUites. The series threw light on the different kinds of biases we may experience, their impact, and how we can be conscious about it to better our conversations.
A power-packed panel discussion 
Women's Week of Celebrations concluded on a strong note with an impactful Panel Discussion on Inclusion at Workplaces, moderated by Vineet Singh.
It was an inspiring experience for all BYJUites to indulge in a serious conversation. It included some thought-provoking questions answered by a few amazing women at BYJU'S – Prathyusha Agarwal, Rachna Bahadur and Mansi Kasliwal.
A simple Thank You goes a long way!
BYJUites celebrated Employee Appreciation Day by savouring some cupcakes and sharing heartfelt postcards with their colleagues to express gratitude.
Women's Day Makeover
This Women's Day, BYJUites made a statement by giving their Zoom backdrops and LinkedIn banners a Women's Day special makeover.
Time for some puzzles!
BYJUites engaged themselves in solving a puzzle in the Women's Day Special Crossword Quiz. They spent their time identifying women and men who made a difference in women's lives and rights using some interesting clues.
Thoda sa Halla Mache De for BYJU'S! 
This March was certainly an exciting time for BYJU'S as we created the Anthem, Halla Mache De for Women's Cricket World Cup and BYJUites got an exclusive discount to shop their favorite ICC merchandise. 
Not only this but BYJU'S also released their Women's Day special film. The film throws light on how women of yesterday helped shape the women of today. The women of today own the responsibility to define the future of women of tomorrow. 
Watch the exciting video here.
A place to learn and share!
Our Women's Day Celebrations ended with the exciting launch of InspiHer, a property dedicated to helping women hone their skills, learn from the leading women at BYJU'S and in the industry, and a place to share inspiring stories.
Also Read: All That's New at BYJU'S | Things to Look Forward to in 2022
All in all, it was a wonderful beginning to the month with a lot of learning, fun and surprises! 
Comment below to let us know how you liked the Women's Week of Celebrations at BYJU'S.