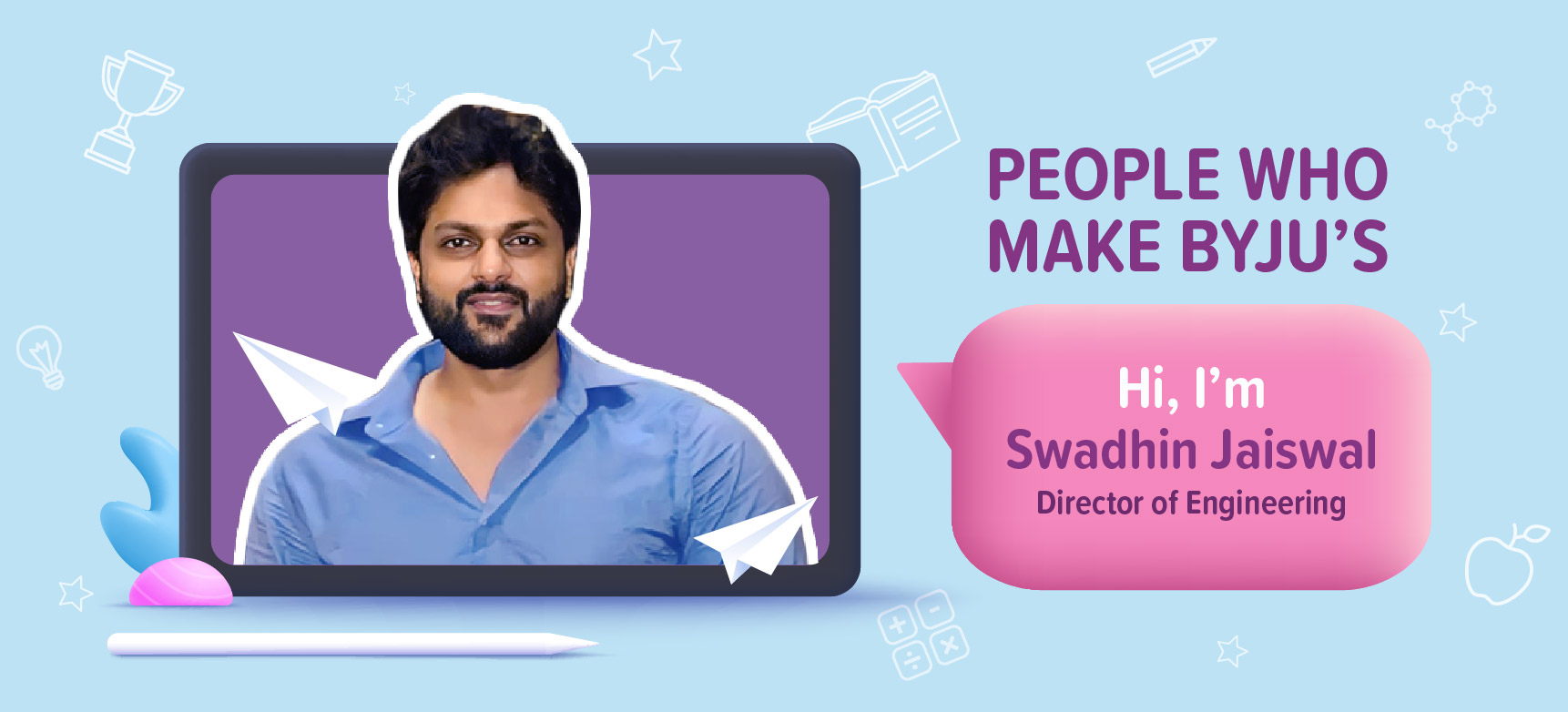 "As engineers, we focus on taking complex problems and simplifying them into innovative products. We achieve this by striving to be entrepreneurial in our everyday work. When you understand the bigger picture and couple that with the learners' needs, you've got to succeed," says Swadhin Jaiswal, Director of Engineering at BYJU'S.
The entrepreneur-turned-techie joined BYJU'S with the mission to build a team of entrepreneurial thinkers, where everyone is encouraged to try new things and make decisions independently. He says as a BYJU'S techie, you will embrace an ownership mindset. Our team culture is all about stepping up, understanding students and their needs and accordingly coming up with innovative solutions to fix those problems. 
In this edition of People who make BYJU'S, Swadhin shares his approach to leading his teams, what he's learned as an entrepreneur, and how he is using his expertise to build an inclusive and innovative culture. 
Also read: How Puneet Akhouri's Passion For Tech And Music Led Him To BYJU'S
Dream big, start humble
"I've always looked at technology as a means to helping us be better people and have better lives," shares Swadhin. It was this love for making a difference in people's lives that inspired him to leverage tech in skill development and start his own edtech venture in 2017. 
"It all started when I was in college. I witnessed a massive gap in courses being taught to students in IITs and those studying in regional colleges. This led to a huge industry-academic gap and to add to this, students in regional colleges were not savvy with all the latest technologies and how to prepare for technical interviews. To address this knowledge gap, my friend and I launched a venture that helps candidates prepare for technical interviews for major companies," he says.
This experience fortified Swadhin's passion for leveraging tech and building learning solutions for students across India. He was resolved to take the idea of tech-for-good and tech-driven learning to the next level. "And what better way to execute this vision than by working with the finest of engineers at the world's largest edtech company," quips the BYJUite.
As the Director of Engineering at BYJU'S, adds Swadhin, my role is multifaceted. But it primarily entails managing engineering projects, coordinating with different teams, implementing innovative technologies and building and managing high-performance teams. 
Also read: 'Being A Software Engineer Is Much More Than Just Coding': Alka VN on What It's Like To Be A Techie At BYJU'S
Empowering innovation and creativity
At BYJU'S, Swadhin channels his entrepreneurial experiences to build innovative products for our young learners. He says, "I think it's awesome that we're seeing the importance of creating products that are not just essential to learners, but right for the learners."
Teamwork and trust, adds Swadhin, are key to enabling BYJU'S to move forward with new products and technologies. He strongly believes that while managing teams, both teamwork and collaboration can foster a healthy work culture, where individuals can achieve their goals. In his words, it's the subtle things that you do on a daily basis that creates the culture. 
"We strive to build highly collaborative and autonomous tech teams. While each team's responsibilities may be different, we're connected by our common goals. We're open to continuous improvement, have a healthy feedback culture, and believe that fostering intrapreneurship builds a culture of motivation and empowerment amongst employees," he tells us.
Why being a problem-solver is key
Sharing a piece of advice for those entering the tech workforce today, Swadhin says nurture problem-solving skills early on. "This means keeping an open mind, thinking innovatively and outside the box. In the tech space, you will encounter many challenges whether it's fixing a bug in your network or moving to a new tech stack; your ability to resolve problems will determine your path as an engineer," he says.
He adds that while resolving problems, do not always settle for the first solution you find. "Find as many alternative solutions as you can, even if you don't get it right the first time. Because an integral part of problem-solving is being prepared for failures – and to learn from your mistakes," he shares.
More importantly, adds Swadhin, don't forget to have fun in the learning process while working towards your goals without worrying too much about the outcome. 
Like what you read? Head to Life at BYJU'S to learn more about our work, people, and the stories that make us unique. To explore job opportunities, check out Careers at BYJU'S.