The month of June was super exciting and 'engaging' for the Li'l BYJUites. 
Wonder why? 
It's because Engage 2.0 was back with double the fun, frolic and all things amazing! 
Engage is BYJU'S virtual edition of 'bring-your-kids-to-work day', organised for all the rockstars of BYJU'S family.
Get a glimpse of the event here: 
Paint 'n' Win Contest
Engage 2.0 began with a week-long 'Paint n Win' poster-making contest during which li'l BYJUites got to showcase their artistic skills. A much-needed respite for kids, the contest was also a great way of giving a boost to their creativity. Our inbox was filled with hundreds of entries sent by the kids. It sure did make us go wow!
Take a look at these entries: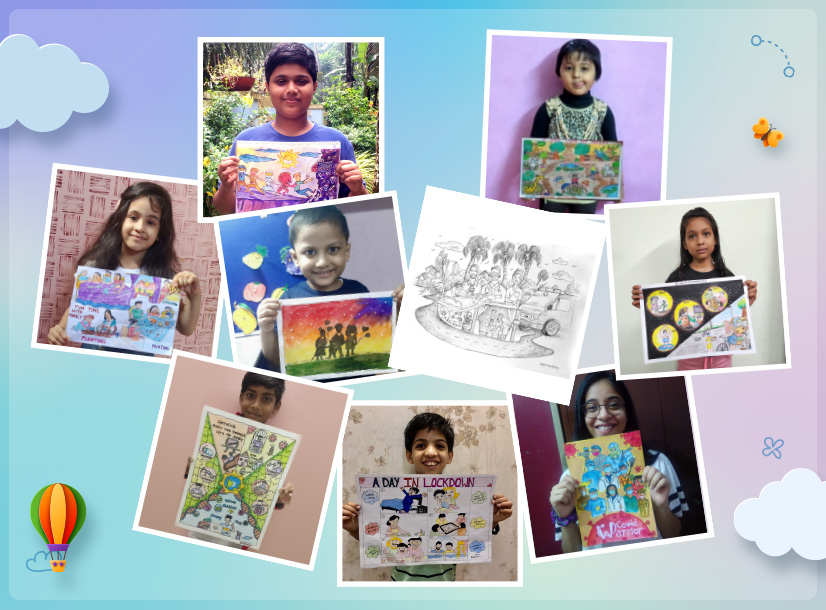 Read more: Engage 2.0 Paint and Win Contest : Meet the Li'l BYJUites who won us over with their art
An eventful weekend for lil BYJUites
After the successful completion of the painting contest, a two-day fun and learning-based weekend was planned for the lil masters. Each session was meticulously designed to educate the kids while keeping them entertained and 'engage'd.
Day 1: Learning through Laughter 
A total of 6 workshops were organised for Engage 2.0, spread over two days. On the first day, two insightful creative writing sessions were conducted for kids in the age group of 8-12 years and 13+ years by Devanshi Sharma from Mithaas Services. An author of 6 amazing books, Devanshi ensured the kids learnt the basics of crafting a good story. She also helped them learn how to set a story plot, create characters, and generate ideas with the help of animation and cartoons.
For our tiny munchkins in the age group of 3-7 years, we hosted a super interactive storytelling workshop with well-known storyteller, Vikram Sridhar. It was a delight to watch the little ones join us for a ride into the magical world of stories. There was singing, dancing, and lots of laughter involved during the show.
Day 2: Fun-tastic workshops
The second day of the event was all about fun for our li'l BYJUites. Think of talking puppets, yummy popsicles, and thumb painting! Yes, you heard it right! A super interactive puppetry show was conducted by renowned ventriloquist, Indushree, for kids in the age group 13 & above. The artist, with her puppet gang Dinku and Granny, left the attendees in splits. 
This was followed by a cooking-without-fire workshop where kids aged 8-12 years tried their hands at making yummy Oreo popsicles. It was a delight to watch our little chefs whip milk and sugar together and create popsicles from scratch. Last but not the least, for our youngest audience, we put together a crafty hour where they could create beautiful posters using just their thumbs and colours.
The weekend was indeed a blast for our li'l rockstars, full of energy, laughter and learning. 
Like what you read? Let us know which activity you liked the most in the comments below.