In the wake of a pandemic and a paradigm shift in the approach to work and life, we at BYJU'S undertook several mindful changes and initiatives to put wellness above everything else. This meant prioritising the health and safety of our employees and their families, ensuring adequate support and resources to ease the switch to 'remote work' and having a much-needed conversation about mental health. We want to keep this momentum going and introduce necessary changes into our policies and programmes that will help build a work culture where BYJUites feel happy, safe and supported. And we are taking a step in this direction with the introduction of period leaves. 
Every employee, regardless of their gender, deserves an equal shot at giving their best to their work, career, and their passions. In doing so, it's essential we understand that men and women experience different biological realities. As a modern and employee-first workplace, we want to address this reality head-on.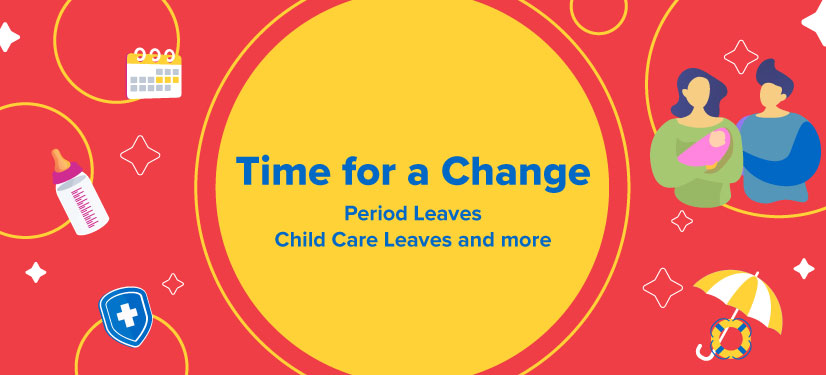 Introducing Period Leaves is our opportunity to create a fair and balanced work culture at BYJU'S. To provide all women with that much-needed respite when they are on their periods and experiencing cramps and discomfort. And more importantly, having a conversation on a subject that's often stigmatized. 
In building a workplace of the future, this is truly just the first step. Read on to know more about BYJU'S latest initiatives and introductions. 
Period Leaves:
As part of this, women employees in BYJU'S can now avail up to 12 Period Leaves (PELs) in a year. Each month, one PEL will be credited; and women employees can either take a day off every month or avail two half-day leaves.
Child Care Leaves:
In order to support our working parents, we have introduced Child Care Leaves (CCLs) that can be used by BYJUItes with children aged 0-12 years. Eligible employees can avail a maximum of seven CCLs in a calendar year. These leaves can be taken on multiple instances and also as half-day leaves. And in the case where both parents of a child work at BYJU'S, only one of them can avail CCLs. 
Maternity and Paternity Leaves:
The new leave policy at BYJU'S aims to support new parents in every way possible. In addition to the 26 weeks of paid Maternity Leaves, the updated policy offers its employees an additional 13 weeks of unpaid leave. And for new fathers, the number of Paternity Leaves (PLs) has been increased from seven to 15 days. 
To know more about the policy update and its benefits, click here. You can also reach out to attendance@byjus.com if you have any questions or concerns.