World Mental Health Day is celebrated in October across the world and at BYJU'S we observed it with lots of engaging activities. In line with the theme of the year- "Make mental health for all a global priority"- the campaign at BYJU'S was all about embracing mental health, shattering the stigma surrounding the topic, and raising awareness through various initiatives. We understand the importance of mental well-being for self and for those around us. Hence, all the activities planned were extended not only to BYJUites but also to group companies, their friends, and family.
Before you proceed, do a DIY Mental Health Check-in | Click here to find Out How You Are Doing!
Catch a glimpse of all that happened during the week  
Expert-Led Virtual Workshops centered around Mental Health
Bite-sized workshops were organised for BYJUites throughout the week, where experts were roped in to speak on various subjects related to mental health. The session touched upon important and essential topics, like The Art of Letting Go, Decoding Sleep and Productivity, and Unlocking Your Personality game. 
Experts from Zariyaa and YourDOST shared actionable insights that one can incorporate into one's daily routine to develop a positive mindset. The short, fun, and engaging format of the sessions ensured that the participants were left feeling extremely motivated to take charge of their mental well-being. 
Read more: The Month Of September At BYJU'S Was All About Gratitude
Happiness Bootcamp for BYJUites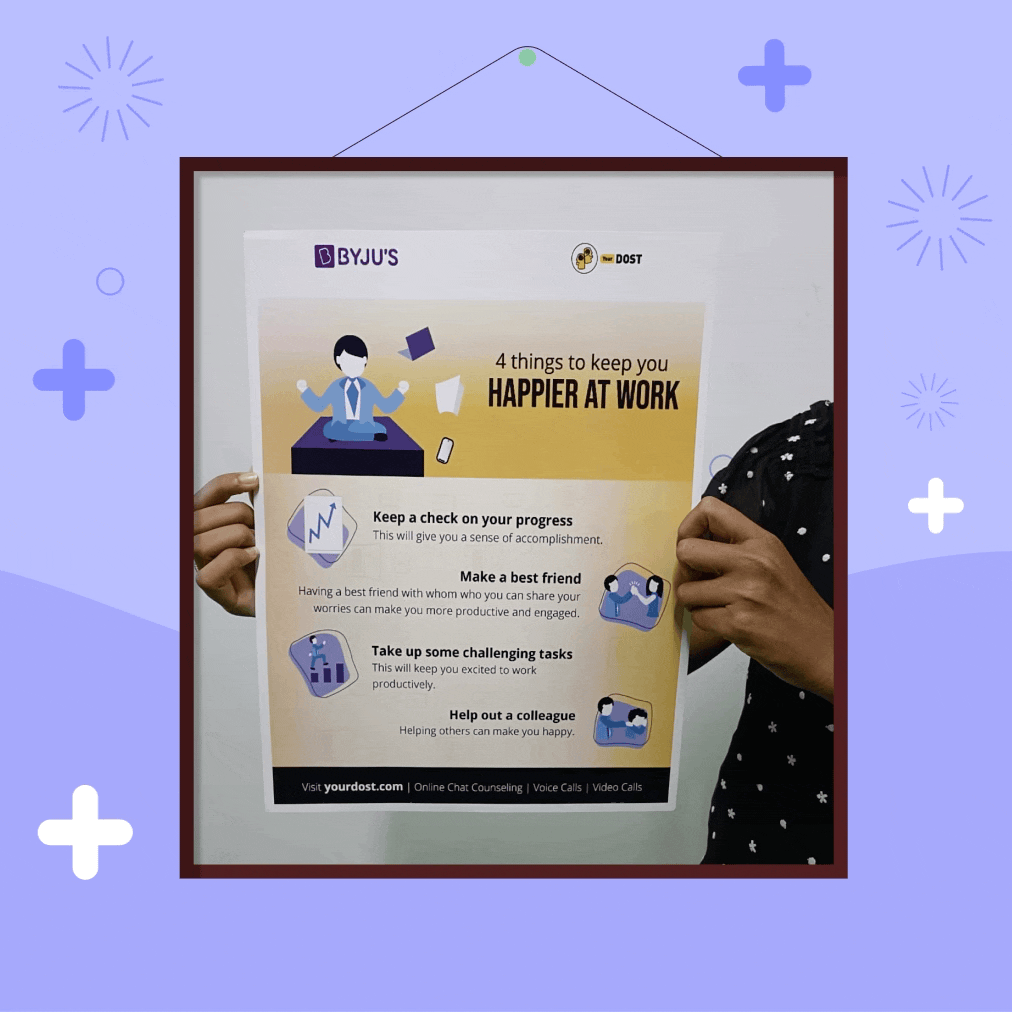 A Happiness Booth was set up in offices for employees to measure their happiness on the go.  At the booth, BYJUites got a chance to check their current happiness levels using the Happiness meter. The device used skin resistance to give a real-time reading to test an individual from a scale of happy to stressed. Based on the results, participants met and interacted with a member of the YourDOST team and learned tips and tricks to boost their mood. Interactive games, photo props, and posters were also available at the booth for BYJUites to strike a pose and celebrate the week.
Well-being resources and benefits for BYJUites
At BYJU'S, we truly believe in the importance of workplace wellness. A range of initiatives, benefits, and policies, are introduced to promote the well-being of our employees as well as their dependents.  Our wellness partners, like YourDost and VISIT, through a variety of activities, ensure that support is accessible to BYJUites at a click of a button. Useful resources were shared throughout the week for new and old members of the BYJU'S family, to serve as a reminder of all existing wellness initiatives that they have access to as BYJUites.
We live in times of hustle and bustle and it becomes crucial to balance work and mental health. All the activities planned are a reflection on our efforts to ensure that BYJUites don't let their work schedule and routine come in the way of their well-being. 
Tell us how you take care of yourself and stay mentally fit, in the comments below.
Like this story? Head to Life at BYJU'S to learn more about our work, people, and the stories that make us unique. To explore job opportunities, check out Careers at BYJU'S.