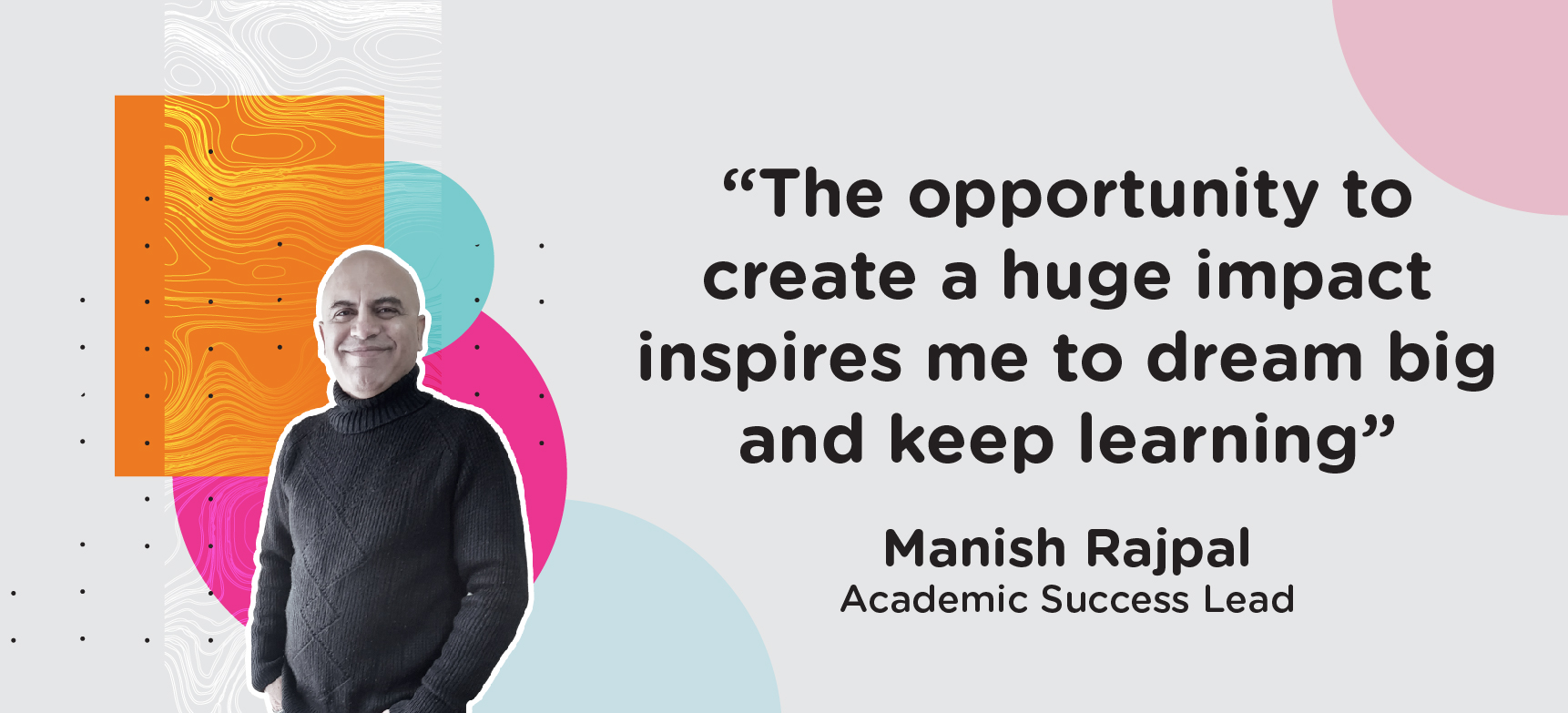 For Manish Rajpal, Academic Success Lead at BYJU'S, teaching is all about making a difference in the lives of learners. He always wanted a job that he was excited to get up in the morning for, and he says that being a teacher has certainly met those expectations. 
"Growing up, education was always a top priority. I come from a lower-middle-class family, my father came to Delhi from Pakistan during the partition. So, given the circumstances, to support my education after school, I started tutoring students. That's how my teaching journey began," says Manish in this edition of A Day In The Life Of – our employee series where BYJUites offer a glimpse into their typical workday, from a morning ritual they religiously follow to how they unwind after a long day at work. 
In this edition, Manish shares his journey into teaching, what excites him outside of his role, and what it is like to build a diverse teaching community at BYJU'S. 
Also Read: Her Darkest Phase Gave Her Strength to Powerlift, Teach, and Inspire Others: Meet Upasana Mahajan
Walk us through your journey and what led you to BYJU'S.
I've completed my education from government schools in Delhi. Then, I went on to pursue MSc in Biosciences from the University of Delhi. After completing my education, I started teaching college students and then taught students at coaching institutes. While I was working there, I authored two books on biosciences to help students get into IITs. After spending 18 years in this field, I switched to the online mode of teaching during the pandemic and that's how I got here. 
What's your typical workday like?
My day usually begins with some dedicated reading time. Once I start my workday, I create my to-do list and train Academic Specialists on how to make sessions more engaging and interactive. I spend the rest of my day jumping in and out of meetings with my team. 
What's something about you that might surprise us?
I love travelling. When I'm not working, I'm most likely travelling (at least, before the pandemic) to the mountains or clicking photographs. Thanks to these experiences, I can easily connect with people from different cultural backgrounds. 
Also Read: How Teaching with Empathy Motivates Students to Learn Better: Manasa Hegde Shares Her Take
What's your daily dose of inspiration?
I'm passionate about this work because I understand the value of the impact we create here and that I get to work with a diverse teaching community. The opportunity to work with some amazing teachers is a big motivator because I believe we learn so much from the people around us. In order to bring my best self to work, it's important that I have teammates who inspire me.
What is the most exciting part about working at BYJU'S?
Working in an edtech company is completely new to me. It wasn't planned. Since I took on this opportunity, it has been a learning curve. My wife who is an IT Specialist helped me adapt to certain technologies, and my manager helped me ease into the team and role. The kind of support I have received is what motivates me, and excites me to take on new challenges at work. 
Any tips for those aspiring to join BYJU'S?
Be your authentic self and believe in yourself. You are capable of doing so many wonderful things when you believe in yourself. 
Like this story? Head to Life at BYJU'S to learn more about the stories that make us unique. To explore job opportunities, check out Careers at BYJU'S.