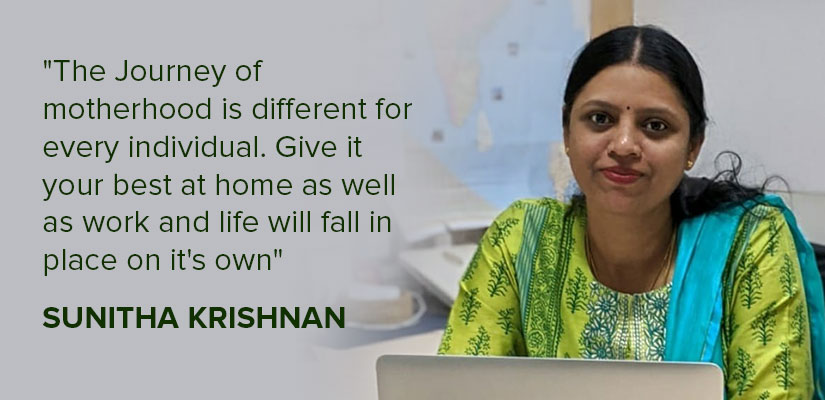 From being a Mentor to a Zen Master, Sunitha Krishnan talks about the challenges that come with motherhood and the silver lining behind every cloud
For this Mother's Day, we went out to get to know the mothers working with us and figure out the secret behind their unending patience and multi-tasking skills. Sunitha, a mentor team leader at BYJU'S, is one such supermom who balances 8 hours of work with everyday household chores and keeping her son entertained. In her own words, here's what Sunitha had to say about life as a working mother and why the job is the most challenging, yet rewarding one.
Q1. Tell us a little bit about your son and your earliest memories with him?
Parthiv is 11 years old now. Since his birth, time seems to have rushed past us, leaving us clambering for more moments with our son. He is now a grown up, happy child who loves dismantling small gadgets and putting them back together in his own way. He is very self-reliant and keeps himself busy with tennis, sketching and other activities while my husband and I are out for work.
He has been a fast learner from the start be it picking up on alphabets or his father's name (Raja) in his first year. While it was thrilling to see him grow up so quickly, we were worried as Parthiv wasn't teething till his 10th month. After a point, he started running away from me since I started probing his mouth very often to check if he had started teething. And eventually after a 14 month long wait, he started teething and our happiness knew no bounds (Sunitha laughs). We actually celebrated that day more than any of his birthdays!
Q2. It must have been magical when you held Parthiv for the first time. Tell us more about it.
The fact that you have become a mother doesn't sink in for the first few months. I was overwhelmed as well as satiated when I held my son for the first time. After months of waiting,  my son was finally there before me in my arms. There was a sense of fear too as he was so small and delicate. Overall, I was overcome with absolute joy of being mother and that now I was responsible for this little person's life. All I can tell you is that, It's a feeling that lasts a lifetime, because I can still feel all those emotions today too.
Q3. How did life change for both of you after you started working?
I started working when my son was two years old. He was born in India, but given the nature of my husband's work, we moved often across America, Middle East and Asia and then back to India again. I think over the years, with both parents working and living in different communities across the world, my son has grown up to be more open minded and mature. We have never had to worry about his studies as he has been self-driven when it came to studies. It's great to see him balance his study and play time.
I always knew that managing motherhood and work would be a challenge. My day to day activities revolve around my son and my work- two things that I love, so there is nothing to complain about. I love and enjoy every bit of it.
Q4. You have given your son a lot of freedom, why did you decide to let him choose and chart his own way?
Parthiv, like any other kid of his age, is not a big fan of books. He learns quickly, but only if concepts and ideas are put before him in a different way. I have noticed that he gets fidgety if I ask him to sit in one place and study. My philosophy is to help him enjoy what he studies. Hence, I let him follow his own learning path which has led to him becoming a natural learner. He doesn't have to put in any extra effort into learning.
I credit this quality to my mother, who motivated and gave us the freedom to do things on our own. She is my idol and the image of perfection for me. The way she brought me up and the principles I grew up with are some things I try to teach my son too- encouraging him to question and explore answers for everything around him.
Q5. How has BYJU'S helped you in your journey and what are your plans for the future?
Working at BYJU'S was like my dream come true. The constant encouragement, constructive feedback and flexibility really drives me to do more and do better. It is extremely satisfying that my work gets appreciated and recognized. My son too takes pride in the fact that I am working with an organization that looks towards making learning more effective and fun for students. He often shows off in front of his friends and teachers about me working at BYJU'S – this is one of the biggest reason that inspires me to be a part of the BYJU'S family.
Sunitha's advice to moms
Don't take things too seriously : Making mistakes is human, but try not to repeat them
Keep yourself busy : Do things you love and love the things you do. Once your children grow up, you may discover that it is too late to pick up something new.
Be the Zen Master : Be patient and be calm. It may seem impossible to do initially but you will soon realise that that is the only way to solve matters and keep your house together. Be patient with your children and your husband no matter how big their mistakes are or how irrational they seem at times.
Balance work and family : Perfect balance can be achieved when you prioritize correctly. You will work better if you give equal time to both your work and your family.
A messy house is not the apocalypse : Everything will not always be the way you want it to be or imagined it to be. Your house can be a little messy- That does not make you a bad mother. Make sure to clean it up later though
Let your child grow : Don't be the overpowering figure constantly monitoring your child. Let him be creative and free, and never let him be idle. Make sure to give them some activities to do so that they don't enter a stagnant phase of playing on cellphones.
Also Read: CreateMax | Listen to BYJUites Share Stories of Bringing Our Learning Content to Life
Liked what you read? Head to Life at BYJU'S to learn more about our work, people, and the stories that make us unique. To explore job opportunities, check out Careers at BYJU'S.