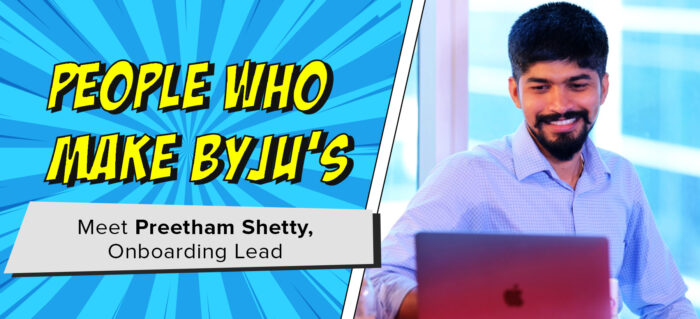 Welcoming new people to the growing BYJU'S family while ensuring a seamless transition and a memorable onboarding experience is crucial. The job calls for efficiency, people management skills, meticulous coordination, and attention to detail. Especially over the past year, when recruitment professionals across the world have made an unprecedented switch to everything virtual, the process of onboarding and managing new hires calls for a fresh approach.
"We saw this shift as an opportunity to try something new," says Preetham Shetty, Onboarding Lead at BYJU'S. "The move to virtual onboarding has actually helped us. Earlier, it was a herculean task onboarding a large batch of people, even when they were sitting in front of us. But over a video call, it's actually easier to connect with a candidate, upload the documents on the portal, and, even, monitor the different processes." 
Embracing the remote culture is also key to ensuring business continuity. And it allows an organisation looking for diversity, to work with talent who were earlier constrained by location, flexibility and other factors.
"Of course, it's a bit challenging at first. When you are working remotely, managing a large team can be difficult. The key is to establish a trust culture," explains Preetham. "What I did was, I delegated responsibilities and entrusted people with functions. This helped us streamline the process and communication," he adds.
Also Read: A Teacher-Turned-Game Designer, How Sarah D'souza Found Her Calling at BYJU'S
The turning point
The story behind Preetham's transition to the onboarding team at BYJU'S is interesting, to say the least. The BYJUite, who currently works with a team of over 50 HR professionals, hails from Molahalli, a quaint village in the coastal district of Udupi, in Karnataka. Growing up, it wasn't on his radar to climb the corporate ladder or even pursue the MBA route to a career.
"My father, who's a teacher, wanted me to take up a professional course that would help me with essential skills," he says. "So, I joined a paramedical course at the All India Institute of Local Self Government (AIILSG) in Bangalore. It's a three-year course on public health safety, which led me to work with the Directly Observed Treatment, Short-course (DOTS) programme under WHO."
It was a pivotal point in his career. As part of this programme, Preetham would work with HIV+ patients and people suffering from tuberculosis. An experience that not only helped him develop vital skills, counselling HIV+ and TB patients but also put him on the path to social work.
"Even after the four and a half years with DOTS, I continued to volunteer and raise funds for various other causes," Preetham shares with us, telling the story of how he and his friend worked to support a government school back in his hometown.
"We have funded the school for more than six years now. What started out as a school comprising 60-70 students with only four teachers, today is a government-funded, English-medium school in Udupi, catering to more than 300 students with two additional teaching faculty," he adds.
Watch: Dhilip Kumar Decodes the Art of Building Next-Gen Game Technology for Learning
The art of positive influence
From volunteering to taking up key responsibilities in BYJU'S, Preetham has since charted remarkable growth in his professional journey. And if you ask him, what's the one thing that's common in both halves of this journey, his response is simple – "it's all about influencing people in a positive way".
"When you are working with a large team – keeping them motivated, encouraged, and aligned with the target is quite a task. But, thanks to my volunteering experience, I have been able to perceive and understand people, their skills, where they excel and what needs improvement."
Person perception skill is an important quality in Preetham's field. It's useful while interviewing candidates, addressing grievances, and especially while managing a burgeoning team remotely.
Given his natural flair with people management and experience in social work and HR, we couldn't help but pick his brain for some dos and don'ts that young professionals who are aspiring to make it big should follow.
Preetham didn't disappoint us. Here are the three pieces of advice he shared with us:
Strive for a workplace that challenges and pushes you to do better and expand your knowledge.

Tomorrow should not be the same as today. If you don't see yourself growing in a particular role, you need to rethink your strategy.

Who you work with, matters. The experience you get at BYJU'S is unmatched. You get to work with a team comprising energetic and dynamic people. 
Also Read: Here's How You Can Support a Colleague Suffering From COVID-19
Like what you read? Discover more such stories about our work, people, and teams on Life at BYJU'S. And to explore open roles, check out Careers at BYJU'S.