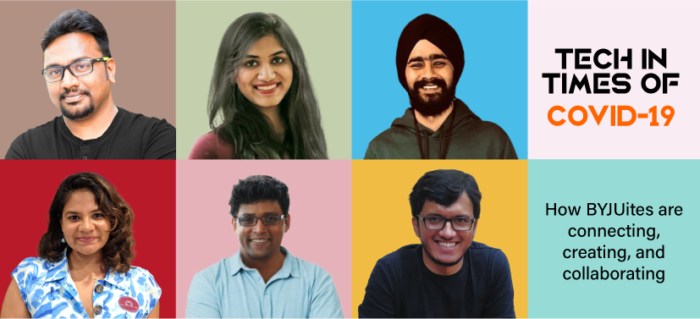 Who would have imagined a world where we work with the best tech minds in the industry, build state-of-the-art products, and deliver quality learning experiences to children, all while working remotely? Stuff straight out of science fiction, right? 
"It is, undoubtedly, an extraordinary time for innovators and creators," quips Prashanth BN, Assistant Vice President – Technology at BYJU'S. "But like most challenging situations that push you out of your comfort zone, the new normal has its share of opportunities. This past year has been a test of how agile we are as an organisation and how quickly we can adopt digital technologies to overcome circumstantial changes."
BYJUites embraced the new normal in early 2020. A year and a few months later, our teams have not only embraced the change but also strengthened our mission and built brand new product lines. It just goes on to show where we as a brand stand in terms of agility, adaptability, and innovation. No longer is it just about inventing for the future but also about sustaining in the present, leveraging technology to offer support, and ensuring the overall wellbeing of our people. 
This National Technology Day, we spoke with the BYJUites who strengthen our tech backbone to understand what more could be done. Their insight is interesting, to say the least. Excerpts: 
Adapting to the New Normal
"Since remote working has become the new normal, we have furthered our technological prowess to ensure seamless productivity while working remotely. As tech comes in handy, we made sure that there was an improved means of communication to stay in touch with our colleagues and teams."
That was Joseph Thomas, fondly known as Jo in his team. Since joining BYJU'S in October 2020, the Salesforce Technical Architect has taken on a big task: the designing and implementing of Salesforce solutions to run a smooth Customer Relationship Management (CRM)  architecture. "It is one of the key innovations we have leveraged in these times," he explains. "Utilising a cloud-based CRM platform has helped our business development teams monitor the user-experience in a single browser rather than depending on multiple platforms."
If communication and centralised connectivity is one half of the advantages tech has to offer, the other half is the ability to enable an environment of support and empathy.
"In these tough times, empathetic leadership goes a long way in ensuring the wellbeing, health, and safety of our people. At BYJU'S, we have been using employee assessment tools to understand the needs of our colleagues. We get it, remote working can be stressful but tech-driven solutions are definitely playing an important role in addressing them," explains Prashanth. 
Better known as Praz in the BYJU'S family, he elaborates how technology can also be leveraged to personalise every aspect of employee experience making each individual's journey unique. He says, since we understood the hardships faced by our employees, we were quick to come up with a solution. Our Let's Talk Initiative is the biggest testimony to this. The tech-driven endeavour has helped provide BYJUites with access to online counselling 24*7, offering emotional support to our colleagues. 
Monica Elaina Kingsley, Lead Software Engineer at BYJU'S, chimes in on other ways we have used tech to provide support. She says, "In just a few months, we implemented new strategies to ensure the wellbeing of our colleagues. We have come up with tech-driven solutions such as Discord Tech to keep a check on each other in these testing times. We also have virtual coffee meetups once a week where we don't discuss work but problems or issues we are facing at work and how to overcome them."
Also Read: Motherhood Isn't Rocket Science – Or Is It? BYJU'S Rockstar Moms Spill The Beans
Diversity and Inclusion in Tech
A result of employing these varied approaches has been the ability to use tech not just for short-term goals but also for long-term objectives. We have explored technology-enabled strategies to enhance employee wellbeing. Our tech-driven initiatives have complemented diversity and inclusion strategies to enhance each individual's feeling of belonging.
While dwelling on how diversity leads to innovation, Monica explains that a variety of different perspectives from people with different backgrounds has always led to increased creativity.  
"Diversity is critical in tech as it enables businesses to create a better and safer environment for everyone. Some of the key barriers for women that need to be addressed are stereotypes and lack of flexibility. Despite all the defiance, women in tech lead as innovators. Our team with a diverse background have different experiences and views, which is why we are able to bring diverse solutions to the table," says Monica.
Monica's idea is echoed by Aditi Lath, Cloud Native Security Architect at BYJU'S. She shares, "The EQ and IQ of men versus women are different. There's a common notion that in times of a crisis, children seek advice from their mothers because women are generally good at problem-solving. This is not to undermine anyone's contribution but to emphasise how taking a gender-agnostic approach has helped our tech teams, especially in the last one year." 
Also Read: Balasubramanian Reveals What Goes On Behind The Scenes at BYJU'S Game Pod
Building for the Future
Undoubtedly, it's the most interesting time for technology. With an increased focus on innovation and creativity, our tech teams shoulder a dual responsibility at the moment: to sustain in the present while keeping their eyes on the future of learning. 
Says Sarvjeet Singh, Lead iOS Engineer at BYJU'S, even as artificial intelligence, machine learning and computer vision continue to shape the edtech sector, Augmented Reality will dominate the future. "As edtech is booming, one of the major technical advances would be AR. This emerging tech will not only enable teachers to show virtual examples of concepts but also help students learn faster and retain concepts better." 
And that's really just the tip of the iceberg that is BYJU'S tech artillery. With time as we continue to build newer stuff and come up with original inventions, we are only going to add to our technological expertise. As our Chief Product Officer, Ranjit Radhakrishnan rightly points out, "it's our innovative bent that will always keep us ahead of the curve."   
"We have state-of-the-art innovation underway, and we are building amazing products. We are helping millions of children continue learning. If this is not exciting, then what is?" 
If Ranjit's words are any indication, there's a lot to look forward to! Technology has most certainly played a definitive role in helping us navigate this crisis and enabling millions of children to learn from the comfort and safety of their homes. And while our brilliant techies continue to refine our offerings, the one thing that is (and will always be) on the top of the list is to ensure, learning never stops!
Like what you read? Discover more such stories about our work, people, and teams on Life at BYJU'S. And to explore open roles, check out Careers at BYJU'S.
(Stories have been put together by our Storyweavers, Damini Goel and Sutrishna Ghosh)