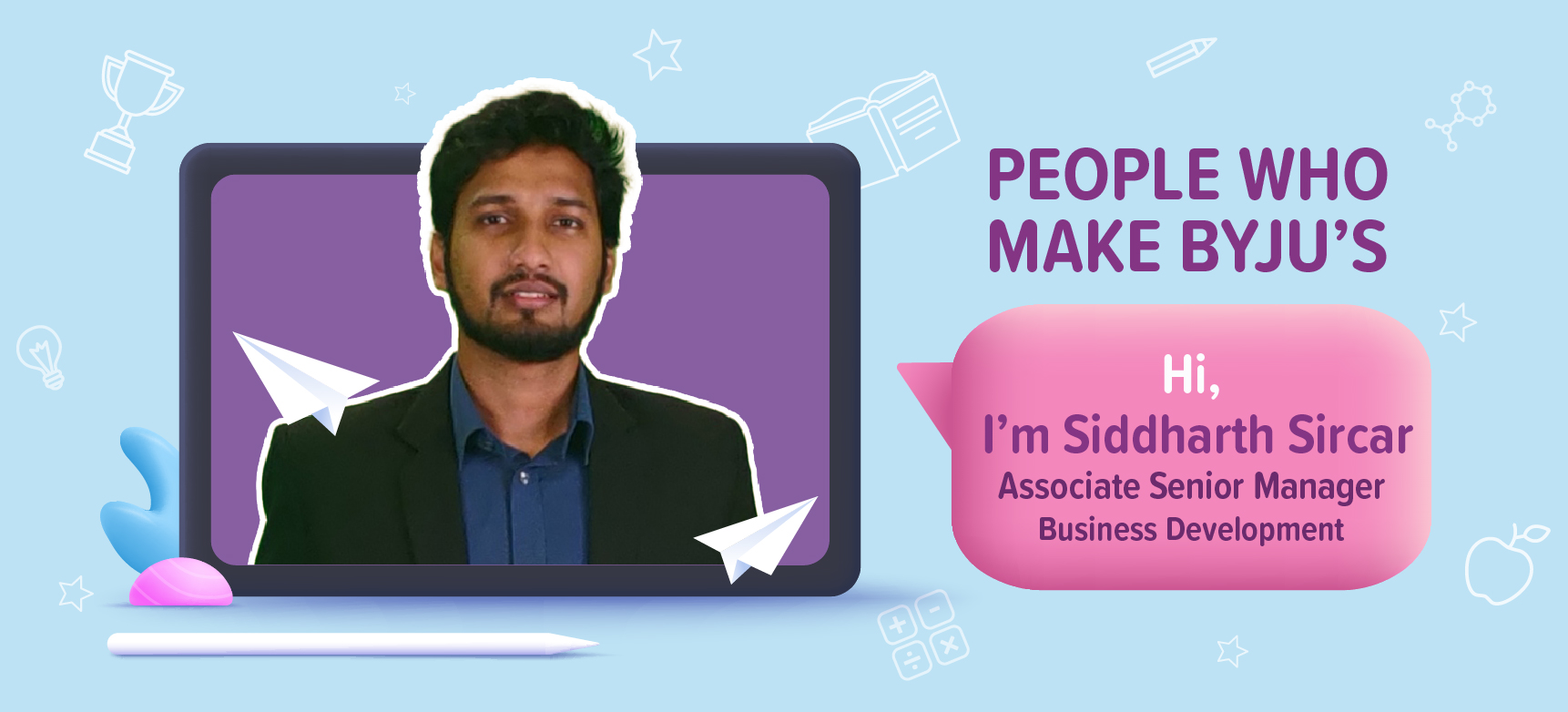 "If you do what nobody else does, you will achieve what nobody else has achieved," says Siddharth Sircar, Associate Senior Manager, Business Development. The 26-year-old sales professional from Ranchi set foot in BYJU'S as an intern. And over time climbed the ladder to become Associate Senior Manager, overlooking the core sales training in the organisation. 
This is his story of making the best of every opportunity.
Also Read: From Delhi to Bangalore, How Manish Rajpal is Creating an Impact Through Teaching
A small-town boy, living his big dreams
Siddharth's professional journey began after graduation when he was placed as an intern at BYJU'S. He recalls, "In 2018 when BYJU'S started operations in Bihar and Jharkhand, I along with five to six other Business Development Associates were sent to set up base. We successfully set up an office and started reaching out to the students. In 2019, I bagged the 'BYJU'S Employee of the Season' Award and our team received immense appreciation from the leaders."
There has been no stopping since then for Siddharth. In 2019, the BYJUite was promoted to training manager, and after two years, he took over as ASM (in the BD team). 
"That is when I started creating videos and taking pan India training sessions. During these sessions, I would train new BYJUites on how to navigate their way through this industry, improve customer interactions and product pitches and make lasting connections with students and parents."
Watch: Curious, Problem-solving Minds Creating a Sustainable Tomorrow | National Science Day at BYJU'S
On exposure to opportunities
Siddharth believes in exploring opportunities rather than waiting for them to arrive. Sharing more about this and how BYJU'S has played an important role in driving him, he tells us, "At BYJU'S, not only are the inputs valued but they are also implemented. Opportunities to try out new things, explore new skills are immense; so I take a leap whenever I can." 
The BYJUite explains his point by taking an instance from his own journey. He shares, early in his career, when he got to manage a new setup in Ranchi, he found himself debating over several thoughts. Should I take the leap or back out? Is it a huge responsibility? Will I be able to handle it? Fortunately enough, the BYJUite decided to take up the challenge. 
Adds Siddharth, "This experience gave me an opportunity to take up more responsibility and learn the nuances of being a sales professional. Not only did I learn about the new market, I even got to train new people, joining our dynamic sales team." 
On reasons to choose sales as a career
Apart from training a multitude of managers and employees, Siddharth also shares insights, tips and hacks on his social media page for sales enthusiasts. He believes that when it comes to sales, it is not just about selling a product, but about understanding the problem and coming up with an effective solution. 
In his words, sales is a life skill. And if you are looking to explore this as a profession, know that this field has the power to change your life, as you understand how people communicate, understand their requirements, and finally provide a solution to their problems. 
"If you're trying to make a career in sales, you will have to embrace the ups and downs, every day. Not only do you have to be hardworking but also resilient, because every day there's a new learning in business development. There are endless opportunities and challenges to explore." 
Also Read: Her Darkest Phase Gave Her Strength to Powerlift, Teach, and Inspire Others: Meet Upasana Mahajan
Strumming through the chords of life
When you work in sales, it's also important to keep fuelling your other passions. For Siddharth, this takes him back to his love for music. In a gleeful voice, he shares, "Back in college, I was a part of a band. Now, I play the guitar and sing on Instagram Live for my friends and peers. Apart from that, I also take out time to create content for my social media page, record music or read books."  
An ardent reader, Siddharth often enjoys burying his nose in a book. As he embraces learning every day, the BYJUite has a favourite, Way of the Wolf: Straight Line Selling by Jordan Belfort (the real Wolf of Wall Street). "It is by far the best book on sales techniques that were successfully executed by Jordan Belfort himself," he says.
Like all the other dynamic BYJUites, Siddharth Sircar wants to create an impact. He shares his vision for his path ahead at BYJU'S, saying, "Joining the team here has opened up endless opportunities. I want to grow in the sales vertical, take up bigger responsibilities. I'm looking forward to increasing my capacity and creating an impact in this organisation."
Head to Life at BYJU'S to learn more about our work, people, and the stories that make us unique.  To explore job opportunities, check out Careers at BYJU'S .