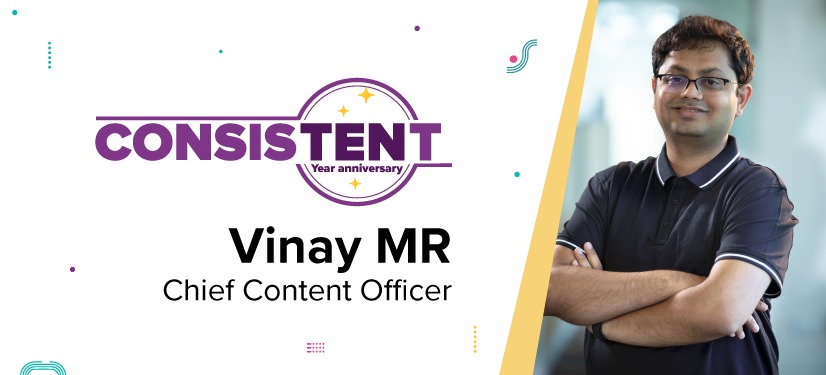 It's been ten glorious years for BYJU'S. We began our journey in 2011, with the mission to revolutionise learning. Over the years, there have been several milestones and achievements, with thousands of students, teachers and parents calling us their own —  making BYJU'S not just one of the most valuable EdTech companies, but also a household name. 
And all this, thanks to our brilliant and creative teams. Behind our success, it is the hard work of BYJUites, who are putting innovation at the front and centre of all our efforts. As we turn ten, we bring you ConsisTENt — a series where we feature people who have been instrumental in shaping the way students learn with BYJU'S. 
Watch:
Life and learning
Ask Vinay MR to pick his favourite moment from the last ten years and he would be lost in a sea of memories. The Chief Content Officer has numerous anecdotes about the growth of the firm from when it was just a startup.
"It's hard to pick one favorite memory; mainly because it's been a journey," says Vinay MR who joined BYJU'S back in 2008. As the Chief Content Officer, Vinay has built and developed several content offerings for over a decade now. He is also responsible for managing a highly creative team of engineers, graphic designers, writers, musicians — all of whom work in tandem to bring out quality educational content. 
"We've always been a mission-driven organisation. It's always been about 'how to make that kid in front of a tablet fall in love with the content.' But if I were to pick a memory, it would probably be one of the times where we would generate content — not from the office, but from a nearby Cafe Coffee Day (CCD). Back then we had a very small office and the majority of our time was spent at the CCD just down below. Trying to get that 'How do we teach history, science and maths' right, ideating with a lot of people and getting it out —  all that's still very fresh in my mind."
Back then, BYJU'S was a small team of eight to ten people. Everyone was new and nobody knew how content creation or video making worked. But that didn't stop the team from exploring and experimenting with ideas to make students fall in love with the content they were creating. "In fact, watching students react to our content further motivated us to do this," shares Vinay.
But more importantly, this whole experience pushed the content maverick to try his hands at something new: teaching. "Byju asked me to come by and start helping students out. Until then, I had always thought of myself as a student. But going to a class and teaching was nothing like I ever imagined."
And that was the beginning of it all. Vinay has since taught countless classes and created numerous learning experiences. He says, "None of this was something that I had done in the past or was taught. All of this, I learned in an inquisitive way —  what the students want and how to create content for them."
Looking up
'The next product is always the best product,' Vinay tells us as we ask him about the content offerings that he is most passionate about. "Every piece of content, every asset is created after thinking about how a student wants to learn, not how a teacher wants to teach. That's where technology comes into play, in understanding what the children know, and what they don't know. And we customise content to cater to what they don't know." 
Now, after a decade in the field of EdTech, Vinay says that 'success' is knowing that the content created by him has made an impact. "That glint in the eyes of that kid who's seen our content, them saying they have understood it, is what success is to me. So when I look back at this point in time, it feels humbling. It feels that whatever we've done has actually created impact. But there's a lot more things to do. What we've done is maybe just scratched the surface at this point in time," quips the BYJUite.
Like what you read? Head to Life at BYJU'S to learn more about our work, people, and the stories that make us unique. To explore job opportunities, check out Careers at BYJU'S.