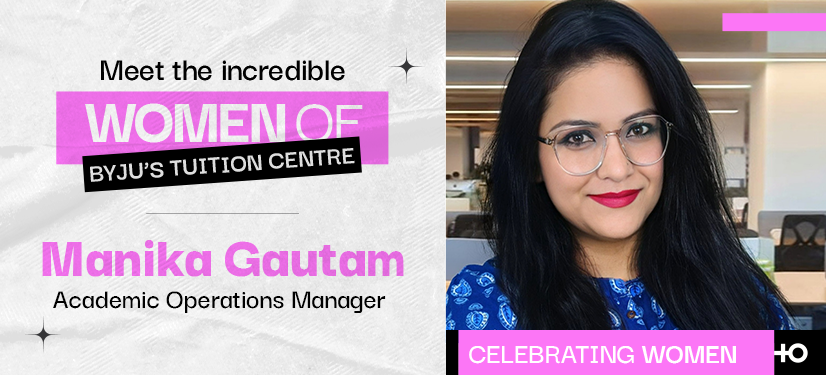 As a scientist producing vaccines in the pharmaceutical industry, Manika Gautam didn't think that education would become her calling. After starting her career inside a lab, she found her place inside NEET coaching classrooms. "As a single mother to my son, I was looking for a change after my pharma career but teaching in schools didn't interest me. NEET coaching attracted me and seemed like it would add meaning to my life — helping students attain their learning goals at a pivotal moment in their education," she says. 
Her experience with students in NEET coaching classrooms helped her understand student psychology better, which led her to join BYJU'S. "Over the years, I learned what students want and need, and how I could guide them to achieve their goals. I knew I wanted to utilise this knowledge and do more," says Manika, adding, "That's why I started developing teaching methodologies for schools to optimise their learning outcomes." 
Armed with this knowledge, she is now managing academic operations at all BYJU'S Tuition Centres across the country. "I have trained sales executives, faculty members, and service counsellors about our new product updates. This ensures that every lesson runs seamlessly for our students at BYJU'S Tuition Centre (BTC) and Aakash BYJU'S," she shares. 
Also Read: Gender does not define leadership: BYJUites on a genderless future, at work and beyond
In our new series, Women of BTC, we highlight inspiring and powerful stories of female leaders making their mark at BYJU'S Tuition Centre. 
Understanding students' needs
Combining the best of blended learning techniques, BTC offers classes in a two-teacher model where students receive an immersive learning experience. "It's essential for students to form a strong bond with their teachers. This helps build their interest in attending the sessions and increases their desire to keep learning," says Manika. 
"Our aim is to provide quality content, delivered in the most effective manner. My team and I ensure that all other teams collaborate to create that seamless quality across every BTC classroom that BYJU'S is known for."  
Creating a workplace that's flexible and provides freedom to BYJUites is a top priority. "With the two-teacher model, it's become much easier for teachers to deliver lessons. There's no need for assumptions and suppositions; the learning experience is instead more visual and immersive," she says. 
Also Read: Women at BYJU'S | Haritha H on how an inclusive workplace aided her growth at BYJU'S Tuition Centre
"As teachers," Manika feels, "It's important to understand that every child can learn and it's up to them to be able to guide the kids with the help of the ample resources at their disposal." 
Foundations of a new career
A learner by heart, Manika has never shied away from embracing new experiences. After her career pivoted into education, it was a desire to create and implement academic strategy that drove her to BYJU'S. "I always wanted to create a larger impact with my skills and learn more in the process. At BYJU'S, I have learned management skills and have also created and implemented business-positive strategies." 
Manika feels this has been possible due to the gender-inclusive policies and outlook at BYJU'S. "Your skills and ability to deliver is what matters here. In a very short period of time, I have assumed a position where I've led, collaborated, and shaped positive outcomes. My seniors and managers believed that I could do it; it was because I believed in myself too," she adds. 
Also Read: Global Recycling Day | How BYJU'S young volunteers are going the extra mile for the environment
To anyone who wishes to become part of this learning journey, Manika has the following advice:

Embrace challenges. They teach you the most.

Share your knowledge. Learn something else in the process too.

Always put the students' needs first. It is their learning journey.
Like what you read? Head to Life at BYJU'S to learn more about our work, people, and the stories that make us unique. To explore job opportunities, check out Careers at BYJU'S.