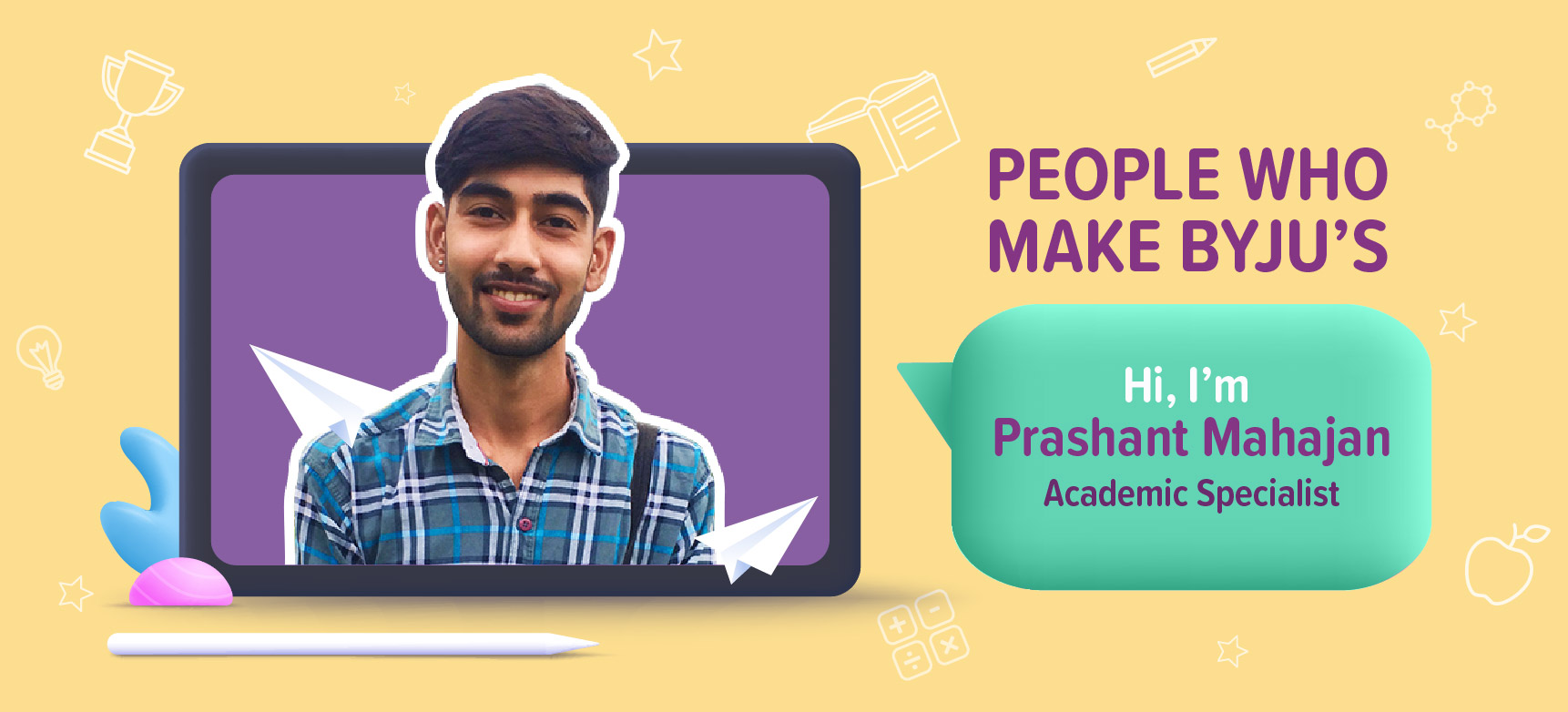 Coming from a small town in Shimla, Himachal Pradesh, Prashant did not have access to the latest tech or even high-speed internet growing up. But that didn't deter him from charting a career in teaching at BYJU'S. Today, as an Academic Specialist, he is using tech-driven tools to create online learning that is personalised, immersive, and engaging for young learners. 
"I have always been excited about how technology can spark curiosity in the minds of learners. I grew up in Kinnaur, where I didn't have access to a lot of resources, but I've always dreamed of working at a place where tech is leveraged to shape the way students learn," says the BYJUite. 
He continues, "When I applied at BYJU'S, I was a little concerned that because I didn't have enough experience, I might not make the cut. But to my surprise, I got selected and it's been a journey full of learning and new experiences at BYJU'S. It isn't just the technology that inspires me, but also the people I work with."
In this instalment of People Who Make BYJU'S, we catch up with Prashant Mahajan, Academic Specialist at BYJU'S, to learn more about his career and how he became a vocal champion for our Education for All initiative.  
Edited Excerpts 
Tell us about your role at BYJU'S?
I am an Academic Specialist in the Student Experience Team. I take online sessions for students of classes 9 and 10 on BYJU'S Classes. I am a part of the two-teacher model where a master tutor explains the concept and I help students resolve their doubts and help strengthen their understanding of concepts in biology. 
In addition, I help with content creation and developing teaching strategies to ensure that all our learning products align with the company's vision of making quality education accessible to all learners. 
How are we making learning science fun?
Children learn science through trial and error. They need space to experiment and try things out. We use strong visuals and storytelling in our videos to encourage in-class experiments, where students can explore and discover things on their own. For instance, our lesson on the human brain gives an immersive 360-degree view of the organ where students can interact with the video with the click of a button. It is the students' experiences that drive the idea behind all our learning products. 
Also read: 'My career gives me the strength to fight for my son's future': BYJUite Sai Sudha advocates for special needs families
You were onboarded remotely. How did the application and interview process go for you?
Amazing! I joined BYJU'S in November last year and my onboarding process was so well organised, and my team has given me the support I need to succeed in this role. From the beginning, the entire onboarding experience was professional and transparent. I needed some flexibility as I've moved to Delhi now and I am planning to pursue a PhD in physiology and BYJU'S was very respectful of that.
What have you learned about leadership since joining BYJU'S?
Leadership at BYJU'S is rooted in inclusivity and diversity. I have a different background compared to many of my teammates — I grew up studying medical sciences, planned to major in medicine, and essentially, don't have a teaching background. I was concerned that I wasn't as experienced as my peers and that I wouldn't be taken seriously as an academic specialist. But I've found that the opposite is true. 
My manager shared that my background actually helped me stand out. And my team values the unique perspective I bring to this role. I've also learned you don't need to have years of experience to add value to the team. Anyone with zeal can teach and make an impact.
How did you become a part of our Education for All initiative?
Since I come from a small town, I have always wanted to be a part of something bigger. It has been a dream to be in a position where I can help children receive quality education, regardless of gender or geography. I am really proud to be involved with our social initiative, 'Education for All'. I am the coordinator of a programme, under which my team and I mentor children from underprivileged backgrounds. We have impacted children from the remotest parts of the country and we aim to continue touching lives every day.
An advice for those who are starting out in their careers?
At BYJU'S, individuality is highly appreciated; in fact, it is an important part of the work culture. Just be authentic and don't try to fit into patterns. I was really afraid at first that I wouldn't fit in, since I didn't have a teaching background. But I've learned that if something fascinates you, just go for it. Anyone who genuinely enjoys the work can carve a unique path for themselves.   
Like what you read? Head to Life at BYJU'S to learn more about our work, people, and the stories that make us unique. To explore job opportunities, check out Careers at BYJU'S.