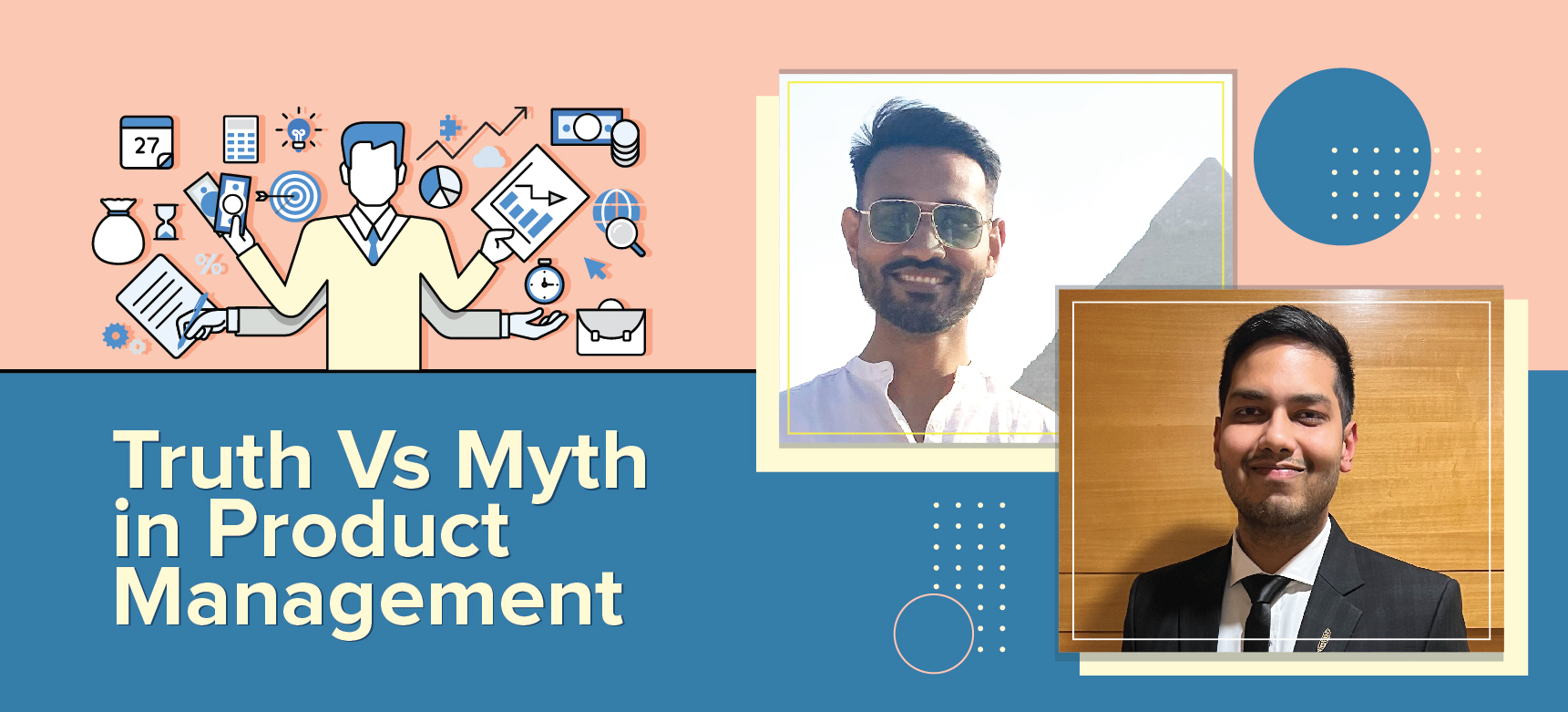 Wondering if Product Management is the right career for you? Perhaps you've heard that you need an engineering degree to break into the role. Or that Product Managers and UX Designers do pretty much the same thing. What if we told you that these are mere myths? If you love Product Management, or are new to the field and wondering where you're going wrong, we suggest you keep reading!  
In the second edition of Truth Vs Myth, our Product Managers, Sahil Verma and Awinder Singh, are here to clear the air and help bust some of the most pervasive Product Management myths.
Also read: BYJUites Drop Some Truths And Debunk Myths Around The World Of UX Research
Excerpts:
Product Management is a technical role
Sahil: Although having technical knowledge is a plus, it is not a core deliverable for most Product Management jobs. PMs need to understand user problems more than anything else in the product ecosystem. They need to guide product development from inception to completion by collaborating across various teams. The core job is to understand and communicate customer problems and business objectives effectively to teams involved in the process. 
Awinder: It is not a technical role, however, knowing as much as you can about the technology you're working with, will help you make more informed decisions. In your day-to-day role as a PM, you'll be working closely with the development teams who build products, but no one expects you to code. PMs primarily care about the product vision, user experience, and ensuring your product fits the market.
The Product Manager's job is done once the product is launched
Sahil: Launching products is a part of the process – PMs need to constantly evaluate what's working and what isn't, and ship new products or sunset old ones accordingly. 
Awinder: This is far from true. After launch, the Product teams start gathering feedback on the released product and understand how it is being used. Once the product is launched, it is important to know what users want and what they need. At this point, a PM will sift through the feedback to see how users are reacting to the product. As a next step, they'll come up with insights on how to improve the product, and start planning the roadmap for its next version.
Product Managers build exactly what the customer wants
Sahil: This is partially true. Even though we build user-first products, users may not always know what they want. Often, users may not be able to effectively communicate their needs. A PM needs to have the ability to both collect and act on the consumer's needs and wants.  
 Awinder: The PM is the voice of the customer, but there are hidden needs and deeper goals that we have to unearth. PMs need to conduct customer research, but the question they should ask themselves is, can this research be made so perfect that it can figure out what the customer themselves doesn't know yet?
Product Management is pretty much like UX Design
  Awinder:  UX design is definitely a big part of your Product Management. UX designers are more worried about interaction design, while PMs have to take care of everything related to the product, from engineering to the user feedback. While both have to have a sense of design, UX designers go deeper into the details of the design, but understanding how design fits into the larger picture is the PM's prerogative.
Have any questions? Then ask us in the comments below and we will be happy to answer them.
Like this story? Head to Life at BYJU'S to learn more about our work, people, and the stories that make us unique. To explore job opportunities, check out Careers at BYJU'S.