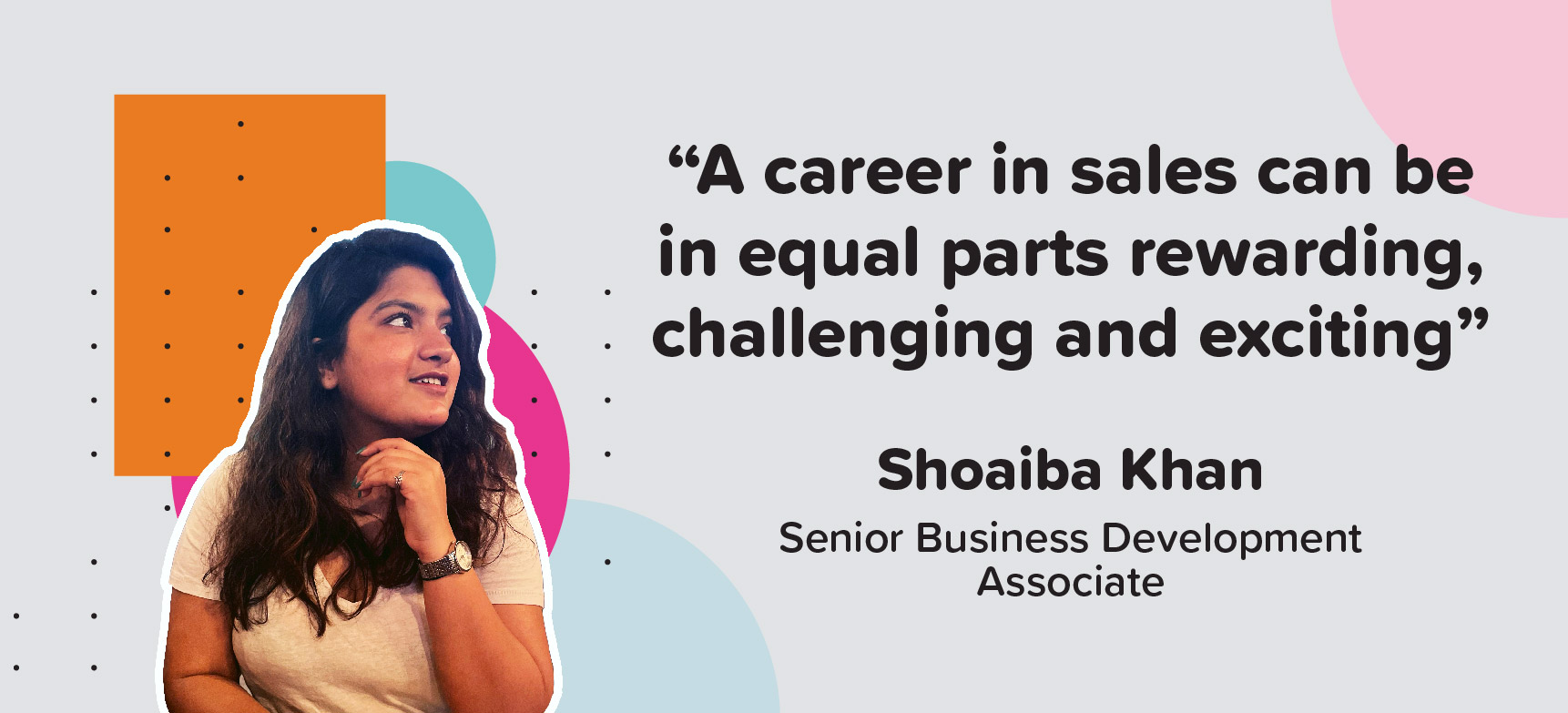 For Shoaiba Khan, Senior Business Development Associate at BYJU'S, the only way to evolve in life is to learn and unlearn every day. Even if it involves letting go of old learnings and practices. 
This effervescent BYJUite, who comes from Uttar Pradesh's Bulandshahr, wants to be an inspiration to the girls in her hometown, who want to follow their dreams but never had the opportunity to pursue education or a career.  "I want to become a successful entrepreneur in the future," adds the 22-year-old, "and for that, I'm ready to take up any challenge that comes my way."
Hear Shoaiba share more about her journey, learning and inspirations in this edition of A Day In The Life Of.
What led you to BYJU'S? Walk us through your journey.
I've completed my education from a Hindi medium school in Bulandshehr and graduated from Delhi University. During college, I became the Vice President of the placement cell. I had the opportunity to conduct various seminars, workshops, job fairs and campus drives, which helped me develop an interest in the industry that I am now a part of.
I have also interned with multiple companies in various departments like sales, marketing and HR. I aim to become a successful businesswoman for which, sales experience is vital. Therefore, I decided to pursue a career in sales and landed at BYJU'S.
Also Read: Of Resilience & Courage: How Hina Arora Carved a Career in Tech Against All Odds
What excites you the most about working at BYJU'S? 
BYJU'S is a place where you have ample opportunities for growth, no matter your age, gender or background. It's simple, if you are great at your job, you get acknowledged for your hard work. And that is what excites me the most.  
Apart from this, I love the camaraderie in my team. I'm a people person, I love the bond I share with my managers and teammates. Now, that is something I look forward to every day. 
What's your daily source of inspiration?
To be honest, I have learned to look within for inspiration. Coming from a Hindi-medium background, I have worked extremely hard to get where I am today, despite people telling me otherwise. And I intend to keep it that way – work hard, keep my eyes on the goal, and tune out all the negativity.
Also Read: Engineering to Sales, N Mariyappan on Charting a Unique Career Path at BYJU'S
What's something about you that might surprise us?
During the pandemic, many people lost their jobs and I wanted to help them and contribute in some way. So I, along with two others, co-founded a startup called 'COVID-19 free jobs forum' which bridged the gap between job seekers and employers. 
What keeps you motivated and inspired outside of work? 
Music, dance and art. Any form of creativity is cathartic for me.
Also Read: From Intern to Manager, Siddharth Sircar on Why Sales is an Important Life Skill
Your advice for those aspiring to join BYJU'S: 
For those who want to be part of the sales team, BYJU'S is definitely the place to be. A career in sales can be equal parts rewarding, challenging and exciting. Each day you have to work on your communication skills, grow interpersonal relationships, and go beyond your target.