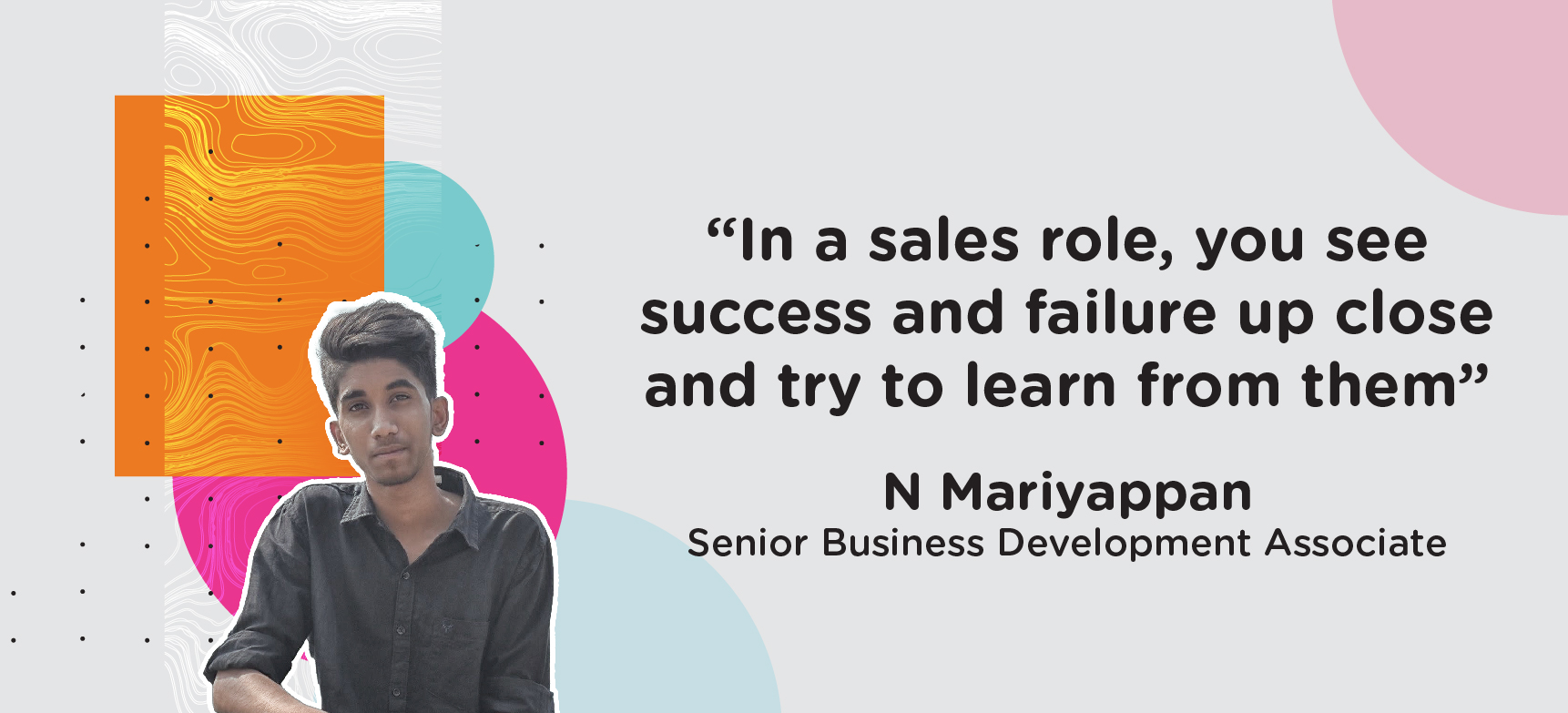 "The opportunities to continue to learn, grow, and develop your skills are abundant in sales. In this field, you can see your success and failure closely and try to learn from them."
That was N Mariyappan in this week's edition of A Day In The Life Of – our employee series where BYJUites offer a glimpse into their typical workday, from a morning ritual they religiously follow to how they unwind after a long day at work. In a quick tête-à-tête, the Senior Business Development Associate tells us why he made the leap from engineering to business development and what excites him the most about his current role. 
Also read: From Intern to Manager, Siddharth Sircar on Why Sales is an Important Life Skill
Quick Takes
Tell us about your role at BYJU'S?
As a Senior Business Development Associate, my responsibilities include conducting research, developing business strategies, and counselling students and parents on learning pedagogies and the BYJU'S way of learning. 
What was your path to this role like?
I did my engineering in Electronics and Communications from Chennai and briefly took up an internship at an IT firm during my graduation. But that didn't work out for me. Sales jobs always intrigued me, so I applied at BYJU'S in 2020 and joined as a Business Development Trainee. The skills and expertise that I have gained through this role has helped me immensely to make decisions on every aspect of my life and career.
What has been the driving force in your career?
Since my college days, I have wanted to explore a dynamic career path. Steve Jobs and Jordan Belfort are my inspiration. Jordan Belfort's journey — from being a salesperson to an entrepreneur is highly motivating. Today, sales is no longer about just selling and buying. It's about being a credible source of information when someone is looking for your services and guiding them throughout the process. That is how I was motivated to choose a career in sales. 
Also read: From Delhi to Bangalore, How Manish Rajpal is Creating an Impact Through Teaching
What gets you excited about your role?
What excites me the most about my role is my amazing colleagues, and the positive impact we are making in the region. I share a strong bond with each member in the team and it is not just limited to the office. It feels good to work alongside a team dedicated to helping as many students as possible. These efforts gave me a sense of purpose during a challenging time, and showed me that I can make a difference through my work. 
What's your daily source of inspiration?
The support and trust of my family is what inspires me to be the best version of myself. I come from the culturally rich city of Madurai in Tamil Nadu. The values my family has instilled in me, has influenced how I empower myself and others. I feel fulfilled in my career when I know that I've contributed to impacting the lives of others, whether that's through guiding students in their learning journeys or helping them become self-learners.
Your advice for those aspiring to join BYJU'S.
Always believe in yourself. It is okay if you don't know how to do something today, you can learn it tomorrow if you have faith in your capabilities. 
Head to Life at BYJU'S to learn more about our work, people, and the stories that make us unique.  To explore job opportunities, check out Careers at BYJU'S .