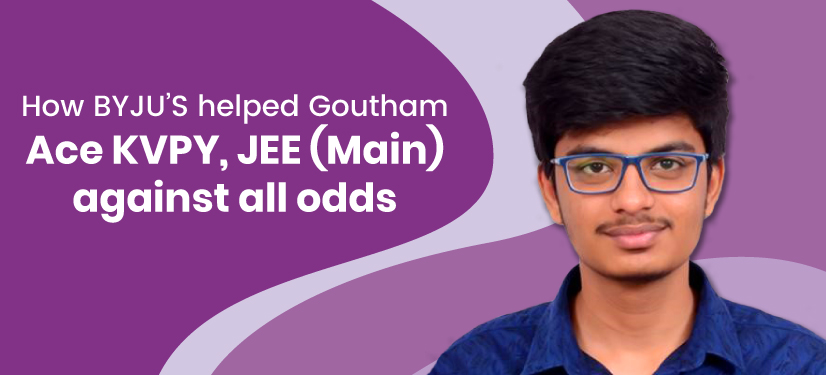 It was consistency and hard work that paved the way to success for BYJU'S student Goutham UR. The Mysuru lad scored 98.75 percentile in JEE Main February attempt and 99.51 percentile in the March session. 
Not just this, the teen secured an all-India rank of 1,227 at the examinations for the Kishore Vaigyanik Protsahan Yojana (KVPY).
Team Storyweavers caught up with him to know more about his exam preparation strategies and how BYJU'S helped him in his test prep. 
When asked about his preparation strategy, he says, "BYJU'S online lessons definitely helped me a great deal, as I was able to cover the whole syllabus along with regular tests. Since the syllabus for KVPY and JEE are more or less the same, I had a strong grasp over the fundamental concepts, which helped me ace the exams. My mentor too worked diligently to help me with learning the concepts and ensured that I know what I am studying inside out."
He adds, "I was not studying too much for my exams, just for about 2-3 hours daily. But I maintained a steady focus all the time. Whenever I had a doubt, I would usually call my mentor or try to solve it myself after doing some research. This is how I gained confidence for attempting any exam."
Goutham believes that he can get a better score in JEE Main and is leaving no stone unturned for the next attempt. "Even though I am happy about my result, I still feel that I can score better," says the high-spirited boy who aims to pursue Computer Science from the National Institute of Technology, Surathkal.  
Also Read: International Nurses Day: 12th-grader Shijin Shares His Mom's Inspirational Story
Pandemic problems
The Covid-19 pandemic however caused a bit of trouble for the teenager when his study plans were put on the back-burner because of the lockdown. Initially a NEET aspirant, Goutham had to alter his plans because of the lockdown.
"It was difficult to be motivated in the past few months due to this pandemic. As studies moved online, I took some time to adjust to it. In Class 11, I was preparing for the NEET exam but due to the lockdown and some personal reasons, I had to alter my study plans and started preparing for JEE instead," he says.
It was only after the lockdown that Goutham started focussing on his studies and opted for the BYJU'S JEE (Main+Advanced) course. "I decided to appear for JEE Main as well as the KVPY and followed a rigorous study plan. With rich visuals, animations, and interactive quizzes, BYJU'S helped me understand, and remember complex concepts of Physics and Mathematics. The online lessons not just helped me understand concepts but also retain that information for a much longer period of time," says Goutham. 
Also Read: Here's how conceptual clarity helped R Sharann rank 338 in KVPY
Learning with BYJU'S
Goutham extensively used the BYJU'S app and kept 2-3 hours for self-study on a daily basis. "I utilised my time effectively while giving equal attention to all subjects and important topics. In addition, I had doubt-clearing sessions on a regular basis with my mentor that proved useful. The mix of video, animation, and interactive tools on the app made learning fun and interesting," he says. 
While touching on what he did during his free time away from studies, he says, "I played chess, watched TV and listened to music."
Sharing a tip for JEE aspirants, Goutham mentions here that it is important to attempt as many mock tests as possible. "It helps a student understand the status of his/her preparedness. In fact, two months prior to the examinations, I would attempt almost two mock tests a day," he says.
When asked what an aspirant must focus on a week prior to the examination, he replies that mock tests, and concentrating on topics where they feel more confident. In conclusion, he advised them to stay calm and be patient with themselves during the preparation.