How many words can you type on a keyboard in under a minute? You should be happy if you touch anywhere close to 50, considering that 50-60 is the average typing speed for many. However, Shrikant Upadhyay is not your average person, we think. He is someone who can almost make the computer keyboard sing with what we would love to call his 'flying fingers'. That's because he can type a staggering 110 words per minute with an accuracy rate of a stunning 90 per cent. How did he achieve this remarkable feat? Read his inspiring story to know.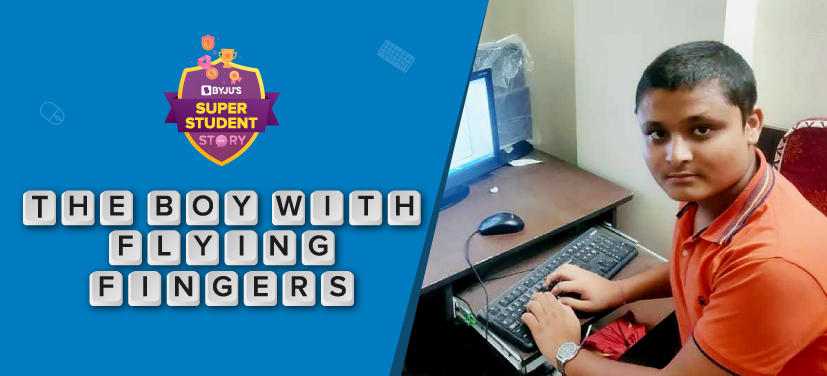 My winning speed was at one minute and twenty seconds where I correctly typed 150 words
Shrikant, a ninth-grader from Rajasthan, recently created a record when he entered the typing competition conducted by his school. In the two rounds conducted for selecting the school's fastest typist, Shrikant impressed everyone with his amazing speed and accuracy. At the end of the competition, he cleared both the rounds and earned the first prize. "My winning speed was at one minute and twenty seconds where I correctly typed 150 words," said the champion with a wide grin. His exceptional feat made him the star typist of his school. 
"He is the kind of child who when he says he is going to do something, he does it," said his father, Vaiunkant Upadhyay. "Whatever he does, be it typing or studying for an exam, he gives it his full effort. As his father, I am very proud of his achievements."
Love for computers
Shrikant says that although the secret to his most recent success was his love for computers, he draws a lot of inspiration from his family – with good reasons. His father has been his constant supporter, encouraging him to explore his creative side while balancing it well with his studies. He has also been most inspired by his uncle, who is a lab technician and a typist. "The first time I saw my uncle working on his computer, I became very curious. Not only did I want to learn how to use the computer, I was especially drawn towards the way he was typing. There was some kind of magic that he was creating with his fingers," reminisced Shrikant. 
That was six years ago. Since then, under his uncle's guidance, Shrikant learnt to type on the sly. In 2019, when he entered the school competition, his uncle prepared him with typing skills and tricks. "My uncle taught me the ways to balance my hands on the keyboard and type accurately without looking at the keyboard."
---
Read More:
---
Numbers excite him
While Shrikant's exceptional typing skills amaze everyone, the boy also dons several other feathers on his cap. He loves the Rubik's cube and can solve it within one minute and twenty-five seconds. Along with that, his interest in maths since childhood has led him to crack the International Mathematical Olympiad when he was in eighth grade. When asked, he duly credited his IMO success to BYJU'S. "Thanks to the app, I could learn a lot of smart methods to solve math problems. The app has video audio teaching methods that help me grasp the concepts faster and better," said the 14-year-old.
With his school studies being conducted online these days, Shrikant is quick to utilise this time and prepare for his dream – becoming an IAS officer. "During the lockdown, I completed my school portions early to start off with my UPSC preparation. The competition is tough but I have BYJU'S to help me out, so I am not worried," he signs off confidently.