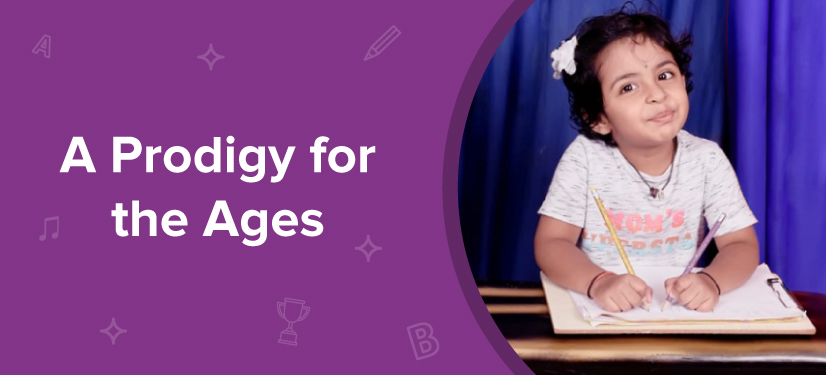 When we called Shanjan Thamma's mother on a sultry Monday afternoon, we were greeted by a rather cute but squeaky voice on the phone. "Who are you?" the four-year-old asked and went on to enquire how we have been doing. The conversation soon shifted to what she likes doing the most during playtime. "I love hula hooping," an ecstatic Shanjan said, her voice literally shaking with excitement. We soon realise that the Class 1 student from Raipur, Chattisgarh, who is aboard our Disney.BYJU'S Early Learn app, is not an all-play-no-work kind of child. 
Setting the records straight
She is no less than a child prodigy and her achievements at such a young age will definitely not fit on a single page. Shanjan happens to be India's youngest ambidextrous writer — which means she can write with both her hands. At just two years and eleven months she set her first record by writing the letters A to Z and numbers one to 30 with both her hands, a record that was officially included in the World Records India register in September 2019. 
Then, the very next month, she created another record of being the youngest child to sing our national anthem Jana Gana Mana and songs like Vande Mataram and Saare Jahan Se Achcha. To top it all off, Shanjan can recite all the elements in the periodic table, and is also the youngest ambassador of Beti Bachao, Beti Padhao campaign for the Ujjain district, when she was just three. Very soon, you might also watch her on your television screens, as Shanjan has been invited as a guest on the reality show India's Got Talent.
Queen of GK
Shanjan has also been able to memorise and recite the names and capitals of all the 195 countries across the globe, her mother Mansi Thamma tells us. "She's reading the Indian Constitution currently. At such a young age, she is also aware of what's happening around her. She knows what light and potential energy is, and remembers the launch date of the Chandrayaan-2 mission, which is quite extraordinary for someone of her age," the proud mother adds.
When she was three and seven months old, Shanjan published her first book, titled Petals: Kinder's Vocabs (A to Z). It is a children's vocabulary book available in two languages — English and Hindi. "She recorded all her initial vocabulary in this book along with pictures drawn by her to explain the meaning of words more clearly to children of her age. She wrote it all by herself," her mother says.
It seems she had already begun writing coherently at the age of two, after having started speaking clearly when she was just 10 months old, we learn. "One day my husband and I were discussing some news and she picked up words from our conversation. She learnt how to pronounce the word Ukraine and its capital Kyiv (Kiev). We then began practising with her, and she ended up learning the names of other countries and their capitals too," reveals her mother.
A curious mind
Shanjan's father Sridhar Thamma is in the Air Force and the four-year-old lives in Parwana Nagar in Ujjain with her maternal grandparents and mother. Recalling more moments, Mansi says, "Whenever Shanjan wants to sit and learn something, she would come and tell us. It is hardly 20-30 minutes a day that she sits in one place, but she gives her complete attention during that time. We had first thought of homeschooling Shanjan completely but later decided to go ahead and enrol her in a regular school."
However, Shanjan loves online classes and doesn't miss school much, she tells us. She also loves Disney.BYJU's Early Learn that is specially crafted for children. "I love solving the worksheets on the BYJU's app. It contains all my favourite Disney characters," she quips, sounding chirpy, while her mother adds that she specifically loves Elsa and Anna from Disney's movie Frozen. 
"She has adjusted quite well with online classes and BYJU's has helped her with that significantly. She is able to learn all the fundamental concepts explained there as it is interactive and features her favourite Disney characters," her mother said. Currently, robots have caught the four-year-old's attention. "I love robots. I want to know more about them and learn how to build them!" Shanjan signs off.