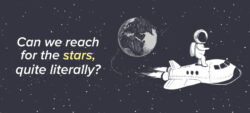 Have you ever been fascinated by the idea of space travel or wished you could be on a spacecraft beaming up to glory? If yes, your dream, along with the shared dream of a million other humans to spacewalk could be a reality soon. Are you excited?
Read on to know more.
Taxi-service to the International Space Station
NASA is using rockets made by Space Exploration Technologies Corp.(SpaceX) – the aerospace company spearheaded by visionary billionaire Elon Musk – as a taxi service to transport astronauts to and from the International Space Station (ISS). SpaceX has made history by being the first-ever commercial human spaceflight system. Musk, CEO of SpaceX, stated that "This is a great honour that inspires confidence in our endeavour to return to the Moon, travel to Mars, and ultimately help humanity become multi-planetary." 
The US space agency gave the green light to SpaceX's Crew Dragon capsule and Falcon 9 after astronauts Robert Behnken and Douglas Hurley travelled to the space station and back. The successful two-month mission, Demo-2, launched in May, confirmed SpaceX's capability to perform crewed missions safely. You can read all about the Demo-2 space launch here.
For the recent mission named Crew-1, The Crew Dragon capsule carried NASA astronauts Mike Hopkins, Victor Glover, and Shannon Walker, as well as Japan's Soichi Noguchi from JAXA (Japan's equivalent of NASA), to the space station. The rocket lifted off from the Kennedy Space Centre in Cape Canaveral, Florida on November 15. The crew will be spending the next six months at the ISS conducting various experiments. 
Why NASA-SpaceX? 
The NASA-SpaceX collaboration is significant because this is the first time in 9 years a mission was carried out on an American rocket and spacecraft. After ceasing its Space shuttle program in 2011, NASA had been relying on Russia's space agency Roscosmos to fulfil their missions.
NASA signed a contract with SpaceX because they came up with a way to make space travel less expensive. NASA used to pay a whopping 90 million US dollars per seat every time they hired a spacecraft from Roscosmos. SpaceX built the spacecraft that consisted of a Falcon 9 rocket with two stages and a capsule. Shortly after the lift-off, the rocket will separate into a first stage and second stage. The first stage will return to the landing site in Florida while the second stage will continue its journey to space with the capsule. After entering the orbit, the capsule will separate itself from stage 2 and eventually head towards the ISS. 
The first stage of the Falcon 9 rocket that returns to the space station will be reused for other missions. By reusing the booster and using the other resources efficiently, the costs of space travel are reduced considerably. Crew Dragon is also one of the safest and most advanced systems ever built. NASA's new partnership with SpaceX has brought down the cost per seat to 50 million dollars. This deal has helped NASA save huge amounts of money (precisely 40 million dollars per seat). The amount saved could be allocated for research and development.
What does the future look like, for us?
Do you see yourself ubering a ride to the lower earth orbit? Is Mars on your travel bucket list? Do you want to spend your summer vacation on Mars?. The future looks bright not just for aspiring astronauts but also for all of us who have been dying to see what's up there. As long as we have stalwarts like Elon Musk who yearn to develop the technology to make life multi-planetary and people like you who are science-curious, the possibilities are endless, just like space!