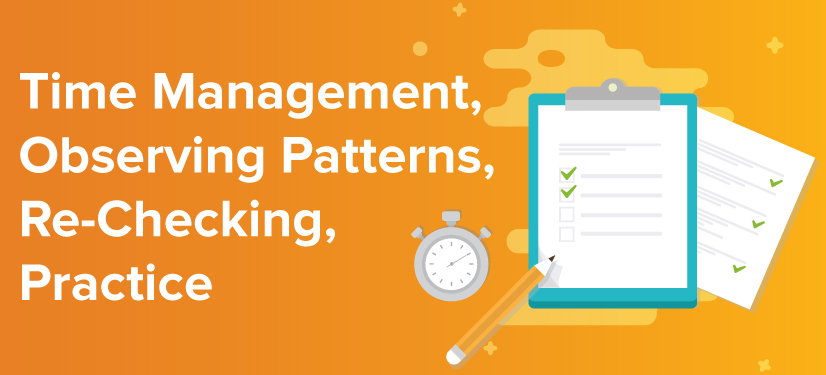 The teacher says "last five minutes!" Everybody is scrambling to get the last couple of answers in. Most of them had kept the easy ones towards the end with the hopes of spending more time on the hard ones. 
Now they are stuck in a dilemma! It was either losing on what they knew or trying to complete the tough ones that they were not so sure about in the first place. The bell rings! It's too late. One after the other, papers are being collected like falling dominos. It is times like these when you actually want to believe that time travel is possible!
Ever been in this kind of a trap? Most of us have a couple of times (Assuming). Remember what the old folks at school tell us? "Write what you know first and then move on to the harder ones". It is a golden nugget of a saying. You might have heard it too often from friends, teachers and parents alike.
The importance of time management for students for exam preparations:
No amount of planning will help you get through your exams without preparations. If you do a reality check, you'll find that most students who turn in a bad paper have not done their homework properly or more appropriately, put in the hours that they had to.
Your style of preparation needs to change when you shift from subject to subject. For example, your style of preparation for mathematics would be very different from that for a language subject. For learning Science and Maths, understanding core concepts is essential. If you try mugging up maths you are going to be very sorry when your results come out!
Maths can be a hard subject for many students but it does not have to be that way. It only becomes hard if you do not understand the underlying concepts. At BYJU'S Mathematics is taught by breaking down concepts step-by-step with the help of graphics and visuals. The learning is reinforced with topic wise Q & As and consolidated tests with scope for result analysis.
At BYJU'S, students fall in love with the subject instantly as the concepts are taught with the aid of graphics and under the supervision of well-trained mentors.
Science too is a subject with a great deal of conceptual knowledge and depth. If you can visualise it and understand the concepts you are bound to stay ahead of your class. Here too BYJU'S has been able to help thousands of students with their learning.
Once you have developed an understanding of the subject you will be able to take tests and check how well you have understood everything.
Boosting confidence through mock tests:
There is no better way to gauge how well you have understood a subject than by taking a test. Taking tests helps you understand where you stand. You could start by answering the questions at the end of chapters in your textbooks.
The next step would be taking mock tests periodically. This is going to be hard the first time, but it's going to pay off very well in the future. You could ask your parents to oversee how well you perform. Ask them to time your exams for you and help fulfil the role of an invigilator. And when you set the paper, keep it simple in the beginning and then take it up a few notches gradually. This way you can build a lot of confidence before your actual exams.
Alternatively, you can take the personalised practice tests on BYJU'S – The Learning App to save the time of setting your own mock papers.. You can also check the reports of your performance and improve where you are falling behind.
BYJU'S – The Learning App is great at helping you get a taste of exams even before the actual thing. This way, on the big day, you will finish up early and will have a lot more time at your disposal for other activities.
Observing patterns:
Have you ever gone through past question paper banks? Have you noticed any patterns? That's right, question papers usually follow a pattern. Understanding these patterns will help you in predicting similar types of questions for the exam of the future. 
Going by this style of preparation you are bound to remain calm, composed and confident on your big day. That's winning half the battle right there!
As you move on to higher classes the importance of observing patterns in question papers become even more relevant. Practising these papers after timing yourself will help you in building an edge.
Every kind of competitive exam that you will ever appear for, will most likely have a question paper pattern. Your style of preparation should be guided by this pattern. The Olympiad, NEET, JEE or any other competitive exam will have a specific pattern. Timing and being informed about a pattern can make or break an exam.
The art of timing your questions right:
Knowing all the answers to the questions in a paper won't guarantee that you finish the paper. How to manage time for students is of paramount importance. Practising question papers will help you build speed and time your questions right.
In the first five minutes of you getting your paper, sift through all the questions. By now you know how much time needs to be allotted to each question. So keep that in mind. Start with those questions that you know very well and then gradually work up to the tough ones.
This way, you won't lose out on questions you already have the answers to. As for the tough ones, you will have a lot of time to work on them. 
Finally, the re-check!
No matter what, every paper you complete warrants a re-check. Who knows, you might have missed out on something important or you might have messed up the numbering or something minor. Whatever the case, giving yourself time for a recheck will go a long way in scoring some extra marks. It's this kind of low lying fruit that no one should ever miss.
Keeping your mind machine oiled-up all the time:
You should be consistent in your practice of question papers. Large gaps between exams can set you off by a big margin. Anything you learn will solidify only if you repeat the process regularly. And It's the same with practising exam papers too. Plus, the more you practise, the better you become at it.
Answering question papers is not everybody's cup of tea but nevertheless it can help you out in a big way. BYJU'S App can be of great help in practising tests. You can even analyse your results and focus one your weaknesses. This way they are bound to do very well for your real exams.
Do you practice question papers at home? What's your favourite way to test how well you have progressed? Leave your answers in the comments section below.