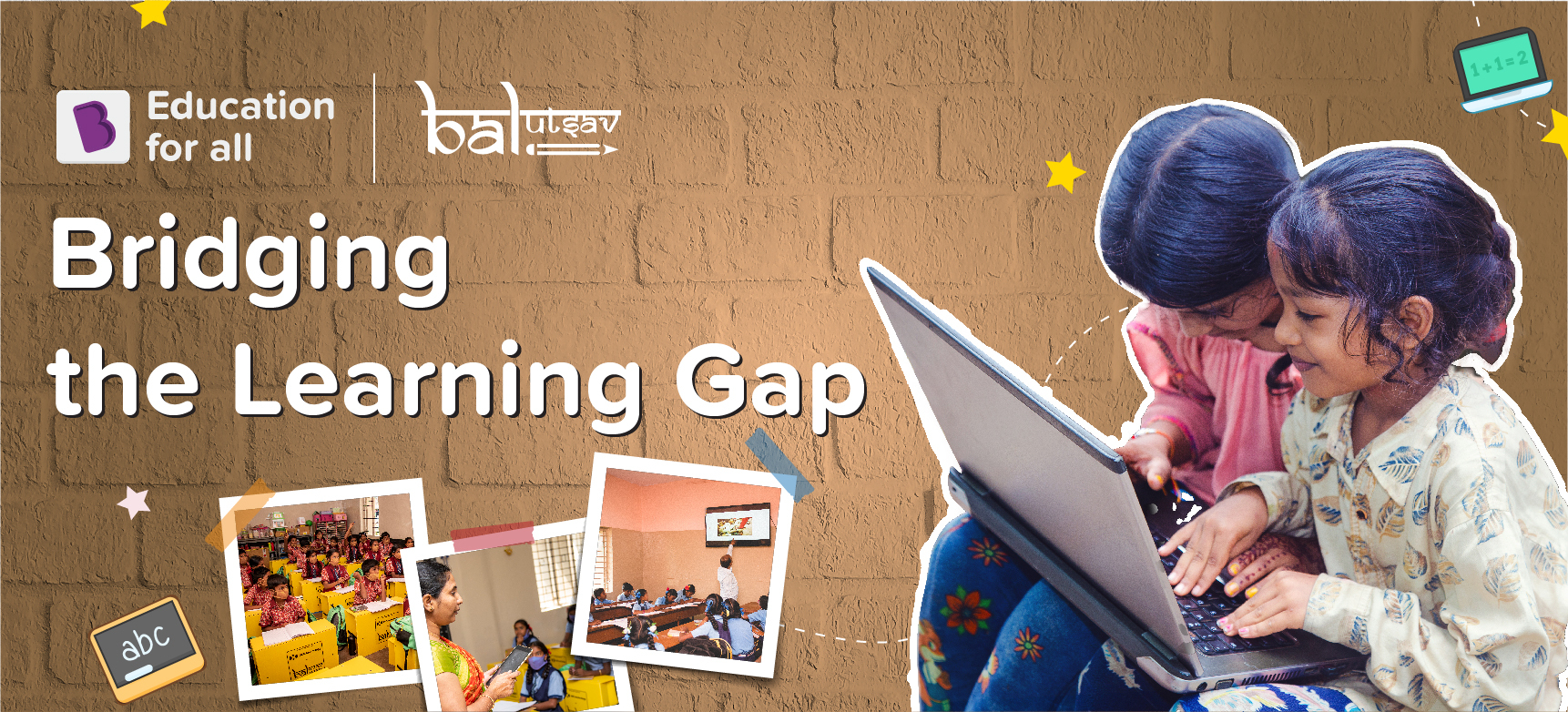 Meet Rama*, from the Nidige Village of Shivamogga, Karnataka. She is a promising grade 8 student of a government school in the village and comes from a background of minimal means. She is working hard to get a job one day and support her family…
…and Rama's school is accelerating her dreams! This Government School at Nidige, is not your regular public school. It has all the facilities needed to boost its children's learning. It is equipped with a full-fledged library, a high-tech computer lab, smart classrooms, a drinking water dispenser, and even a sanitary napkin dispenser, among other facilities. 
Rama's school day is filled with wholesome learning thanks to the various school essentials provided by an NGO called Bal Utsav.
"India has got about 1.5 million schools, about 1.3 million of them are government schools, and the state of these schools leave much to be desired for. Bal Utsav hopes to make a change to this situation," says Ramesh Balasundaram, who co-founded  Bal Utsav with his wife, Binu Verma.
Bal Utsav is an organisation that provides children with a strong educational infrastructure, especially in developing nations. The name is the coming together of two words – Bal (Child) and Utsav (Celebration) – with the idea to take a celebratory approach to solve problems in the lives of children.
The NGO carries out this mission through two of its flagship programmes – Sampoorn Shaala and iShaala.
The Sampoorn Shaala model caters to larger schools with over 500 students, while the iShaala is for smaller schools with under 100 students. Both of these initiatives are intended to create internet-powered, interactive, and inclusive model schools.
"We ensure that these schools turn out to be model schools where children, parents, teachers, and the community are there because they want to be there, not because they can't have it any other way," Ramesh explains.
Bal Utsav's programmes are designed to repair, build and maintain the school infrastructure. It also focuses on enhancing the teaching ability of the faculty in these schools. The schools are equipped with WASH (Water, Sanitation and Hygiene) facilities to make sure that the bathrooms have access to clean water, privacy and hygiene practices.
Apart from this, the organisation also facilitates scholarships for students. These scholarships are provided to deserving students coming from challenging backgrounds, with limited resources and financial support.
In terms of its impact, Bal Utsav has reached out to more than 8 lakh students across the country and has uplifted more than 200 schools.
Equal Educational Opportunities
During the pandemic times, Bal Utsav partnered with BYJU'S Education for All to provide digital learning opportunities to its children.
Through the partnership, BYJU'S has provided an android learning box, individual streaming licenses, as well as workbooks for the children.
"For the last two years, it was very difficult for children to access education, because they could not attend classes in person. It was in that situation that Bal Utsav gave us a boon in the form of the free BYJU'S App licenses for our children," says Shashikala Joshi, Headmistress, Nidige Primary School.
However, with schools reopening, the children are also using the BYJU'S android boxes within the classrooms for an interactive and wholesome learning experience.
Basavaraj R, Headmaster of Hosasiddhapura Government High school says that the BYJU'S App is installed within their classrooms. "When we conduct the classes, the subject teachers, based on students' requirements, pick out that portion of the content from the app and teach," he shares.
With the combination of both online and offline learning, the children can have a wholesome classroom experience and revisit the BYJU'S App once they're back home. Basavaraj says that those who have a device have benefited immensely from the app's features.
However, for those without devices, the BYJU'S workbooks have been beneficial. "Along with the lessons we teach, they refer to these workbooks and improve their writing skills, and their knowledge becomes concrete," Basavaraj says.
Partnership to Ensure Education for All
Ramesh says that the partnership with BYJU'S has been exciting, adding, "We look forward to opening up to newer states and schools in 2022, and hope to carry forward this partnership and take longer strides together."
BYJU'S Education for All is reaching out to underprivileged children across India. We aim to reach at least 5 million children by the year 2025.
Through the BYJU'S Give programme, you can contribute to this mission and help children with quality digital learning. You can donate an old device, which we will refurbish, and then use the money raised to buy a new device. In case you do not have a device, you can also donate to an NGO partner, who will use the money to buy devices for children.
In both cases, we will load our BYJU'S learning content onto these devices and distribute them to children in need.
Education plays an important role in shaping everybody's future. With our partners, we hope to reach underserved children across India with our learning content, so that they have a fighting chance in today's competitive world. 
The lack of education should never be a barrier. Together, we can help make learning opportunities accessible to our children.
*Name changed for safety reasons