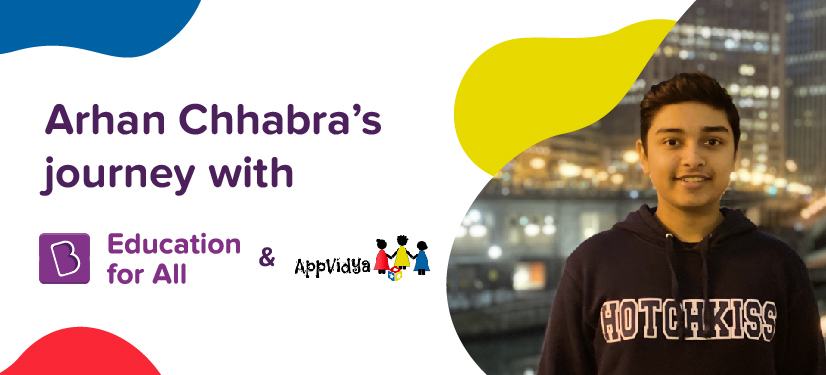 "All humans should have equal opportunities…I realized that unfortunately this isn't the case."
Arhan Chhabra, Founder, Project App Vidya  
Living in Hong Kong and attending a boarding school in the United States, Arhan Chhabra is a 16-year-old who seems to have it all. But there's something that makes him truly unique. He recognised early on that not everyone has equal access to opportunities like he does. Here's a look at his extraordinary journey in providing digital learning tools to not-so-advantaged students through his initiative — Project AppVidya.
The beginning
It all started when Arhan visited Pen, an Indian village in the state of Maharashtra. He recalls holding a bag full of BYJU'S tablets for students as part of his

Project App Vidya

. Much like

BYJU'S Education for All

that aims to provide quality education and access to digital learning to 5 million students by 2025, Arhan's initiative also envisions to tap into the potential of learners in remote locations with the power of online learning.
Arhan collaborated with BYJU'S and Community Aid and Sponsorship Programme (CASP), Raigad — a promising combination of EdTech (BYJU'S) and community-driven change (CASP). With CASP, Arhan could mobilise his outreach program by identifying students from the local communities who had the potential to thrive with access to quality learning content. And with BYJU'S, Arhan was able to provide tablets, educational material, and access to education experts without requiring a steady internet connection.
It took a demo before Arhan handed over the tablets equipped with BYJU'S learning courses to the students and the rest was pure magic. The students were eager to learn and embark on a learning journey that they must have only dreamed of moments ago. 
Looking back at the time Arhan says, "Who would've known that months later, the world would face a pandemic that would leave a lot more people scrambling to find even more digital education tools?". After all, it would be only a few months before the pandemic would force students all over the world into their homes without access to education. But Arhan was not the one to sit back and watch the pandemic raze public education systems to the ground. He soon improvised on Project AppVidya to create CoVidya (COVID+Vidya) to support the education of students with free-live-tutoring. The app connects over 500 tutors and students all over the world through the website and algorithm developed by Arhan for over 60 countries. 
The role of BYJU'S 
As a BYJU'S ambassador, Arhan has witnessed his program's success expand exponentially. Here's what he had to say, "I am glad to report that so far, there has been a lot of success with the implementation of AppVidya with the help of BYJU'S material. One student has been averaging almost one hundred concepts per month, while another student has used his BYJU'S tablet to watch more than 1000 concepts so far!". 
Students also reported back to Arhan on how the way they learn new concepts has changed drastically after being introduced to BYJU'S. In fact, students with difficult socio-economic circumstances who otherwise would not have planned to pursue higher education, now aspire to study further after getting a headstart in Maths, Chemistry, Physics, and Biology with BYJU'S and AppVidya. 
The way forward 
BYJU'S Education for All welcomes individuals and organisations like Arhan's to join us in the mission to revolutionise education for millions of children. Our approach so far has been to identify communities with students in need, build strategic partnerships, and create outreach programs that deliver digital learning content and support in a sustainable manner. Visit us here to partner with us.