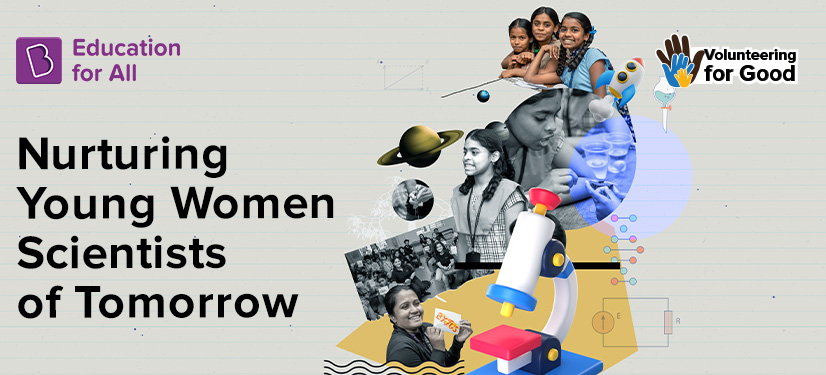 Through a social initiative by BYJU'S Education for All, BYJUites volunteered to conduct a science workshop for young girls in Bengaluru on International Women's Day 2023.
---
Children in India, especially girls, are devoid of an option to pursue their dream careers due to the lack of education and resources. These young girls are often forced to drop out young and marry off before they can even complete school. Moreover, even if they are sent to school, there are chances that they are often discouraged from pursuing STEM careers and are often taught skills that can make them efficient homemakers.
International Day of Women and Girls in Science is commemorated on 11 February yearly to promote equitable access and participation of women in scientific fields. On this occasion, BYJUites got together and visited the children at a Government educational institution in Bangalore and engaged them in a science workshop.
Athul M. R., Academic Specialist, said, 'On International Day for Women and Girls in Science, our science trainers met the girls from the Government Girls Pre University School and College in Malleshwaram, Bangalore. They conducted real-time physics and chemistry experiments with the girls from grades 5, 6 & 7. They took them outside the pages of their textbooks and gave them a real experience. It has helped them dream big and unleash their curiosity toward the world of science.'
'I had so much fun sharing my knowledge of science with these enthusiastic kids. Being a part of BYJU'S, I got the chance to have one-on-one interactions with the students and encourage them to know and learn more about science. I hope the experiments helped the girls understand the power of science in the most entertaining manner. We must encourage and enable each other to have quality education. We need to bring more scientists to this ever-changing world,' said Divya T. P., Academic Specialist.
'It's unfortunate that girls are often discouraged from pursuing STEM careers, but initiatives like this are essential in breaking down those barriers. By exposing young girls to the excitement and wonder of science, we can inspire them to continue their love for the subject and consider careers in fields like science, technology, engineering, and math,' shared Keerthy R., Marketing.
While our volunteers at BYJU'S continue to drive our mission of making education accessible, we hope to raise more young women scientists and LeadHERs who can create change. We want to ensure that child is given a chance to learn and no dream is left behind.
---
BYJU'S Education for All is reaching out to underprivileged children across India. Through the BYJU'S Give programme, you can contribute to this mission and help children with quality digital learning. You can donate an old device, which we will refurbish, and then use the money raised to buy a new device. In case you do not have a device, you can also donate to an NGO partner, who will use the money to buy devices for children.
In both cases, we will load our BYJU'S Think & Learn Premium content onto these devices and distribute them to children in need.