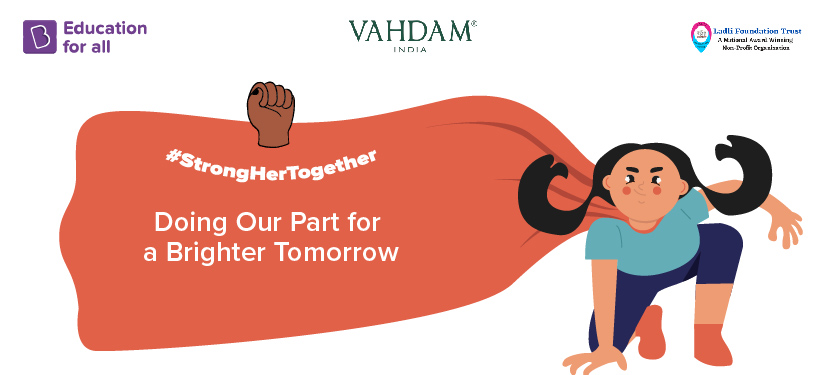 With January 24 being observed as National Girl Child Day every year, BYJUites came together to celebrate the day in a unique manner. Through #StrongHerTogether, we partnered with Ladli Foundation and Vahdam Teas to build confidence and inspire young girls.
For centuries together, girls have not had a voice in society. So, as a follow-up to this special day, BYJU'S Education for All organised its very first workshop with the children of these NGOs, to build that voice and make them feel sure about the outside world.
Through the workshop spread across 5 and 6 February, we conducted various programmes for the children – fun-filled virtual sessions with dance, art, creativity and a lot of learning – all conducted by BYJUites. The children, too, participated in these sessions and also used the platform to showcase their talents.
Take a look at how we spent time with children, getting a step closer to empowering them for a better tomorrow, getting #StrongHerTogether.
Day One: Fun learning with the Ladli Foundation
On day one, we interacted with the children of Ladli Foundation.
It commenced on a peppy and uplifting note with a 30-minute warm-up and energetic session by Poorva Tiwari, Associate Content Developer. The children of Ladli enjoyed dancing to Poorva's beautiful dance flow to the famous song "Aaja Nach Le".
She says, "While taking the workshop, it felt like we were making these people in front of us, smile and that they will remember BYJU'S for how we lit up a few hours of their life with joy and smiles."
The next session featured a special kind of meditative art form called Mandala. Hosted by Meghna Howldar, Senior Student Success Specialist, the art session involved intricate designs, which were presented step-by-step and resulted in a beautiful Mandala.
"I shared my knowledge of Mandala art with the children of the NGO and the response received was really overwhelming. They were very enthusiastic about learning what I had to teach, and also made beautiful artworks along with me," Meghna shares.
We then moved on to leadership sessions by Mansi Kasliwal, Vice-President of Social Initiatives at BYJU'S, who spoke to the children about how education has shaped their course and how every girl should believe in the power of her dreams and resilience.
Mansi shares, "I felt privileged to be sharing my professional journey with young girls who are at that juncture where they are making decisions for their future path. I was taken back to the time when I was at that juncture in my life and to those people who guided me. Their questions helped me realize that similar dilemmas still trouble young children and we should do many similar exercises to guide them."
Followed by Mansi's session was another talk by K Jyothi, Assistant Vice President, Student Experience, about career options for girls in the years to come, and how education can help shape their future.
Talking about the importance of career planning, Jyothi shares, "Awareness about various possibilities and talking about ways to overcome the limitations have to be done at regular intervals so that they start thinking like that and take required action in respective fields."
While we hosted the sessions, the children were also excited to be a part of the fun and frolic. We heard many talented singers who were more than happy to sing for the audience.
The children at Ladli truly enjoyed the session and are hoping for more, says Kamini Vaid, Chief Coordinator at Ladli Foundation.
"The extra-curricular activities are something that the children don't always do. Such sessions are very useful to our children and are something that they really look forward to," she says.
Day Two: Learning, Recycling, and Entertaining with Vahdam Teas
On day two, we saw interesting activities by our BYJUites for the children of 'TEAch Me Children' by Vahdam Teas.
The first session was an exciting one by Manswi Garg, Senior Manager Learning and Development — a simple activity that puts old products to the best use. In this session, she taught the children how they could make a bag with just an old T-shirt.
"It was lovely to interact with the kids and teach them how to recycle — to make a tote bag out of an old T-shirt. They all showed interest and it was lovely meeting them," Manswi shares.
The recycling session was followed up by a menstrual health talk by Nidhi Hegde, Senior Academic Specialist, who is looking forward to doing more such sessions with children from NGOs.
She says, "The kids there were so eagerly waiting to hear something from us, and learn something new from us. So, it was truly an incredible experience."

The session on day two was concluded with dance and music. Ketan Desai, Chief Educator, Vahdam Teas says, "TEAch Me children thoroughly enjoyed the interactive session with the volunteers from BYJU'S. Such interactions with young employees are also aspirational and motivational for these children, as they can see themselves in similar roles in the future."
"We are thankful to all the BYJU'S volunteers who took time out on a Sunday to spend with the TEAch Me kids," he adds.
The #StrongHerTogether campaign is the first step in our mission to reach children with such productive activities. We hope to conduct many such sessions, to not only engage children but also help them make choices for a better future.
Together, we can 'empowher' our leaders of tomorrow.
---
BYJU'S Education for All is reaching out to underprivileged children across India. Through the BYJU'S Give programme, you can contribute to this mission and help children with quality digital learning. You can donate an old device, which we will refurbish, and then use the money raised to buy a new device. In case you do not have a device, you can also donate to an NGO partner, who will use the money to buy devices for children.
In both cases, we will load our BYJU'S Think & Learn Premium content onto these devices and distribute them to children in need.
Also Read: From Kashmir to Kanyakumari: Ensuring Education for All