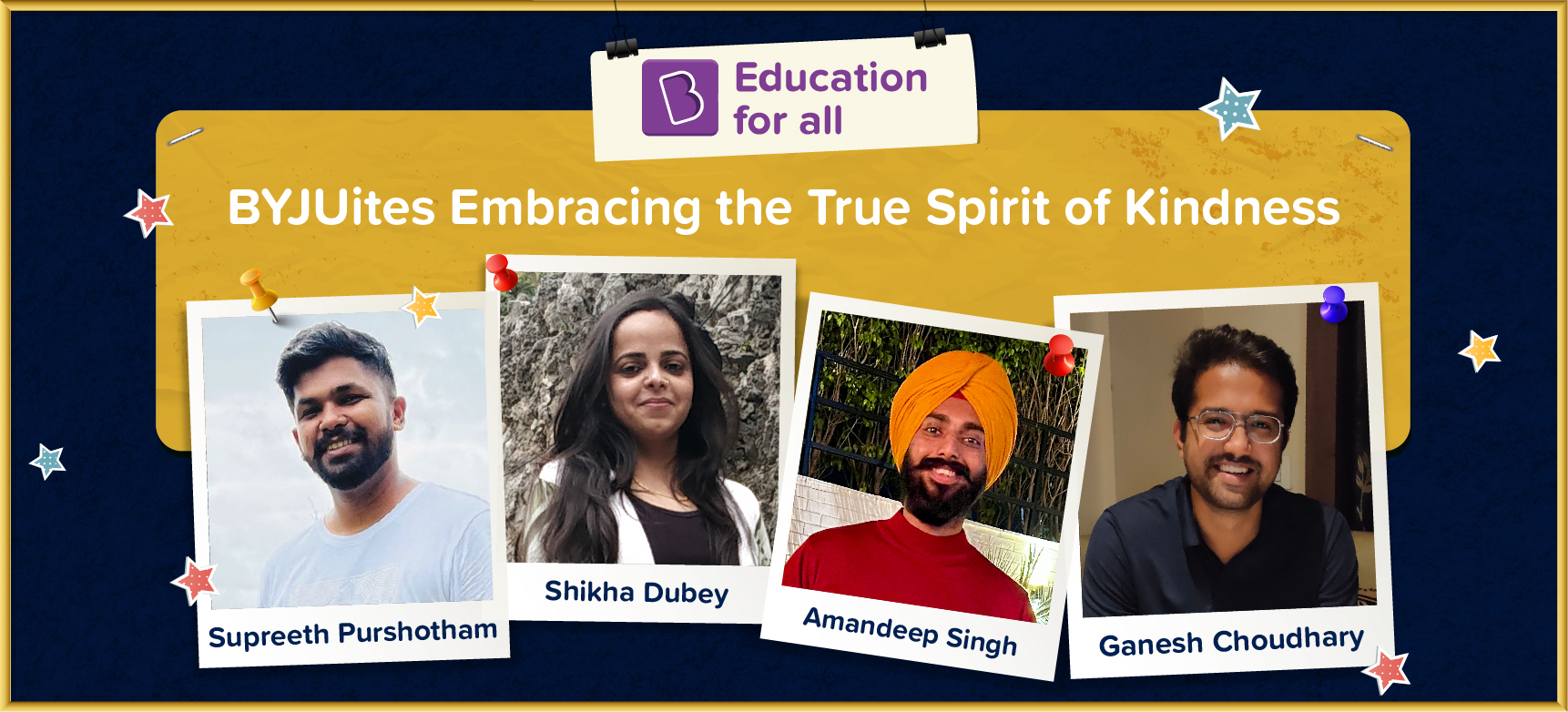 "No act of kindness, no matter how small, is ever wasted." – Aesop
Be it helping the frontline workers or being a regular blood donor, BYJUites have gone out of their way to help someone in need. Each one of them has a special story to share, which in a small way, has made a big difference in the lives of others.
Here are some inspiring anecdotes by our BYJUites, of how they #SpreadWarmth with their acts of kindness.
Supreeth Purshotham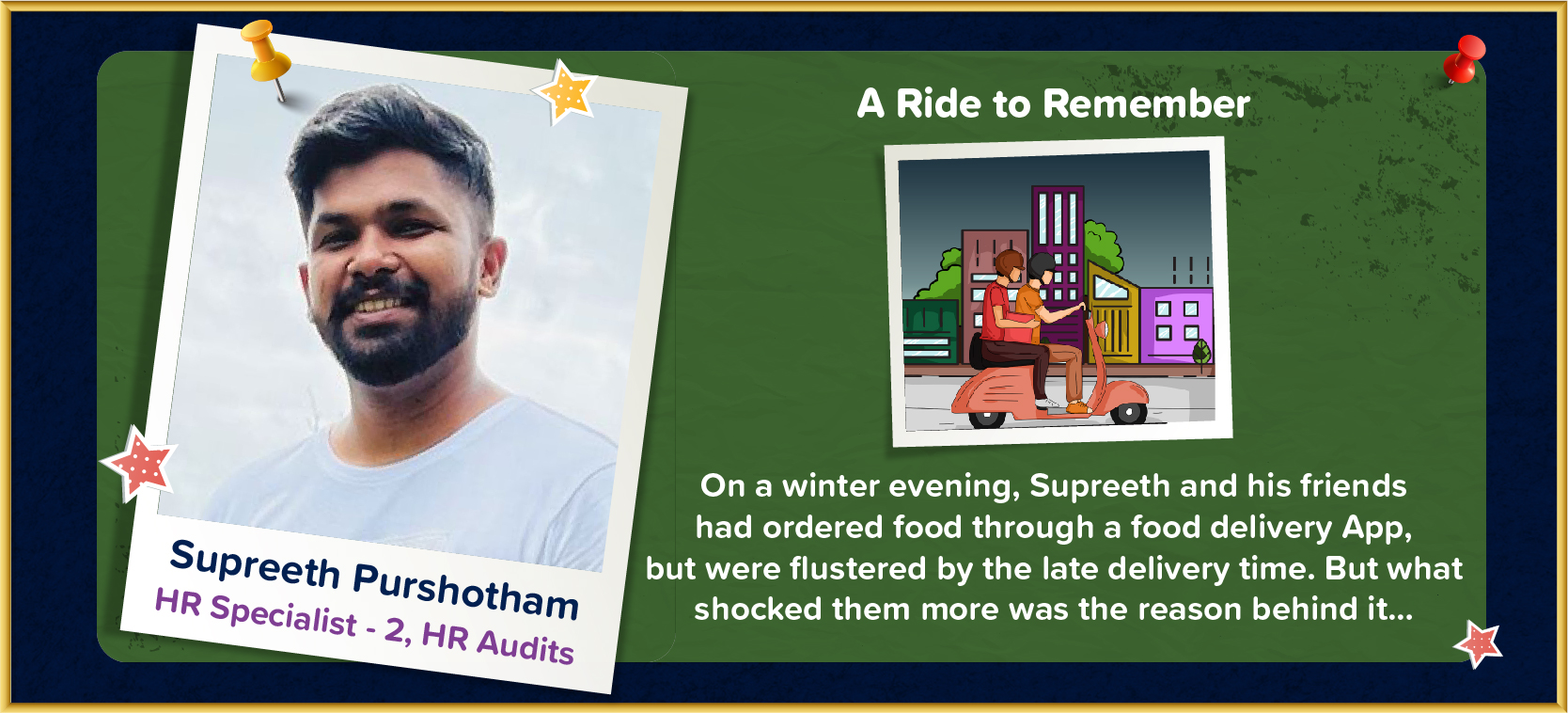 A couple of months ago on a cold evening, there was unexpected rain pouring heavily through the night. The weather was quite gloomy and I had no interest in cooking.
My brother and I decided to order food online, a usual routine for bachelors. As the weather was already lazy, we thought of ordering something to lift our spirits. Biriyani it was!
We placed an order and the delivery time showed 30 minutes, but the two of us were getting hungry and restless. Every minute felt like an hour. To top it off, I received a notification that the delivery might be slightly delayed due to the bad weather.
The notification made us furious and we called the restaurant, asking them to share the order as early as possible. However, we were relieved that the order was picked up and was to be delivered in 20 minutes.
So the waiting continued. After 20 minutes, the delivery partner was only halfway to our location.
I called him and asked how much more time he would need. He said that there were multiple orders to be delivered – ours was the third, and he was delivering the second, so he needed another 10 minutes to reach our location.
Like I said earlier, every minute felt like an hour and our hunger was almost at its peak. After 10 minutes, I saw that the delivery partner was still at the same location and hadn't moved. I called him again, and he didn't answer.
I was almost about to raise a complaint to the delivery company when the doorbell rang. I saw that the delivery partner was completely drenched as it was still raining outside. He handed me the package and apologised for the delay.
I offered him a towel to dry himself before leaving, but he denied it and started moving out quickly. I stopped him and asked him why he was in such a hurry as my order was the last one, and it was already around 11 pm.
He said that he was delivering the orders on a bicycle and while delivering, the tyre got punctured and he had walked almost 2 kilometres to deliver the order.
I forgot my hunger and went along with the delivery partner on my bike to pick his bicycle, and then dropped him home which was almost 5 kilometres away. I got back home and then had the biriyani I ordered.
The taste was actually not great but I enjoyed the cold biriyani as I knew that I had #SpreadWarmth to that delivery partner in some way.
Ganesh Choudhary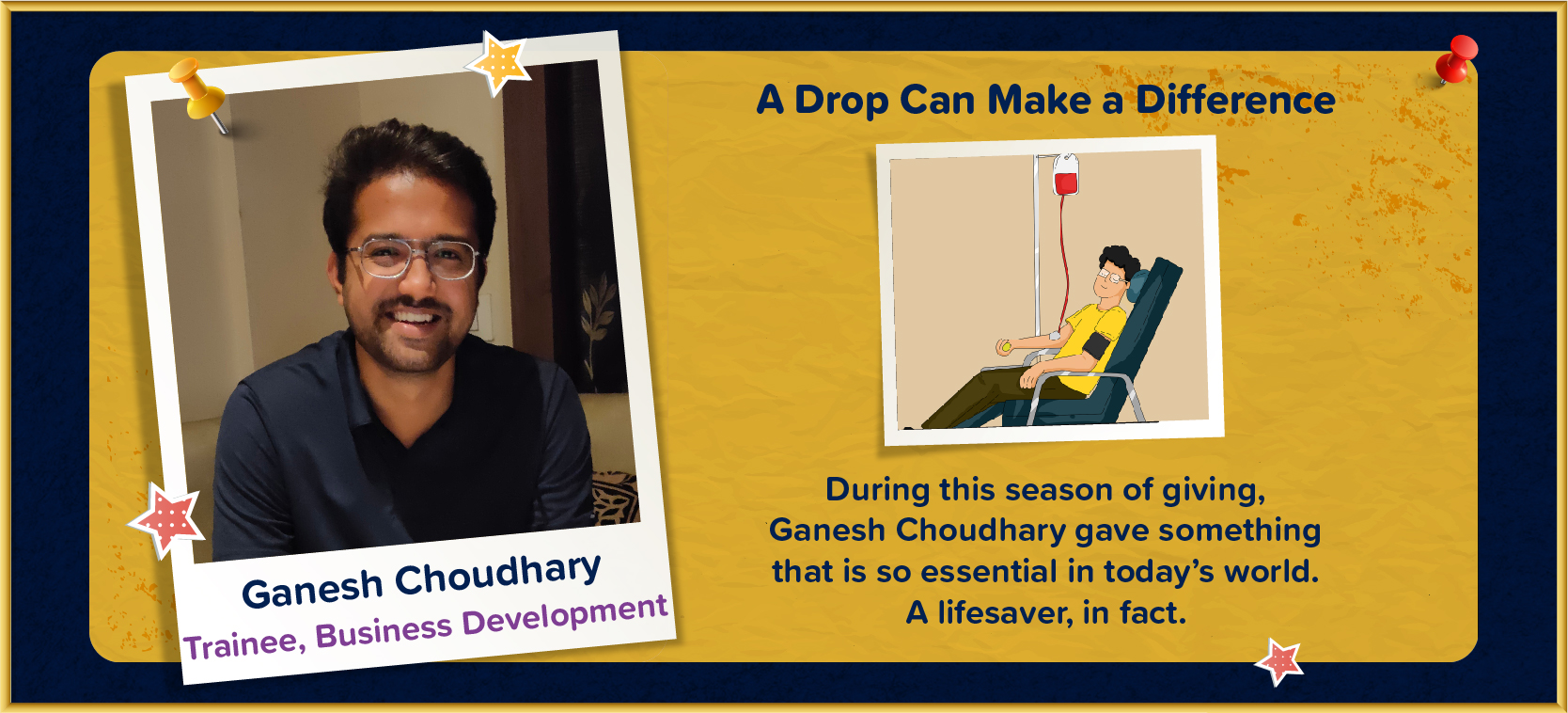 I've been passionate about donating blood since 2012 when I was still in college. At the time, a group in our college invited the nearest government hospital to conduct a blood donation camp, which I was a part of.
After graduation, I started visiting the hospital in Pune to donate blood regularly. In fact, I would donate once every 90-100 days. Moreover, the patients can receive the blood for free at this government hospital. However, I stopped the donations when the pandemic happened.
But in 2021, I donated blood once again during December. After the donation, I felt quite happy. While speaking to the medical staff at the hospital, I also learned there is a constant requirement for blood, so I urge everyone eligible to take a step to donate blood.
During my free time, I also volunteer at an old age home as well as an orphanage. I try to help the staff and the residents based on the requirement – serving food, cleaning, gardening, to spread happiness to more people.
I hope that I can spend more time in the future on more such social causes.
Shikha Dubey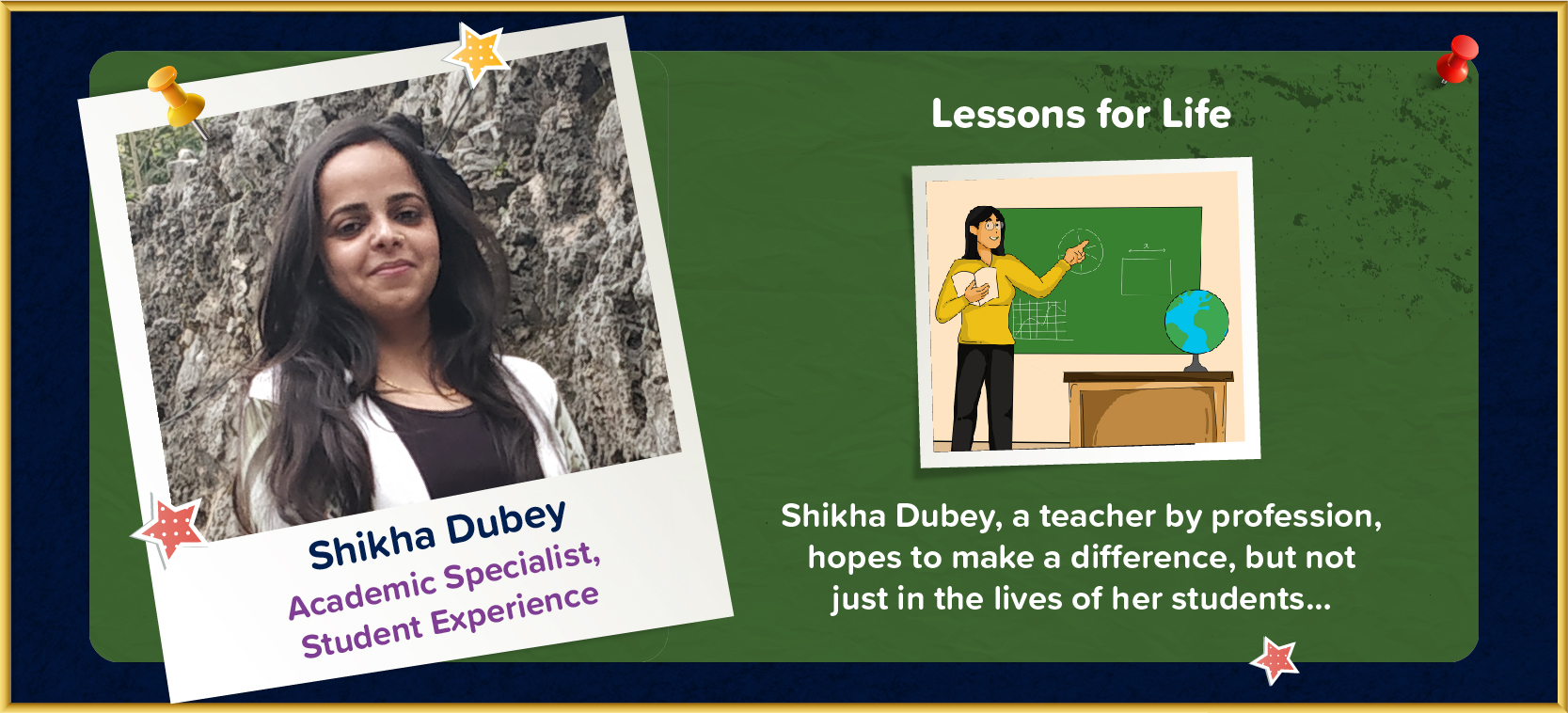 I have been a teacher since 2012, almost 10 years now. During these years, not only did I get to teach, but also learn a whole lot of things from my students. More than 15-20 students became doctors who are now making a difference in the lives of people. I feel really proud and happy to know that they've gone in the right direction of becoming better humans, more than anything else.
Apart from the life of a school teacher, I also like to spend my time volunteering for an NGO, where I get the chance to teach underprivileged children. I am hoping to collaborate with more NGOs to train and help children for their higher studies.
Doing social work gives a sense of gratification, when we help someone, not expecting anything in return. If we have that helping and charitable virtue, we can spread smiles and happiness everywhere in this small world.
Amandeep Singh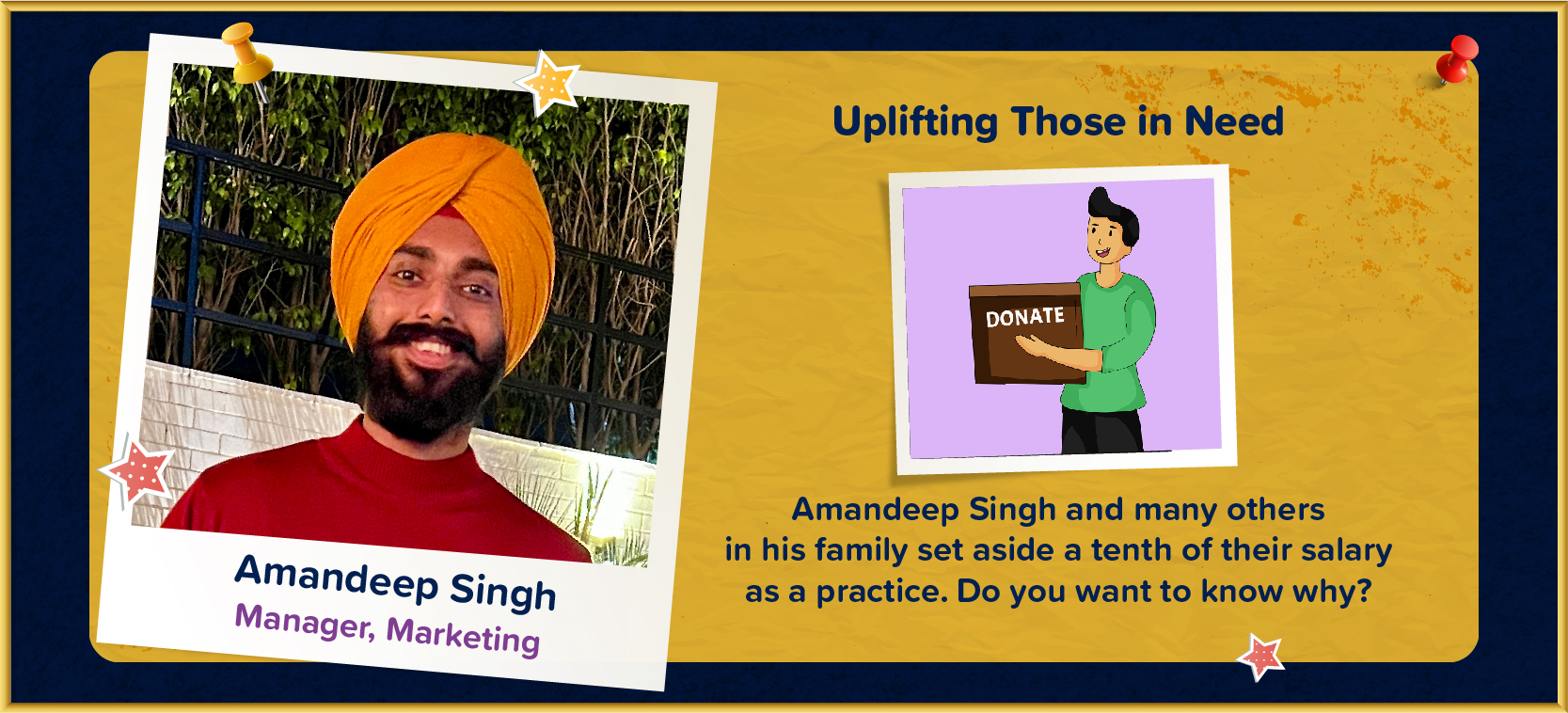 In my family, we practice something called Dasvandh, which I personally feel that everyone can be a part of to make this society a better place for everyone.
Dasvandh is a practice where a tenth of one's income should be donated, both financially and directly in the form of charity, making this world a better place for underprivileged people.
The practice runs in my entire family and community, along with social work, which we consider to be a moral duty towards society. My father was always helping the needy, and I have been trying to follow in his footsteps.
I believe if we follow something like this, we'd be able to #SpreadWarmth throughout our lives.
Check out some more stories of our BYJUites: How BYJUites #SpreadWarmth with Kindness
---
While our BYJUites continue to inspire us every day, we also want to ensure that we're doing our bit for society. Through our BYJU'S Education for All initiative, we want to ensure that children across India, despite their social boundaries, are able to access digital education.
You too can be a part of this initiative. An old, digital device can open opportunities for many children in need. Visit BYJU'S Give to learn more.
Also Read: Pioneering hope in the form of education: Padma Shri awardee Harekala Hajabba's inspiring journey