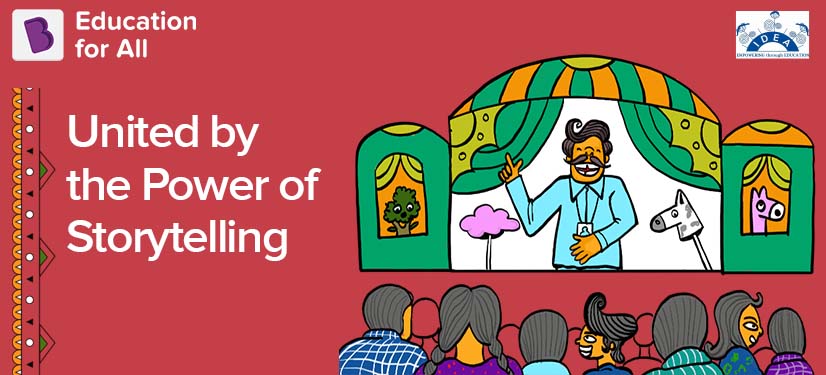 Have you ever heard a great story that has left a lifelong impact on you? When you think of it, what kind of emotion does it evoke within you?
Every story that is told well has power great enough to leave an impression on our minds. And most often, we hear some of the best moral stories during our childhood.
With that thought of livening childhoods with stories, BYJUites got together for a storytelling session for the child beneficiaries of the IDEA foundation. They shared stories laden with values, life lessons and inspiration with the hope of creating a small yet positive impact on these little minds.
Most of these stories were narrated to the children in both the Hindi and Marathi languages, which were comfortable for these children.
Priya Jain, Team Lead – Student Experience, has always been fuelled by a saying by Helen Keller – "Alone we can do so little; together we can do so much". She says, " This is my ultimate source of motivation which keeps me reminded at every step, that nothing is impossible if done together."
 During the session, she shared a story of Arunima Sinha, the first woman amputee to climb Mount Everest. The story left the children with a simple moral –  set your goals high, and do not stop until you get there.
"This was an amazing experience that gave me satisfaction after bringing a bundle of smiles on such sparkling faces," Priya shares.
Meanwhile, Shahnaz Akhtar, Academic Specialist, also narrated the story of Kalpana Chawla, the first Indian-origin woman to go to space.
"I told the children about how despite the odds, she managed to do so much in life," she says, adding, "It was an amazing experience, very new and unique. The children were very interested in the story and they were very interactive."
Amruta Sakrikar, Academic Specialist, shared a story in Marathi with the children, "The Children were really excited and felt personally involved as it was in their language. They were responding with great enthusiasm. While I have volunteered before, this one was a very special experience."
Fabeha Ahmed, Student Success Specialist, is very passionate about storytelling. She narrated the importance of Holi, the festival of colours which holds cultural importance in India, to the children. "I described the festival in a fun way, making it simple for the children to understand. I felt quite happy reaching out to the students, and creating an impact of such stories in their lives," says Fabeha.
"It was a learning experience for me. Children showed us that when you are ready to learn, then there is no barrier. Children had the infectious spirit of knowing new things. They were not afraid to try, learn and implement new skills in daily life. I also got to know a few more words in Marathi," says Nitin Katiyar, Lead – Content Development, who shared the story of Maharana Pratap.
The session was an engaging one for both BYJUites and the children of the IDEA Foundation. We will continue these sessions for more children
In the months to come, we hope to engage with more children and NGO partners and imbibe valuable lessons through the art of storytelling.
---
BYJU'S Education for All is on a mission to empower 10 million children by 2025 with education. Through the BYJU'S Give programme, you can contribute to this movement and help children with quality digital learning. You can donate an old device, which we will refurbish, and then use the money raised to buy a new device. In case you do not have a device, you can also donate to an NGO partner, who will use the funds to buy devices for children.
In both cases, we will load our BYJU'S Think & Learn premium content onto these devices and distribute them to children in need.
Also Read: How BYJUites Planted the Seeds for a Better Future