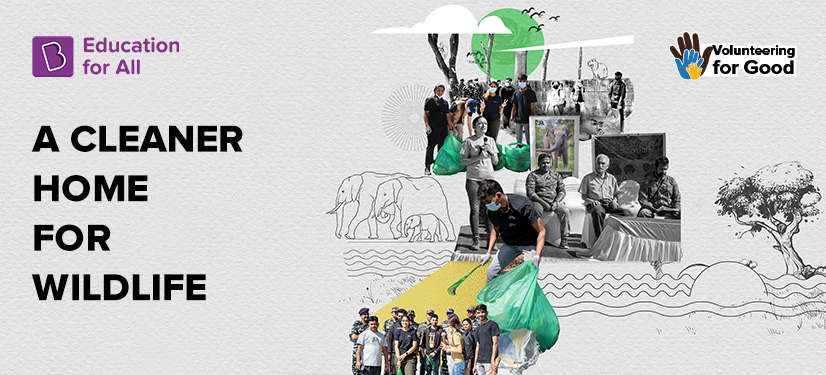 BYJU'S Education for All has been striving to make a difference through the volunteering programme. On World Wildlife Day, we cleared the area around the Bannerghatta National Park, Bengaluru, to create a safe and clean environment for the city's wildlife.
---
Forests are an integral ecosystem spread across the earth, sustaining a slew of species within their expanse. These life-giving biospheres are home to flora and fauna unique to different regions of the world.
To sustain the conservation of these forests and wildlife, national parks and zoos have been created to safeguard and preserve these species. One such habitat is the Bannerghatta National Park, situated in Bengaluru.
To play their roles in conservation and make a difference, BYJUites took part in a cleanup drive on World Wildlife Day, organised by the NGO Wildlife SOS, around Bannerghatta National Park. Together, they cleared the area around the forest of waste and debris to make these habitats cleaner and safer for animals.
One of the volunteers, Anushree Gangadhar, Marketing Associate, shared her experience, 'It was a day filled with contentment as hundreds of volunteers, including many BYJUites cleaned up kilograms of trash strewn around. It was truly a humbling experience to be surrounded by people with the same desire to give back and be one with nature. Learning about the impact of our actions on wildlife from wildlife veterinarian Dr. Arun Shah topped off a day filled with cognizance, satisfaction and gratification.'
'Working at the intersection of education and technology, I find myself uniquely privileged to contribute to nature's preservation and education about the same. As a member of the BYJUite community, I feel privileged to contribute to nature's preservation and education. I hope our participation inspires others to take action in their own communities towards a greener, more sustainable future,' says Abhilash Gouda, Senior Student Success Specialist.
"I believe that World Wildlife Day is a chance to increase awareness of the numerous benefits that the conservation of wild fauna and flora brings to humans as well as an occasion to enjoy the many beautiful and different varieties of wild fauna and flora,' shared Subhash Parthasarathy, Student Experience.
Through the BYJU'S Volunteering Programme, BYJUites have been contributing to various causes and making a difference. We hope that with each passing day, we continue to make a difference and ensure that we make the world a better place through our initiatives.
---
Read more about our BYJU'S Education for All initiative here.
If you wish to support our initiatives and help an underserved child with education, you can donate a device through BYJU'S Give.
Let's help children chase their dreams with the power of quality education!
Also Read: BYJUites Awaken the Scientists in these Young Girls in Bangalore