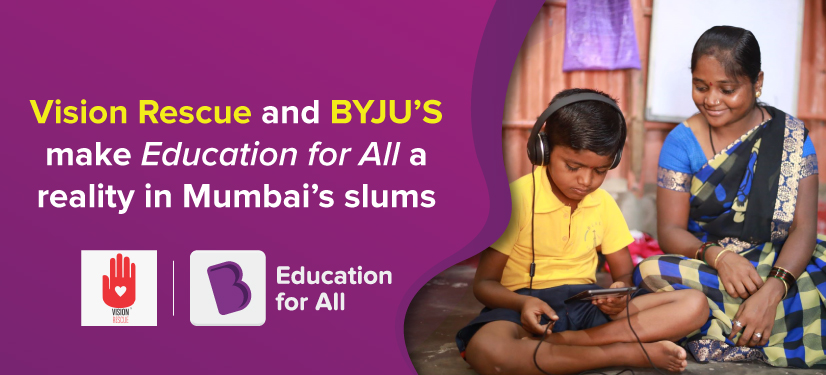 Education is the biggest enabler in uplifting children from disadvantaged socio-economic backgrounds. But it takes a strong ecosystem of driven partners to reach a vast student base and create a lasting impact. So when we set out on a mission to transform the lives of 5 million students by 2025 with democratised access to learning through our social initiative, Education for All, we knew we had to collaborate with a mission-aligned partner who fully understood the power and potential of education. Today, we are glad to have found a trusted partner in Vision Rescue, a Mumbai-based charity organisation that's rigorously working with children residing in slums to provide healthcare, education, and social support.  
According to the 2011 government census, 6.5 crore people in India live in slums. And out of this, 47% happened to be children who remained malnourished and uneducated — coming from high-risk backgrounds. Vision Rescue enables such communities to reach for better educational opportunities. We saw a huge potential with respect to how we could help as an EdTech player. 
We sent across 50 devices loaded with BYJU'S learning content to children under the care of Vision Rescue, to help them learn digitally during the lockdown. These devices were collected as part of our outreach program under Education for All — The BYJU'S Give initiative. This aimed at encouraging individuals to donate their old devices to help students without access to online learning continue with their studies as schools remained shut owing to the pandemic. The devices we collected, refurbished, and then loaded with BYJU'S learning content and shipped out to students who needed it the most. 
To ensure that students are able to make the most of these devices and learning content, Vision Rescue has trained 40 passionate representatives from within the community to help students gain digital literacy skills and learn unhindered. 
This collaboration is only the beginning of a new era of learning, where free and fair access to education can finally become a reality with digital learning and technology. And especially during these trying times where schools have been shut indefinitely, several learners risk never returning to schools without access to a smart device or internet. In fact, in a survey conducted by Vision Rescue,  out of 1400 families they worked with only 800 stayed back even after the lockdown while the remaining migrated back to their hometowns. And out of these 800 families, only 400 had access to a smart device. This meant that half of the families who decided to stay back did not have a smartphone and could not keep up with digital learning. Our partnership with Vision Rescue hopes to turn things around for these children and open up a whole new world of learning that is fair, uplifting, and accessible to all. 
Watch this space for stories of change and the difference brought about in a community through quality, accessible education.
Picture credits: Vision Rescue