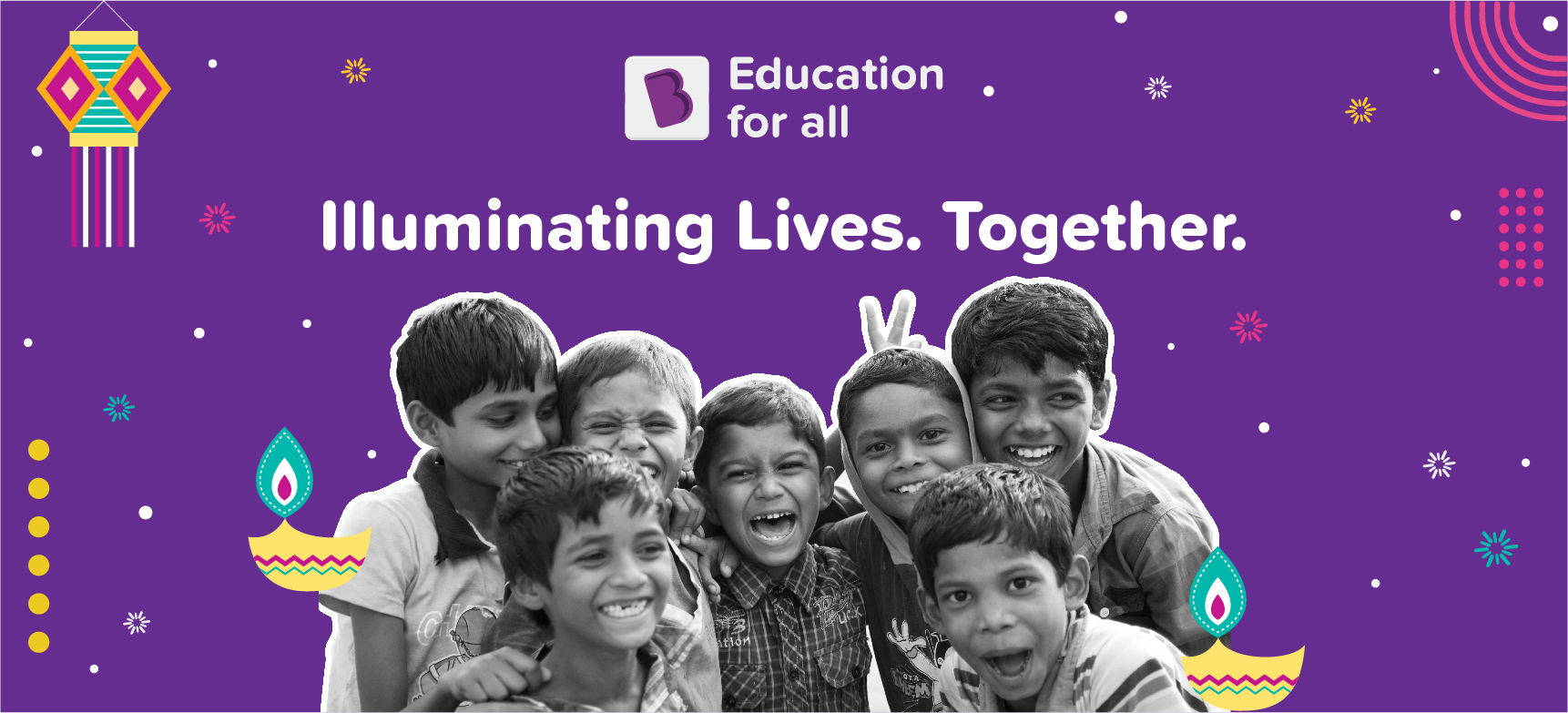 Education has only scratched the surface in terms of the reach in India. In most cases, the education of children is the first thing to be compromised when a family's financial situation goes down in flames.
Poverty has been a prominent factor in our country which dictates most decisions of its citizens. In fact, the pandemic caused more than 60 million workers to drop out of the labour force in India in April 2020. As of 2021, more than 97.69 million people (7 percent of the population) are living in poverty.
What happens when there is such extreme poverty in the nation? The children suffer to no end. Nearly 385 million children across the world are living in extreme poverty, and India accounts for about 30 percent of this population. While the situation is improving with a lot of collective efforts, there's still a long way to go.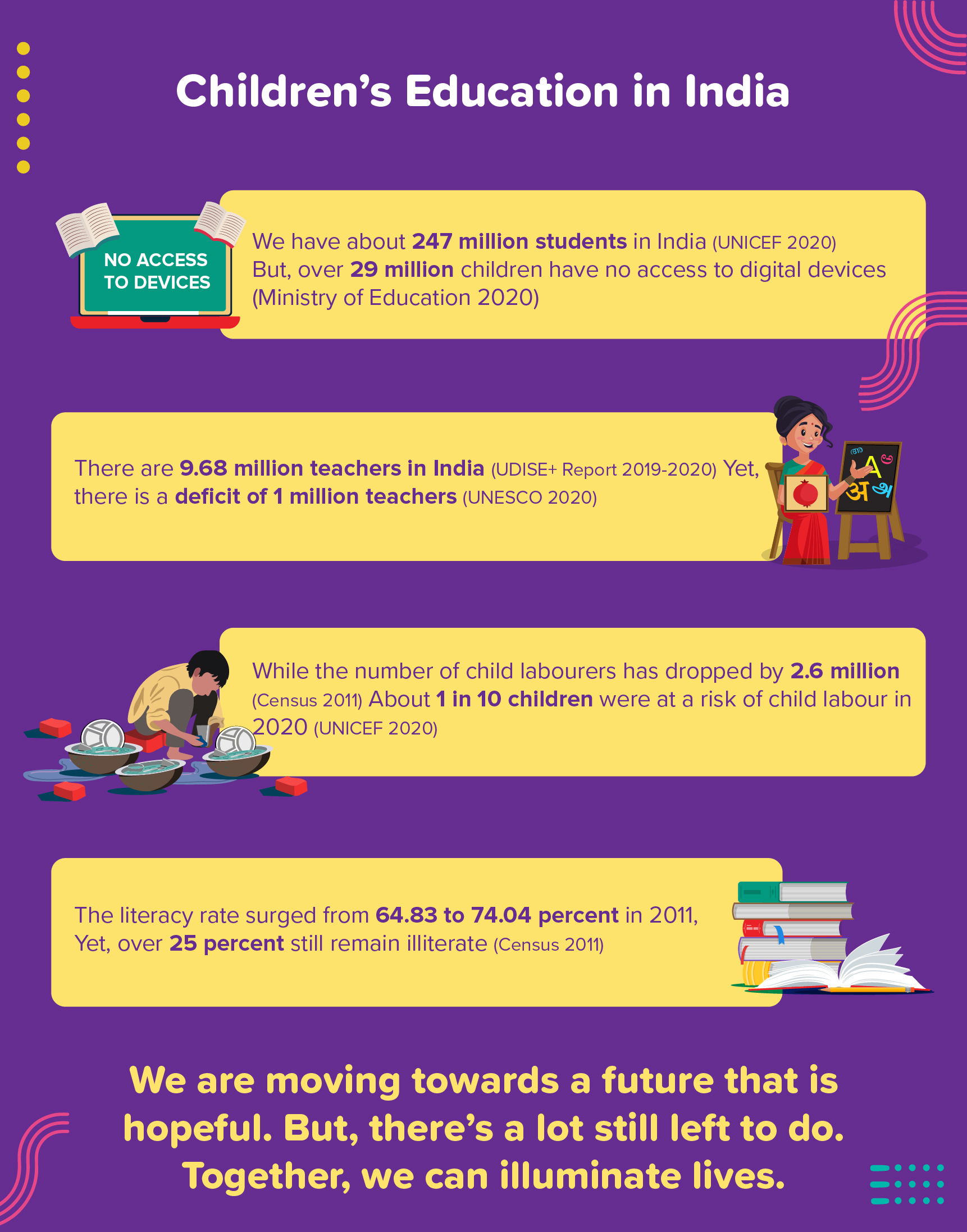 Education, which stands as a factor to improve opportunities, is often threatened, creating a bleak future. In such a situation, it becomes important to ensure that learning doesn't come to a standstill for any child and that they have access to inclusive education. We at BYJU'S are mindful of the opportunity and responsibility we have towards improving the future of these children. 
BYJU'S Education for All is an initiative that aims to reach 5 million children across India with education with the Think and Learn Premium Content, which is distributed for free. This way, we are ensuring that every child has a fair fighting chance to reach their dreams.
This Diwali, we look at the journey that BYJU'S Social Initiatives has charted so far, and how we've been able to illuminate lives, together.
The Journey
Started in 2020, BYJU'S EFA has reached more than 3.5 million children so far, as a part of its long term goal of reaching 5 million children by 2025.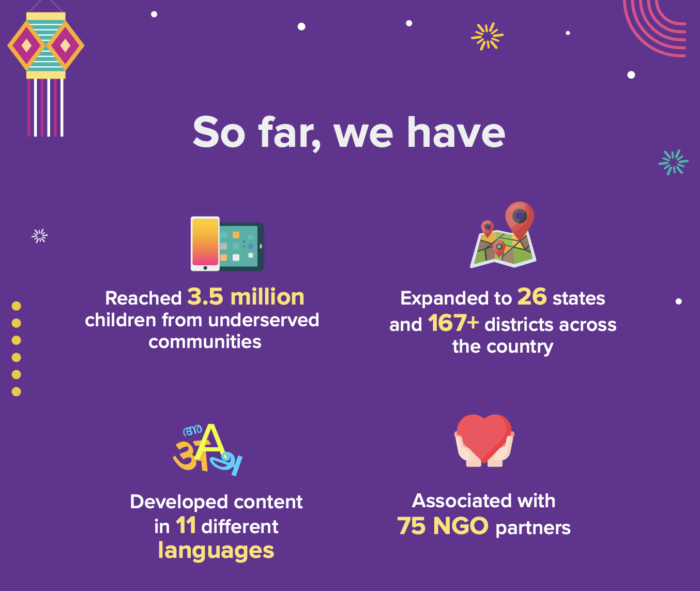 With the help of our 75 NGO partners, we have expanded to 26 states and 167+ districts, to distribute BYJU'S App licenses to children across the country. While we are one step closer to our mission, it wouldn't have been possible without our partners, their teachers and volunteers who have been continuously engaging with the students with the help of the BYJU'S learning content.
Subramanya, a school teacher from Sullia, Dakshina Kannada, who is associated with our NGO partner Right to Live, shared the impact that e-learning had on the children, "There was no technology in our school before. Now with BYJU'S devices for E-Learning, our children love watching the animated videos as it feels like a movie."
On International Day of the Girl Child 2021, BYJU'S EFA announced the partnership with the Ladli Foundation, an NGO working to empower women and children.
"With the help of BYJU'S EFA, we have started an e-Pathanshaala, through which our volunteers and interns guide the students to use the platform," says Devendra Kumar, Founder of Ladli Foundation, shared.
Similarly, Rotary Bangalore IT Corridor partnered with BYJU'S Education For All to support the educational infrastructure of the Ramagondanahalli Government School, Bengaluru, especially during the COVID-19 pandemic. Together, we were able to provide digital devices to over 300 children, who are now comfortable in attending all their online classes.
Sumedha Rao, a founder member of the NGO Whitefield Ready and a member of Rotary said, "While they were confused about how to learn in the initial days of the pandemic, they're now perfectly comfortable with hybrid learning."
Heroes of BYJU'S – Donations with Devices
Through BYJU'S Give, one can simply visit the website, and donate an old device, which in turn, can help another child access online education. Some of the employees at BYJU'S made use of this opportunity to make learning possible for children in need. 
Siddant M, a Business Development Associate at BYJU'S said that he was not going to let the opportunity slip away. "I went through my storage and found an old phone I had put aside and long forgotten, and followed the simple instructions on the website to make the donation."
Similarly, Manswi Garg, a Recruitment Manager at BYJU'S, also quickly took the opportunity to give away her old phone using BYJU'S Give. "When I first heard of BYJU'S Give and its aim of giving children in need free access to quality education, I was excited and inspired to give away my old, spare phone and make a difference! After all, that's all it took to help a child learn.
In Andhra Pradesh's Kadapa district, two children lost the breadwinner of their family and thereby the access to education. Their uncle, G Vamsi Krishna, a Content Developer at BYJU'S requested his company for two devices to help these children. Within no time, he was able to procure the device raised through BYJU'S Give and provide it to the children.
"Personally, I'm very grateful to have been able to help them out through this initiative.  Losing important family members takes a hit on the confidence levels of a young student. They feel lost, and look out for emotional support," he said.
You and I Can Help, Too
BYJU'S Education for All is on a huge mission to reach millions of children. And, people like you and I can help accelerate this mission!
With BYJU'S Give, people can donate old, functional or non-functional smartphones and tablets. With our partner, Cashify, we recycle the old devices, and purchase new devices with that value. We load these devices with BYJU'S learning content and then distribute it to the children who need it most.
You can visit our website and fill out the details about your device. Once that is completed, our team will visit your location and collect the device.
Click here to learn more about how you can donate your device.
Come, let's illuminate lives together, this festive season.