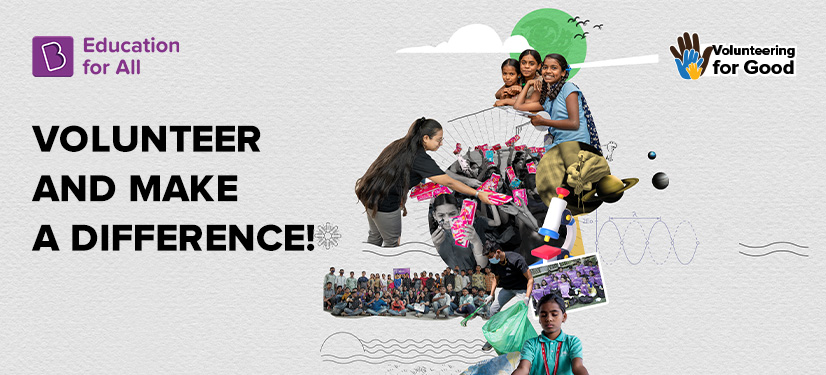 BYJU'S Education for All has been making a difference through the BYJU'S Volunteering Programme where BYJUites have been impacting society through several initiatives.
---
Volunteering can be a fulfilling and rewarding experience for both the volunteer and the community they serve. It offers an opportunity to give back to society, learn new skills, make connections with others and gain a sense of purpose and personal fulfillment.
Through the BYJU'S Volunteering Programme, BYJUites have been creating a meaningful difference through various activities, including cleanup drives and the distribution of essentials, among others. Watch the video below to check out some of the activities that we have been doing so far.
Shakir Shaikh, Operations, who volunteered at a beach cleanup drive in Chennai, shared, 'It was a very rewarding experience. One that opened our eyes and hearts to the knowledge and awareness of how much waste gets piled up on the shores every day and the amount of damage this could do to the environment. The beach looked so clean and beautiful, and it could stay this way if all of us stop littering and consciously take good care of the environment.'
'I have always envied people doing such environment-driven activities and was thrilled to have been part of this drive. After planting trees myself, I felt satisfied that I did something purposeful after a long time,' shared Keerthy V, ORM, who was a part of the plantation drive in Tatanagar, Bengaluru.
'Small steps like these go a long way in helping animals in need. We hope that BYJU'S volunteers will continue to be a part of such efforts in the future as well!' shared Jayanti Moitra, Student Success Specialist, talking about the volunteering experience at Bengaluru's PFA Wildlife Hospital.
"It was a proud moment to be a part of BYJU'S, where the volunteers actively participated in the Children's Day activity. It was also heartwarming to see smiles on the faces of these cute children who dream big and aspire to achieve their dreams in the future!" said Shafqat Sayeed, Marketing and Communications Associate.
If you want to join the BYJU'S Volunteering Programme, this is your chance. Click the button below to sign up!
Let's move mountains together and be the change the world needs to see.
---
Read more about our BYJU'S Education for All initiative here.
If you wish to support our initiatives and help an underserved child with education, you can donate a device through BYJU'S Give.
Let's help children chase their dreams with the power of quality education!
Also Read: Sprucing Up the Homes of Wildlife in Bannerghatta National Park