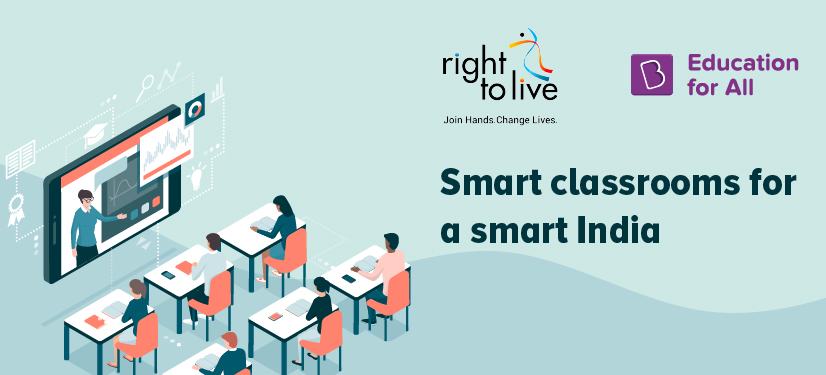 Education and healthcare are true catalysts needed for change. Most developmental experts would agree that it takes a healthy and educated population to keep moving forward and grow as a country. At BYJU'S, we are strong believers in the transformative power of education and have pledged to enable digital learning for 5 million learners by 2025 through our initiative,  Education for All. And we knew from the very beginning that it would take strong, like-minded partners to achieve this mission. That's why we joined Right to Live, India's first social platform, that has dedicated itself towards changing lives with healthcare and education. 
From the very get-go, we were determined to leverage our existing resources to bring digital learning to children in need through Right to Live. We worked with 40 government schools to set up smart classrooms with our interactive and visual learning content for Math and Science. And as most students weren't particularly fluent in English we made sure to provide learning content in Kannada too.
Here's what Subhramanya, a school teacher from Sullia, Dakshina Kannada had to say about the difference e-learning had, "There was no technology in our school before. Now with BYJU'S devices for E-Learning, our children love watching the animated videos as it feels like a movie. We are extremely grateful for these tools."
The technology also changed how teachers approached a class, another teacher from Sullia, Chandrika, recounts her experience, "BYJU'S and Right to Live  have been a supporting hand for us teachers to teach our students, allowing us to keep them engaged during class. We are new to this but are very happy to use technology in our class to enhance the students' learning."
Throughout our engagement with Right to Live, one thing became more and more clear to us — the power of digital learning in making education accessible. We saw classrooms full of students transform when a digital class was projected. Young children were captivated by how concepts like the eclipse were taught through animation and how for the first time they understood and fell in love with Math and Science. 
You too can join us in making every class a smart classroom. Visit us here to make Education for All a reality.