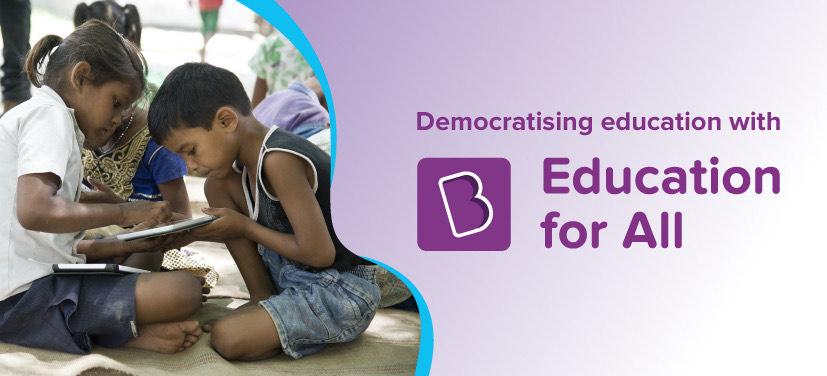 A social initiative by BYJU'S to help children from underserved communities gain access to quality education during the pandemic, and at the other side of the crisis  
Statistically, the pandemic has impacted over hundreds of millions of lives across the globe. The significant million in India, however, are the 247 million children* enrolled in elementary and secondary education who have lost access to education in these unprecedented times, according to a recent report by UNESCO. Besides this, the COVID-19 pandemic has impacted another 28 million children who were undergoing pre-school education in Anganwadi centres.
The report is a powerful reminder that access to education is still a distant dream to millions of children living in remote geographies. While vulnerable children have lost hope that education may not be for them, we at BYJU'S, strongly believe that education is a democratic right and no child should believe otherwise. 
With BYJU'S Education for All, we are embarking on a journey to make quality education and tech-driven programs accessible to millions of children who have the desire to learn new things but no infrastructure; children who have big aims, but big limitations too and children who fiercely believe they can achieve anything but don't have access to education. 
Education for All is our promise to millions of vulnerable children that they are capable of achieving all their dreams, and our organized efforts, technology-enabled programs will pave the way to their bright future. 
Accordingly, we at BYJU'S have joined hands with like-minded stakeholders like United Way Chennai, Right to Live, Magic Bus, among others who believe that every child should get an opportunity to learn and deserves quality education. It's high time that we as a community, unite to make education for all a reality. All for education, education for all!    

Education for All envisions to empower 5 million children from underserved communities by 2025  

Our initiative – Education for All – augments our mission to help every child fall in love with learning. Furthermore, we believe technology is a key enabler in making learning accessible and engaging, all while changing the paradigm of the education sector. As we take quality education to the remotest of places in the country, we are driven by 3 pillars that reflect our mission: 
Making education inclusive
The BYJU'S Education for All aims to meet the education needs of millions of children from underserved communities, who are forced to drop out of schools due to the lack of a gadget and are disconnected from academics. Millions of such children will now get a gadget preloaded with content provided by us.   
Enabling learning through technology
Technology has been pivotal to our growth and development. It has helped us scale our educational offerings and made it possible to connect with millions of students around the globe. Through Education for All, we now plan to leverage technology to address the constraints of the students in remote areas, overcome the hurdles and impact the learning needs of these students. 
Creating personalised learning experiences 
Our learning programs are crafted to adapt to the learning needs of every child. These programs contribute to a personalised learning experience by understanding every child's individual learning requirements. Our programs are a combination of mapped concepts, personalisation, interactivity, adaptive teaching and in-depth analysis that can hugely impact a student's learning outcome. 

At BYJU'S, we uphold the belief that education plays a defining role in growing economies and educated children hold the power to change the world. We are determined to make quality education accessible in every remote part of the country, while we aim to empower 5 million children through our initiative.  
Let's join hands to give wings to every child who dreams to become a doctor or a scientist or an entrepreneur or just about anyone he/she aspires to be professionally.  
Corporate firms, NGOs, citizen organisations and individuals are welcome to partner with BYJU'S Education for All.

Join us now
*Statistics derived from The 2020 Global Education Monitoring Report released by the UNESCO