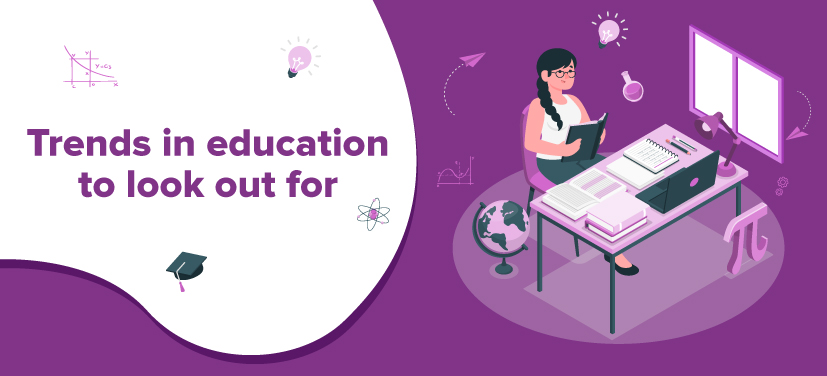 When we first heard of the COVID-19 outbreak, we knew very little about how life would go on. How we would continue our jobs, meet our loved ones or how safe it would be for children to continue going to schools. Today, almost a year later there still remain several unanswered questions and grey areas, however, there's one thing we can be sure of — we've adapted and evolved to make the most of our circumstances. And one sector that truly stood out in reinventing itself to meet the need of the hour was education. 
Picture this! According to a recent report by KPMG, the total number of paid users of online education platforms stood at 1.6 million in 2016. Cut to 2021, the number is projected to grow 6 times to 9.6 million users. Moreover, how education is delivered has fundamentally changed over the past year with emerging trends that would significantly impact the upcoming academic year. 

COVID-19 struck without a warning bell, leaving teachers, parents, and students with very little time to prepare and brace for disruptions. However, most teachers were quick to bounce back with revised curriculums and lesson plans with innovative ways of delivering them.

With classes being less frequent, schools have had to increasingly rely on parents to get students to practice topics covered in class. This has given many parents the opportunity to familiarise themselves with the educational content and teaching methods used in their children's schools and also realise how much things have changed since they were students. As the involvement of parents grows, students are bound to feel better supported while parents become aware of their child's weaknesses and strengths.

With mounting concerns of schools turning into COVID hotspots, schools have had to break classes down into smaller batches and have students on school premises in shifts. This could very well become a norm for the foreseeable future, or at least till the pandemic wanes. 'Shift-schools' would mean smaller class strengths, personalised attention to students and a broader scope for students to make the most of their classes. 

With the ongoing global health crisis, opening schools for all grades seems far from possible. In the meanwhile, schools are looking at possibilities of having blended curriculums — a hybrid of in-person classes and tech-assisted virtual classes. This would enable students to learn from the safety of their homes while occasionally being physically present for practical learning experiences. 

The pandemic has surely fast-tracked the growth of e-learning to support remote education. And it is certainly here to stay as it allows a far more connected and collaborative approach to learning. On-ground we are increasingly seeing smart classrooms enabled with technology such as AR and VR  transform how students learn in not only private schools but also in government schools. Such classrooms allow students to access learning content beyond their textbooks and what their teachers have to offer, supplementing their learning journeys for better outcomes. While the potential of e-learning is immense, the education sector in India is yet to fully tap into it given the lack of infrastructure, teacher training, and awareness. 
Today, it is safe to say that we've entered a new age of learning with the schooling system reinventing itself to actively adapt to advanced technology, teaching and learning techniques, and the pandemic. All this has amounted to extremely student-centric learning materials, real-time tracking of a learner's progress, and personalisation in education — trends that will have far-reaching effects on how students learn for years to come. However, we can only claim to have truly progressed when no child is left behind in benefiting from these trends. We need to pay close attention to the more disadvantaged lot and bring them up to speed with recent development and more importantly, create free and fair access to education. To this effect, BYJU'S social initiative, Education for All is driven to make quality education a reality for 5 million students by 2025.
Follow the link to learn more.