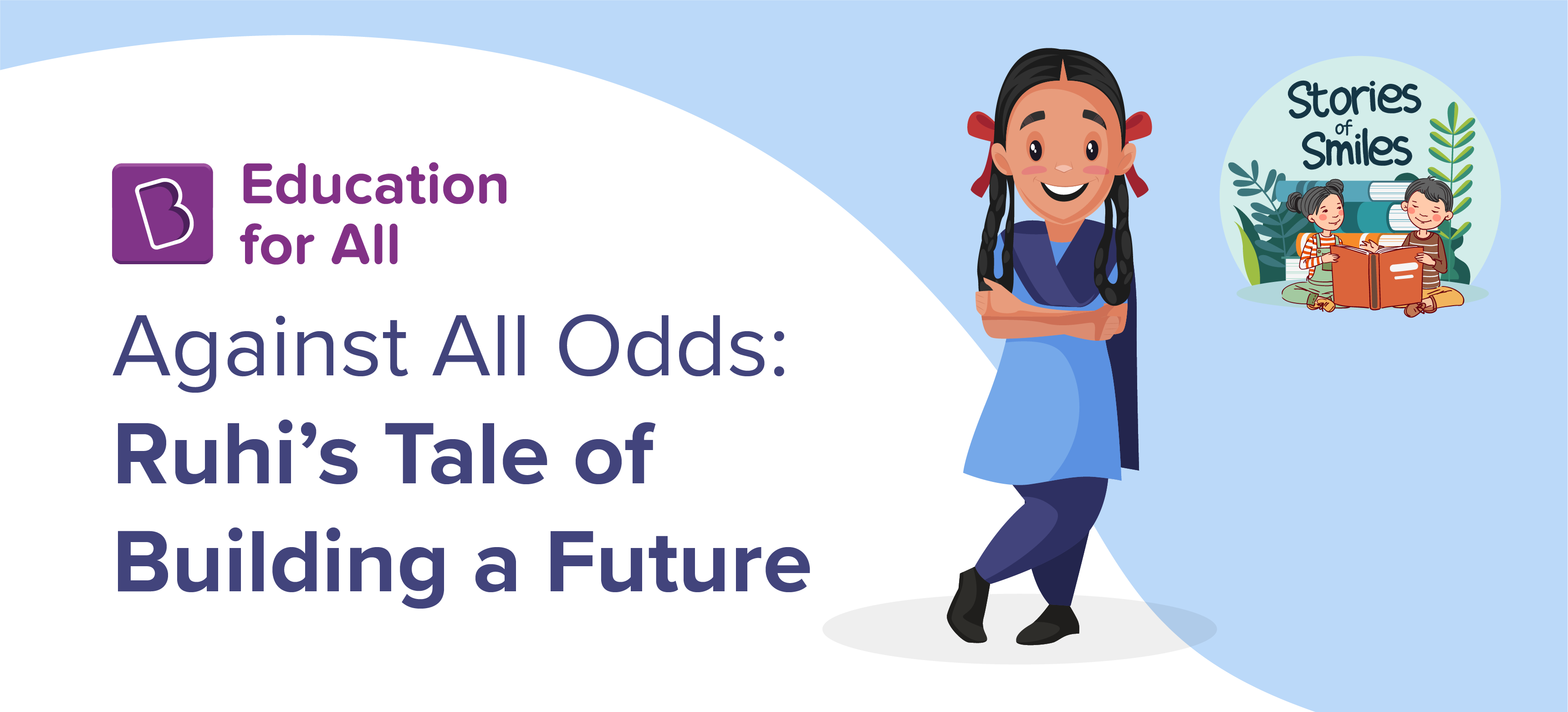 "I want to become a CID officer to investigate and solve crimes," says Ruhi Rathod*, a bright grade 7 student from Maharashtra, whose favourite TV show is CID.
While we are irked by our mundane lives without our regular social spaces, things are different for many underserved families in India, like the Rathod family.
Ruhi hails from a background of minimal means. She lives with her family of five in a single-room shanty, nestled in the streets of Ghatkopar, Mumbai. Their home doesn't have a toilet, so the family is one among those queuing up in front of the public toilets.
Ruhi is the middle child among three sisters – an older one studying in grade 12, and a younger one in grade 4. The three girls live under the care of their parents. However, their father, who is a victim of frequent epileptic fits, has been unable to provide for the family.
So, Ruhi's mother is currently the sole breadwinner of the family. She works as a helper in a garment company and earns about Rs 7000 a month. However, Rs 1000 is spent on Ruhi's father's medications, in addition to Rs 800 for electricity and Rs 200 for the water supply.
The remaining is barely enough to break even for the month, and the family is mostly struggling. When the pandemic struck, the times were tough for the kids, too. With schools being shut down, things looked uncertain for Ruhi, who had hoped to support her family one day.
However, our NGO partner, Ratna Nidhi Charitable Trust was able to provide her with a digital tablet. Loaded on this tablet was the BYJU'S Think & Learn Premium Content, with which Ruhi was able to get back to learning.
The video lectures within the app supported her in subjects such as Science, Mathematics, and Social Studies. "Every doubt I had with respect to these subjects, I would refer to the videos and get them cleared," Ruhi shares.
As a result of studying from the tablet, there is also a marked improvement in Ruhi's academic performance. 
"My favourite part of the app was the quizzes," she says, adding that they helped her grasp the concepts better.
Like Ruhi, there are many children in Mumbai who face a crisis when it comes to education due to their financial situation. Helping these children, and their families in poverty is an NGO called Ratna Nidhi Charitable Trust.
The NGO primarily tackled poverty in Mumbai, especially among children, but has now extended its work to other cities and countries. It aims to uplift people from the most underprivileged strata of the society, without any distinctions of caste, creed, race, colour, gender, etc.
The NGO has partnered with BYJU'S Education for All to provide free BYJU'S streaming licenses for children.
"It is critical to change with the changing times. During the pandemic, the facility of online learning was imperative to ensure learning. With the BYJU'S App, we could provide these solutions to the needy, taking a step forward in universal education," says Rajiv Mehta, Trustee, Ratna Nidhi Charitable Trust.
BYJU'S Education for All has been on a mission to provide 5 million children with free digital learning by 2025. You can also help us further this mission.
With BYJU'S Give, you can donate an old device that will be refurbished, and the money will be used to buy a new device. In case you do not have a device, you can also donate to our NGO partners, through the crowdfunding platform Ketto, to help them raise money for devices.
In both cases, the devices will be loaded with BYJU'S learning content and distributed for free to children in need.
Together, we can help more children like Ruhi shape their future with education.
*Name changed for safety purposes
Also Read: Rights of Children – Are We Doing Enough?