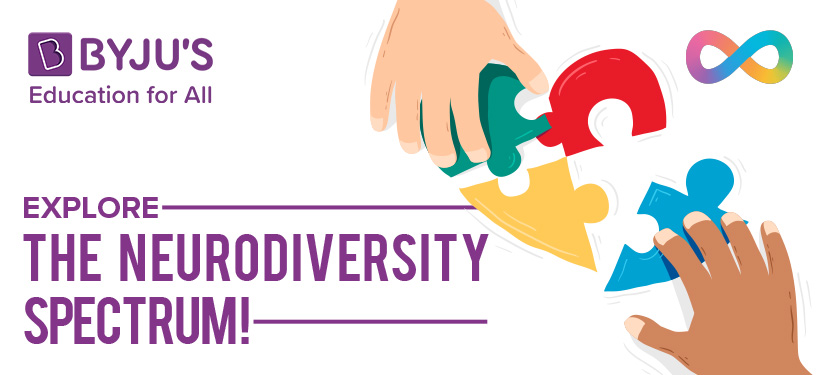 Join the Virtual Global Neurodiverse Symposium and get acquainted with neurodiversity, with expert speakers including BYJUite Shreya Jain, Head, Neurodiversity programme.
---
Neurodiversity is a concept that recognises the natural variation in human brain function and behaviour. It encompasses many neurotypes, including autism, ADHD, dyslexia, Tourette syndrome and many others. All individuals, including those who are neurodivergent, require varying levels and types of support to accomplish their goals.
​​When Akhil Lad was first diagnosed with Autism Spectrum Disorder (ASD) in 2002, Manisha Lad and her husband Mahesh Lad had a tough time comprehending it. But the couple did not waste any time and completely immersed themselves in learning all about Autism.
Since then, they have been working with different methods to help Akhil better express himself. He slowly picked up typing skills. He typed on his iPad, 'My brain does not give instructions to my body. I cannot see my body in my mind.' With the undying support of his parents, Akhil now attends Rowan University and learns Algebra, Astrophysics, Chemistry, etc.
To extend this support to other children, Manisha founded the Akhil Autism Foundation. This foundation has been providing parents who have autistic children with the correct education, support, research, and treatment to allow their children to live an independent life.
As a community, it is imperative to become allies and ensure fairness amongst all neurotypes–both neurotypical and neurodiverse. That's why the Foundation introduced a global symposium to help more people understand the neurodiversity spectrum.
Virtual Global Neurodiverse Symposium 2023
The Virtual Global Neurodiverse Symposium 2023 is a platform where experts share their insights and expertise in various fields, such as Functional Medicine, Education, Communication, Brain Development and Workforce. Its goal is to empower parents, caregivers and professionals with knowledge and resources to support neurodiverse individuals in achieving independent and functional lives.
'This symposium not only benefits caregivers, professionals and researchers, but it also serves as an educational platform for those individuals that want to learn more about neurodiversity and how they can support the community,' shared Manisha.
The event will host 20 renowned speakers and experts in the field of neurodiversity. Some of them include Dr Temple Grandin, an American academic and animal behaviourist on the autism spectrum; Dr Svetlana Masgutova, a world-renowned expert on primary-reflex integration and neurodevelopment; and James Neuenschwander, president of the Medical Academy of Pediatric Special Needs (MAPS), a group dedicated to integrative paediatrics.
Shreya Jain, who heads the Neurodiversity Programme at BYJU'S, is among other expert speakers at the symposium. Shreya has vast experience working with neurodiverse communities and has also led advocacy groups in India and the United States. She is currently working towards making education inclusive, by initiating conversations around neurodiversity.
The symposium also looks forward to welcoming speakers like Elizabeth Bonker, Executive Director of Communication 4 ALL, and Ditte Young, a certified family therapist specialising in helping children with autism, anxiety, depression, etc.
Pricing and Tickets
The event is to be held from 17–19 April, 2023 (7:45 AM-2:30 PM EST). The tickets are available for purchase on the website. The three-day pass costs Rs 2500, while the one-day pass costs Rs 1000.
Click Here to buy the three-day pass.
Click Here to buy the one-day pass.
'Being a part of this symposium also makes the attendees a part of our AAF Neurodiversity Portal, where all these resources will be available. If you can't attend the event, all the presentations will be available on demand on this website for 30 days. We are excited about BYJU'S being a part of this symposium and see this as the beginning of a collaboration to create an inclusive society in the years to come,' Manisha said.
For more information on the event, check out the programme details here and take a step closer to learning more about the neurodiversity spectrum.
---
Read more about our BYJU'S Education for All initiative here.
If you wish to support our initiatives and help an underserved child with education, you can donate a device through BYJU'S Give.
Let's help children chase their dreams with the power of quality education!
Also Read: Join the BYJU'S Volunteering Programme!