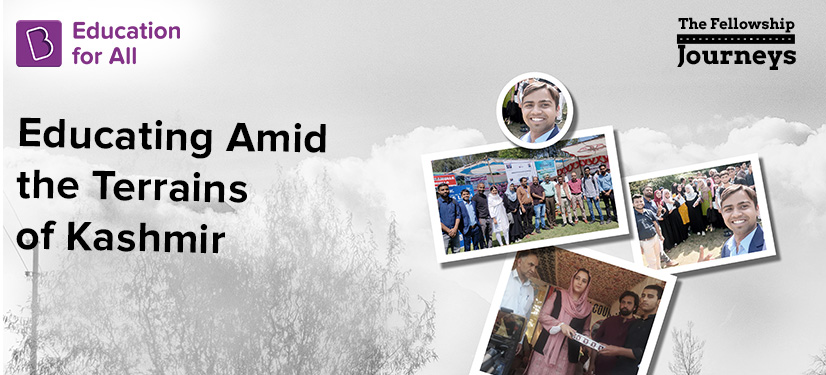 Founded by Raja Bhimsina in 2306 BC, the city of Baramulla is one of the 20 districts in the Union Territory (UT) of Jammu and Kashmir. It is home to a rich culture and also follows the same food habits, dress patterns, customs and traditions as the other parts of the UT. The district is supposedly one of the most attractive spots on earth because of its affable climate, countless springs, streams, waterfalls, delicious fruits and other breathtaking views.
In its population of approximately 1 million people, 18.1% live in urban areas and the rest in rural areas. The total literacy rate of the Baramulla district is 64.63% (Census 2011). It has been identified as an Aspirational District by the NITI Aayog, and has since seen an increasing improvement in its resources and facilities.
Fardeen Ahmad, Fellow, BYJU'S Social Initiatives, has been working in Baramulla for the last couple of months to ensure that the JEE and NEET aspirants of the city have a fair chance at education. From a young age, he has envisioned himself working in the development landscape in India and has had a keen interest in the fields of rural development, education and research.
'My educational and professional trajectory was influenced by my decision and passion to create an impact in the education sector, especially with the underprivileged sections of society. I even started my career as a private school teacher in my hometown, where I got the opportunity to experience the condition of the education system on the grassroots level,' shares Fardeen.
The BYJU'S Career Plus programme, in collaboration with the NITI Aayog Aspirational Districts Programme, can potentially transform the lives of students in these districts. It provides students with access to quality education, which will not only improve their academic performance but also enhance their future career prospects.
Fardeen is actively enforcing this in the most remote areas of Kashmir, especially Baramulla.
A Day in the Life
'Most of the days involve meeting with the officials of the District Administration and Education Department, engaging in discussions with the selected students of the Career Plus programme virtually regarding their preparation,' says Fardeen.
'The interactions also involve the resolution of any kind of issues or challenges the students are facing. Analysing their performance, planning and preparing activities to engage them, conducting weekly virtual meetings, mentoring and guiding them, visiting schools and communities and engaging with the parents are some of the major tasks I engage myself in the district mostly,' he says.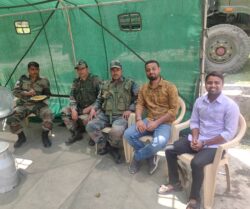 He further explains that the role demands working closely with the district officials and teachers, which helped him understand the ground realities of the situations and various aspects of working in a district on multiple issues with multiple stakeholders.
Additionally, Fardeen regularly conducts activities with the students, including a science presentation competition, sessions on Social-Emotional Learning (SEL) and creativity challenges, to engage them through the learning centres and provide a space where they can think out of the box.
He says, 'I believe, as a fellow, my contributions have a positive impact on the learning journey of JEE and NEET aspirants in the district. I try to help them achieve their academic goals and prepare for successful futures. I hope to bring smiles to children's faces and create a fun learning environment.'
Hurdles in the Journey
Kashmir, being home to India roughest terrains, poses several challenges to its residents, especially the young students. These children travel miles to reach their school and receive their education.
Fardeen shares, 'Many children in Kashmir have limited access to education due to geographic remoteness, poverty, cultural and societal norms that do not prioritise education, inadequate infrastructure, shortage of qualified teachers and psychosocial issues. Due to the prolonged political conflict, many children in Kashmir experience trauma, stress and anxiety, which negatively impact their ability to learn, mental health and academic performance.'
'Few of the students are from the very remote part of Kashmir, where there are no proper means of transportation and means of communication. Due to this, these students can't travel so long and attend classes through learning centres and also they face issues while attending live classes due to poor internet connectivity. These challenges make it difficult for the children to access quality education and achieve their full potential.'
The Road Ahead
Fardeen has foreseen a wholesome learning experience for the students in Baramulla and is all set to commence a new project called 'Youth Empowerment Circle' (YEC). YEC has been conceptualised to serve as a Learning Hub for the youth in the community.
It aims to provide learning opportunities for youth by introducing remedial classes, psychosocial support through SEL, life skill training through sports activities and community volunteering. It will work towards the overall development of the youth in the community and provide a space to encourage empathy and talk about mental health.
'It will also provide them with a platform to share and exchange youth-related experiences in a more structured way, which will not only empower them but will also contribute significantly to social and economic development and nation-building,' he says.
'The empowerment of young people in India is a crucial issue that needs urgent attention. India has one of the largest youth populations in the world. Empowering this section of the population is essential to ensure their participation in the country's economic, social and political growth. Providing quality education to all, especially to those from underprivileged backgrounds, will also ensure that they have access to better opportunities in life,' Fardeen signs off.
Through the BYJU'S Fellowship Programme, BYJUites have been working to ensure that students have access to quality education irrespective of their backgrounds. With the immense support of our Fellows, we hope to ensure that no stone is left unturned and no child is left behind.