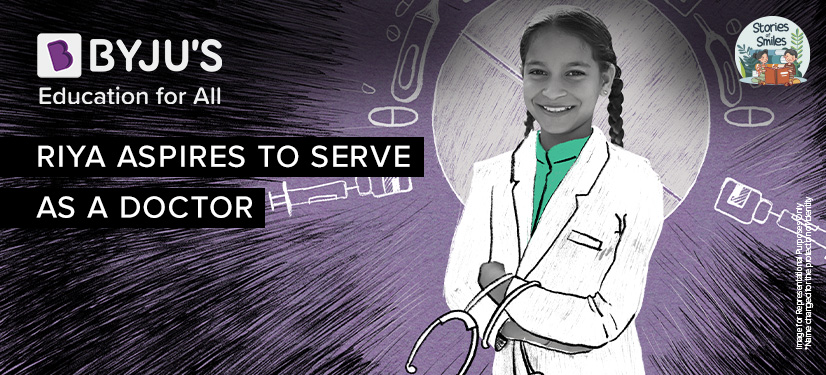 "I want to become a doctor one day and help people in my village with free medical treatment," says 15-year-old Riya* Muthuswamy, who is working towards her goals every day.
Riya hails from Ramanathapuram, Tamil Nadu, and lives with her family of four. While her father works as a daily wager, her mother is a housewife. The family income does not exceed Rs 5,000 every month. They struggle to make ends meet and live on a hand-to-mouth basis.
With dreams as high as the sky, Riya has been trying to find additional support regarding her education. She is currently pursuing grade 12 at the local government school, where she has been learning the basics. However, to become a doctor and stay on par with today's competitive world, Riya knows she needs coaching.
Given her familial situation, additional support was not an option. Her father could not afford any coaching and was even considering pulling her out of school. With her future looking so bleak, Riya decided to work harder.
In 2022, she received a free BYJU'S licence from BYJU'S Social Initiatives. With the support of this licence, she has been regularly practising the basic concepts and subjects every day. In fact, she spends about two hours daily to study with the BYJU'S App.
"I have been learning with the App for the last few months, and my grades are already looking better. I have been learning and practising with quizzes, that too, in my regional language of Tamil. I hope I can study better and practise to reach my dreams one day," says a hopeful Riya.
Like Riya, BYJU'S Education for All has been supporting the education of millions of students across India. With the support of our NGO partners and BYJUites, we hope to touch the lives of at least 10 million children by 2025.
---
Read more about our BYJU'S Education for All initiative here.
If you wish to support our initiatives and help an underserved child with education, you can donate a device through BYJU'S Give.
Let's help children chase their dreams with the power of quality education!
Also Read: Helping Sanjana Take the Right 'Steps' to Towards Her Goals